NEC Wheelchair Tennis


NEC has sponsored the world championship "NEC Masters" and the world tour held by the International Tennis Federation since the start of those tournaments for over 25 years in order to promote the sports for people with disabilities, social participation of people with disabilities and social awareness.

The competitive level of wheelchair tennis is relatively high compared with other sports for those with disabilities, making it one of the most systemized sports for the disabled, while the world rankings are updated every week by the International Tennis Federation (ITF) that also governs regular tennis.
NEC Para-Sports Channel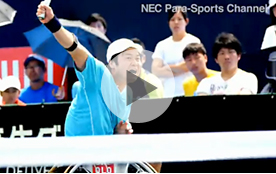 Wheelchair tennis [1:30]
We want as many people as possible to know the allure of para-sports, and will convey the tips and rules to enjoy para-sports through events and video broadcasting for the 2020 Olympic Games.
Let's cheer them on enthusiastically! Let's join in!
Program Partner