Activities in Local Communities
NEC Wakuwaku Programming Lessons
Company name: NEC Solution Innovators, Ltd.
Country concerned: Japan
As programming becomes a compulsory subject in the elementary school curriculum in 2020, NEC Solution Innovators offers nationwide programming lessons for elementary school pupils.
Pupils get to know the fun of programming by creating simple games themselves using Scratch, a visual programming language developed by the MIT (Massachusetts Institute of Technology) Media Lab.
This activity started in 2007, and roughly 1,800 elementary school pupils have participated (as of the end of fiscal 2021).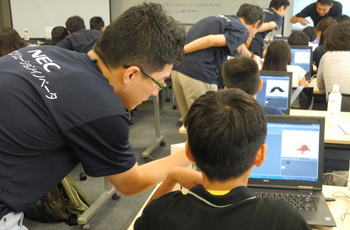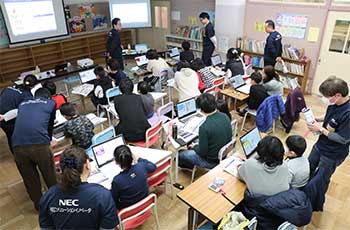 Holistic development project in villages
Company name: NEC India
Country concerned: India
NEC India won India CSR Leadership Award for "Holistic Development Project in Villages around Vrindavan (Rural Development)" at India CSR Leadership Summit & Awards on December 10th.
This award is in recognition of our CSR initiatives at the grass root level for Holistic Rural Development in the villages around Vrindavan through a wide spectrum of activities.
The project targets at Women Empowerment through provision of Education and Nutrition, Environment Conservation and Rural Livelihood Creation and Digitalization of villages through provision of Digital Infrastructure and Digital Literacy. The objective is to constantly endeavour to make a real difference to the society.
Assistance for girl's education
Company name: NEC India
Country concerned: India
Women in the rural areas are denied the opportunity and access to education as they are burdened with the household chores. The mindset is to groom them to become good wives. However, there is ample evidence worldwide that improvements in girls' education benefit the status of the family and empower women. Education is one of the most important means of empowering women with the knowledge, skills, and self-confidence necessary to participate fully in the development process. Educating girls has a tremendous impact not only on their own development but also on their families and communities. In order to contribute to the above pursuit, we NECI CSR Team joined hands with the NGO Krish and adopted two schools in the rural area for the purpose of Education and Holistic Development of underprivileged girls in the BPL category as this will help them to be secure both economically and socially.
Milk and Fruit distribution to widowed mothers
Company name: NEC India
Country concerned: India
One of the many changes that occur in a person's life as one gets older is the nutritional requirements. At any age, it's important to aim to have a vivid and balanced diet that includes milk, fruits, and other nutrients, a lean protein, fair quantity of carbohydrates and healthy fats. However, after the age of 60-70 years, it is extremely important to pay attention to the intake of particular nutrients. Taking this into consideration, the NEC India CSR team initiated the program of fruit and milk distribution, in 2015, in Radhakund Aashram which is a residential facility for widowed mothers, from the local community, which provides fruits, daily milk nutritious food to these women. Besides this, the facility is also conducting a regular health check-up, twice a week, for them. This initiative contributes to the wellbeing of the widowed mothers throughout the year and will serve their daily
Company name: NEC India
Country concerned: India
As part of NEC Make-a-difference Drive (MDD), NEC Corporation India Pvt. Ltd. has engaged in various community activities.
Because the COVID-19 pandemic is impacting older people in drastic ways, they are facing the most threats and challenges.
Taking the pandemic into consideration, this winter, NEC India CSR Team has initiated a drive to distribute 1,100 hot and cold vacuum bottles to help the elderly who are not able to afford such a product in the rural satellite center of Kanti Devi Dental College & Hospital, Mathura.
This is the 13th year since NEC India started the flagship program "Gift the Warmth Drive".
Company name: NEC India and NEC Technologies India Pvt. Ltd.
Country concerned: India
NEC India and NEC Technologies India organized a donation drive with the participation of employees of their operation sites across the country, collecting notebooks, stationeries, water bottles, old clothes, old newspapers, etc. and raising funds.
The collected goods and funds were donated to NGOs supporting children in need.
Company name: NEC Platforms Thai Co., Ltd.
Country concerned: Thailand
NEC Groups company in Thai had set up Kathin activity for preserve Thai culture and Buddhism religion. Kathin Ceremony is one of the merit making festivals in Thailand. The ceremony is about offering new robes, necessary thing for life and money(after the end of three month Rains Retreat from July to September )to the monks who live in the Buddhist temples.
Company name: NEC Asia Pacific
Country concerned: Singapore
NEC Asia Pacific carries out a variety of community activities every year with the participation of many employees.
These activities help the employees deepen their relationships with local communities as they deliver food to poor households in their neighborhoods, play games with elderly people at nursing homes, and so on.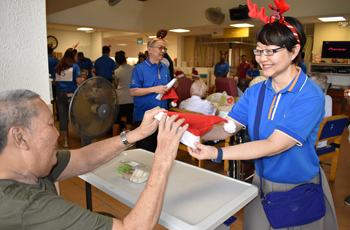 Volunteer activities for school building repair
Company name: NEC Telecom Software Philippines, Inc. and JAE Philippines, Inc.
Country concerned: Philippines
Before the start of a new semester, employees of NEC Telecom Software Philippines and JAE Philippines visit local elementary schools to do volunteer activities for school building repair such as making chairs and shelves in classrooms and painting classroom walls.
The education ministry of the Philippine government gave them a letter of thanks.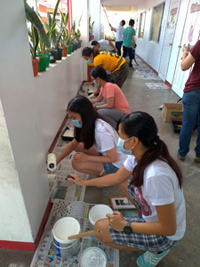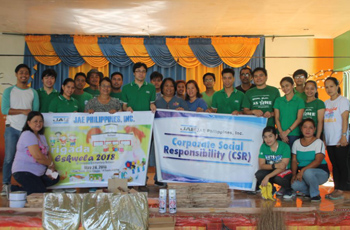 Company name: NEC Platform Technologies Hong Kong Limited
Country concerned: China (Hong Kong)
Every year, many employees of NEC Platform Technologies Hong Kong take part in various volunteer activities.
They also participate in food bank activities of providing free meals to seniors living alone in poor areas and homeless people as well as subdividing donated rice, noodle and canned food.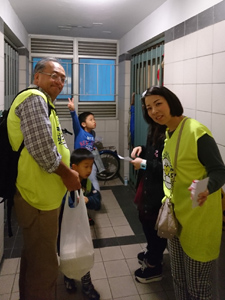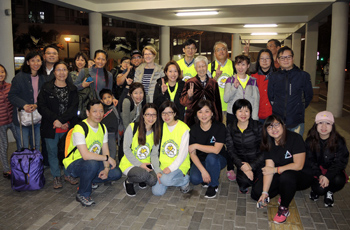 Maintenance of elementary school buildings and animal shelter facilities
Company name: NEC Laboratories Europe
Country concerned: Germany
As part of local contribution activities, NEC Laboratories Europe cooperated in a variety of maintenance work for local elementary school buildings and animal shelter facilities, with the participation of its employees, by painting walls, taking care of flower beds, cutting down trees, etc.
Charity activities for young cancer patients
Company name: NEC Display Solutions Europe GmbH
Country concerned: Germany
Every year, NEC Display Solutions Europe holds a variety of charity events, such as a charity run, and donates the money collected from employees to an organization that supports children fighting illnesses.
This organization administers art therapy, music therapy and painless therapy and conducts various other activities to ease the pain and suffering of sick children.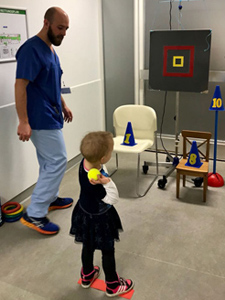 Various community activities
Company name: NEC Europe
Country concerned: UK
NEC EMEA organizes charity runs and various other charity events every year.
The money collected from employees is used for such purposes as to help children who need educational support.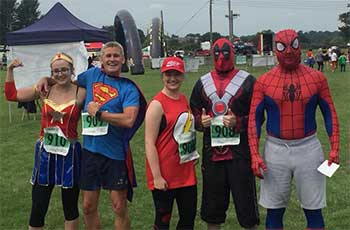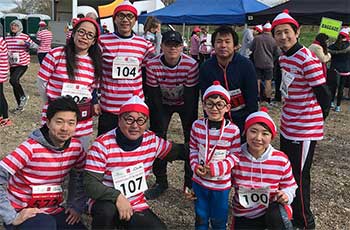 Company name: NEC Corporation of America
Country concerned: USA
Haven for Hope is an independent, nonprofit organization with the mission to offer a place of hope and new beginnings for people experiencing homelessness in San Antonio.
Haven for Hope is more than a shelter, it is a transformational campus that provides life-saving programs and services to more than 1,300 men, women and families every day.
NEC Corporation of America is partnering with Haven for Hope to co-create technology-enabled solutions that enhance safety and security, streamline operations and empower clients.
These are the initiatives in support of "leaving no one behind" as part of its implementation of the U.N.'s Sustainable Development Goals (SDGs).
Company name: NEC America
Country concerned: USA
NEC Corporation of America(NECAM)has partnered with Herbert Marcus Elementary School for the last 6 years. When NECAM first began the engagement, Herbert Marcus Elementary School was a severely underperforming school with a non-passing grade overall. NECAM funded the program Catch-Up and Read which tutors first – third graders. Now the Campus is rated "B" for breakthrough campus. Last month NECAM was invited to attend Herbert Marcus Leadership Days. This program helps the students interact with various community partners and teaches the students about becoming leaders. NECAM has made and continues to make a very positive impact on this school in the Dallas Independent School District.
Community activities and support initiatives
Company name: NEC America and NEC Foundation of Americas
Country concerned: USA
Employees of NEC America take part in a variety of local contribution activities, such as charity walks and fund-raising events.
The NEC Foundation of Americas organizes support initiatives every year in the areas of "education", "welfare and health", "safety and security" and "environmental preservation".
The NEC Foundation of Americas also supports the local contribution activities, such as charity events, done by NEC America employees through matching gifts and other programs.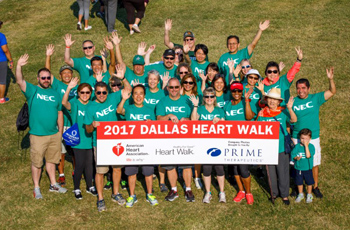 Charity event on Children's Day
Company name: NEC Argentina S.A.
Country concerned: Argentina
As part of its local contribution activities, NEC Argentina held an event on Children's Day in collaboration with a local charity group to provide preserved food and toys to children in need.
They received a letter of thanks from the charity group.