Displaying present location in the site.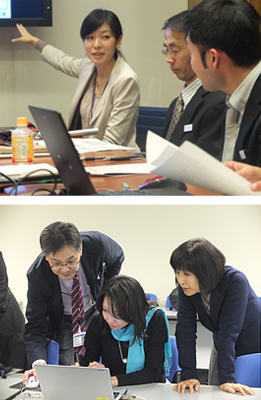 This program helps NPOs and social entrepreneurs, such as NEC Social Entrepreneurship School graduates, solve their problems through the use of the professional skills of NEC Group employees.
In 2010, NEC became the first Japanese corporation to start pro bono activities, with the cooperation of the NPO Service Grant. As of FY2019, a total of 195 employees have participated in these activities.

We recruit potential participants internally to address the needs of NPOs and social entrepreneurs. Recruited participants work in teams of 5 to 8 to support entrepreneurs.

The aim of the program is to have participants raise their awareness about society and create new services and solutions out of social issues through hands-on experience with NPOs and social entrepreneurs working on social transformation.
Comments from participants
I realized that working with people from different divisions and professions in NEC Group as a team can merge various ideas and create unique ones which are rarely created in daily operations.I think this pro bono activity is a hint for innovation NEC should target.
Comments from supported organizations Hiroki Iwasa, GRA Inc., organization supported in FY2013
They helped us build the DRM mechanism to strengthen the relationship between supporters and beneficiaries using Salesforce.Diverse team members, consultants in charge of logical discussions and presentation slide creation, sales personnel in charge of facilitation and creating an atmosphere all utilized experience in their daily businesses to get through the difficulties, accomplishing this project under the persistent leadership of the project manager without losing a sense of unity.The project members visited the local site twice and exchanged opinions with the local members.The system is now used for some business operations.We would not have been able to build the mechanism alone. Thank you very much for the help. We think that the project members are part of GRA.We look forward to working with you again.
Comment from partner organizations: Ikuma Saga Founder & CEO, Service Grant Japan