Displaying present location in the site.
NEC Living Nature Observation Team in Abiko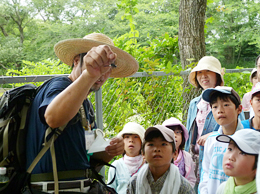 "NEC Living Nature Observation Team in Abiko" started in the fall of 2011 in cooperation with Teganuma Aquatic Organism Research Association, where NEC Group employees and their families participate in the biodiversity conservation activities held 3 to 4 times a year in NEC Abiko Plant (Abiko City, Chiba Prefecture).

There is a spring-fed pond "aka: Yotsu Ike" thought to come from Tone River, and "Copera tokyoensis", the endangered species (IB) listed by Ministry of the Environment, is found around the pond. "Copera tokyoensis" is a very rare dragonfly, and the number of habitats in Japan is less than 20.

Moreover, since many alien fish (largemouth bass, bluegill) inhabit Yotsu Ike, we eliminate alien fish and establish artificial dragonfly ponds (biotope). Observations of biodiversity (plants, birds, insects) are conducted through explanations by experts.
Meaning of conservation activities for Yotsu Ike in NEC Abiko Plant
Haruki Karube (Kanagawa Prefectural Museum of Natural History, Vice Chairman of The Japanese Society for Odonatology)
The conservation activities conducted by the Teganuma Aquatic Organism Research Association in cooperation with NEC are making achievements for the last few years such as low population control of alien species and waterweed recovery which only grew in a very small area.
Many companies participate in natural and environmental conservation activities as part of their social contributions, yet the Abiko Plant example where an environment worth protecting exists on its site is very rare.
This program provides experience of on-site explanations of the value of pond conservation, real-world observations of rare wildlife, explanations on alien species damage, and exterminating alien species as a set. The site is an important place where employees can actually experience the program which tends towards ideological, a rare case of a corporation directly conserving endangered species.
Comments from participants
I was given an opportunity to think about seasons, wildlife and nature with my family, and the explanations given by instructors were very easy to understand, even for the children.
The explanation that the endangered species can live there because conditions difficult to attain these days are met, such as the pond is not created with bank protection work, location requirements, and the spring from Tone River system was very impressive.
I was surprised that Yotsu Ike in Abiko Plant is suitable as a habitat for endangered species, and I felt the necessity of environmental conservation.
Drawings from Participant Children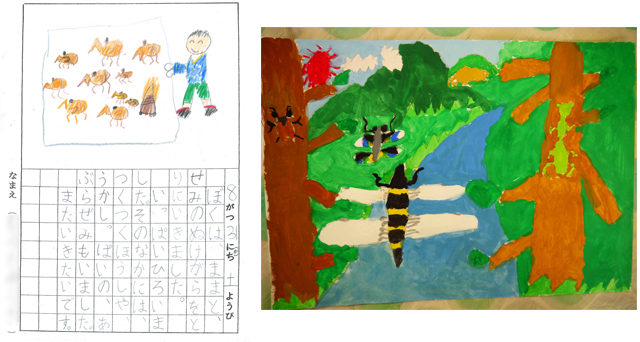 Exterminating Alien Species to Protect Endangered Species Copera Tokyoensis
Click the link to watch the video of pond draining work.
* Pond draining work was conducted by the Teganuma Aquatic Organism Research Association.