NEC's exclusive online event
Special English On-Demand sessions welcoming key partners to discuss the future, issues and resolutions.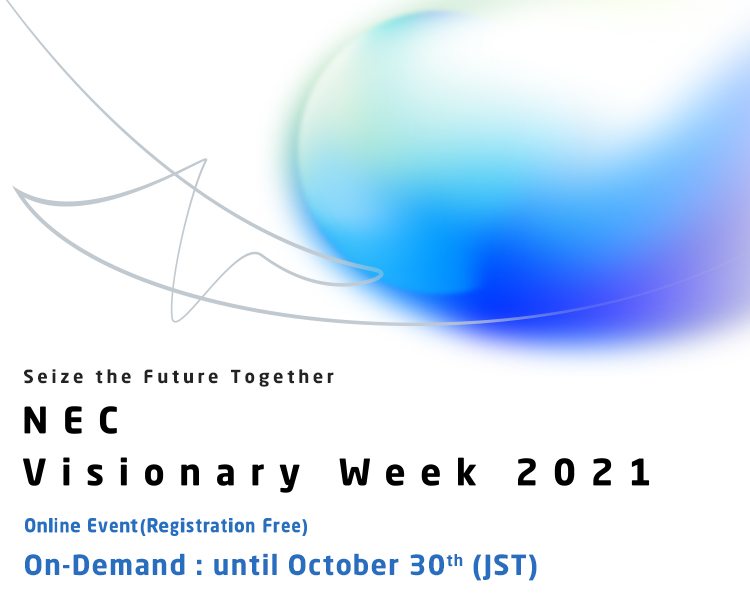 No press release is available now.
Important Notification:
We are seeing incidents of non-reaching deliveries for some of the communications sent by our website's contacts and queries functions during the period of 10/18(5pm/JST) - 10/20(12pm/JST). If you have not received any initial response within 48 hours, please kindly re-send such enquires once known. We apologies for the inconvenience caused.
Digital transformation for societies and industries

Creating new values in making the world brighter by leveraging our digital technologies
NEC Online TV

Introducing our vision, innovations, and case studies from around the world in video

Case studies

Learn more about our exciting case studies from across the globe

NEC Insights

Presenting thought-provoking articles from a diverse range of cultures and perspectives

NEC at a Glance

We are a global co-creator of technologically-advanced solutions designed for secure societies and satisfied citizens

NEC People Story

Global employees share their key accomplishments, personal philosophies, passions, and visions for the future.

Moving ahead in the New Normal

The pandemic in 2020 accelerated digital shifts in our "lifestyle", "work style" and "business style". See how we can overcome such challenges together by embracing digital technologies to create a more sustainable society for humanity.

Technical Journal

A collection of our latest, well-balanced mix of technical papers, easy-to-understand articles about technological trends, and case studies