NEC Paddy Making Project


The "NEC Paddy Making Project" started in cooperation with NPO Asaza Fund to improve the environmental awareness of NEC Group employees and their families in 2004 to achieve "Return Japanese Crested Ibises to Nature in 100 years".
A nature experience program from rice growing to sake-making held throughout the year.

This project is not only designed to provide participants with opportunities to come in contact with nature, share the joy of harvesting, and truly feel the origin of "creation", but also aims to develop and verify the "Ecosystem and Biodiversity Solutions" contributing to ecosystem observation and biodiversity preservation using NEC's "IT and network technologies".
I challenged to study about past and present rice farming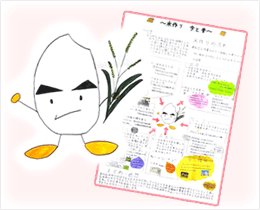 We received a summer vacation homework from a 5th grade elementary school girl who lives in Kawasaki City, Kanagawa Prefecture and has been participating in the "NEC Paddy Making Project" since she was a first grader.

The report said that she studied rice farming in her classes when she became a 5th grader, and her experience in the NEC Paddy Making Project helped a lot when she grew rice for the class project.
She learned that most rice farming work was done manually in the past and the use of machinery made rice farming easier.

Rice Field in Ravine, Before and After Reclamation
It had not been cultivated for over 30 years, and was a swampy field where nobody entered.
Organisms returned to the revived rice fields, and the place became a playground for local children.
Activity Details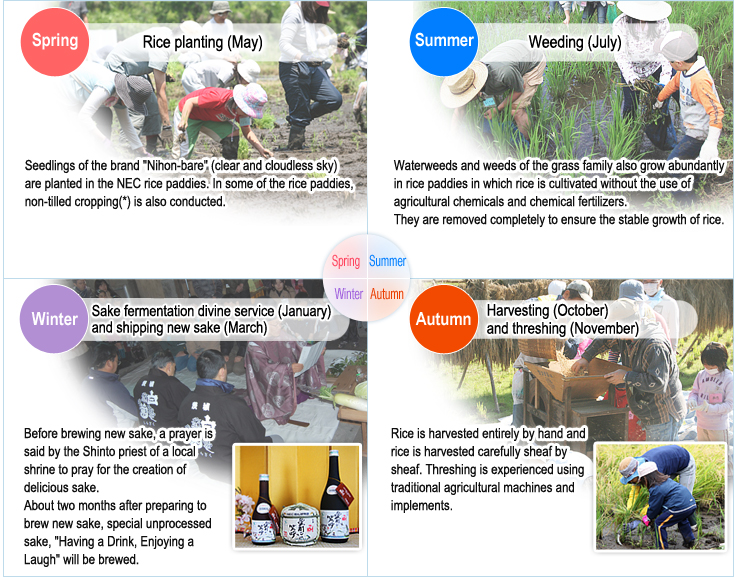 * No-tilling farming is a method to grow nursery plants without tilling rice fields, and it can reduce tilling time and suppress weeds because the soil is not tilled. It is a recycling farming method using the symbiosis environment with organisms without using agricultural chemicals such as chemical fertilizers, chemical herbicides and pesticides.
Collecting Observation Data Using Sensor System
The weather observation sensor system (Product name: Weather Bucket) is installed in NEC rice fields.
In what environment does the rice we planted grow? In what habitat are the organisms that gather in the rice fields living? They can be researched using the weather data collected using this sensor system.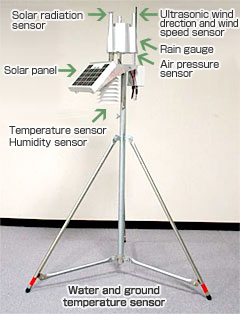 Introduction of Sensor System
1. Measurable targets
Temperature, humidity, atmospheric pressure, amount of solar radiation, precipitation, wind direction/wind velocity (average, maximum instantaneous), underwater temperature (underground temperature)
2. Features
All-in-one 7 sensors installed
Eco-friendly product powered by solar battery
Measurement data recorded every 10 minutes
Auto collection using radio, 3-month data storage, etc.
Weather Bucket is a product of SEC Corporation (NEC-NET Group). For product details, visit the SEC Corporation website.
Program Partner