Displaying present location in the site.
NEC Social Entrepreneurship School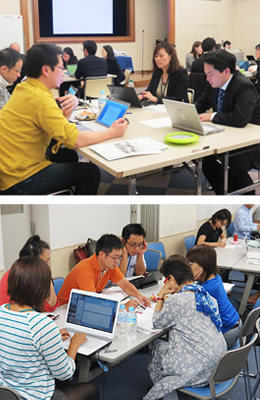 Social entrepreneurship is a way of contributing to society by solving social problems through business. In recent years, the number of social entrepreneurs in Japan has been growing among the younger generation.
Since FY2002, NEC has been working together with the NPO "ETIC." to recruit young entrepreneurs who solve social problems, selecting 2 to 4 groups as a support target, and actively developing the human resources so that they can start social ventures and business-type NPOs and manage them strategically.

In these schools, selected groups spend a half year receiving instruction, coaching, taking part in camps, and receiving advice, so that they can learn realistic skills and know-how. While teaching them the basics for establishing NPOs and other organizations, they are also taught strategic and realistic business plans.

NEC not only provides funds, personal computers and other materials, but also supports using in-house resources such as individual advice on management and IT skills through volunteer employees.

As of the end of March 2019, 62 groups graduated from NEC Social Entrepreneurship Schools. Our long-term activities were acknowledged through receiving the 11th Corporate Philanthropy Award, Special Award of "Foundation of Social Innovation" in FY2013.

Recently, NEC has launched an increasing number of projects of co-creation, joint research and testing, new solution development, etc. in partnership with graduates of the NEC Social Entrepreneurship School, working on a variety of social issues.
The knowledge and know-how gained through the NEC Social Entrepreneurship School are also used in other programs, such as the NEC Social Value Creation School aimed at developing next-generation leaders of the NEC Group and "Sense", a human resource development program intended for all employees that involves hands-on experience with social issues.

Moreover, the NEC Social Entrepreneurship School is making social impact of driving social transformation as its graduates build and expand business models and local governments adopt those models in their policies.
Comments from participants: Junto Ohki, Co-Founder and the President of ShuR Group and graduate of 2010
NEC Social Entrepreneurship Schools is a group of people who "seriously" want to change society.
I participated in this school with the idea to expand business providing services to more the Deaf people, and learned more about organizational operations. The actual start was after graduating from this school, and I am determined to work hard for the bright future of the Deaf people.
Comments from partner organizations: Founder and CEO Haruo Miyagi, NPO ETIC.
Since 2002, we at ETIC. have been working together with NEC to provide startup support focusing on entrepreneurship, with "NEC Social Entrepreneurship Schools" providing one of the longest running activities in our history.
Many forerunners opened new doors, challenged businesses that once said it was impossible, and now have become leaders in the field.
Challenge together toward the next frontiers.