NEC "TOMONI" Project
We initiated the Tohoku reconstruction support activity, NEC "TOMONI" Project, as part of our social contribution activities, and are making efforts to reconstruct the disaster areas by connecting our hearts with disaster victims as the NEC Group.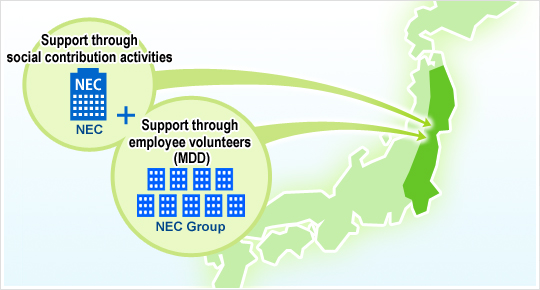 Stronger Partnership with Minamisanriku Town
In November, 2015, NEC joined the Miyagi Prefecture Minamisanriku Exchange Project "Minamisanriku Cheering Squad", and signed a reconstruction cooperation agreement with Minamisanriku Town.
We will start new activities including volunteer activities using employees' expertise, and strengthen partnership.
Changing Volunteer Needs
The NEC "TOMONI" Project is designed based on existing and ongoing social contribution programs like employee volunteer activities "NEC Make-a-Difference Drive" to provide extended supports and volunteer activities where employees make disaster area visits.

We hope for the quick reconstruction of disaster areas, ascertaining their situation and needs, then continue to support them through NEC's information and communications technologies and employee volunteer activities in cooperation with local governments, NPOs and stakeholders.
It has been three years since the earthquake, and the on-site needs for volunteer activities are shifting from debris removal to community and industry revival and creating jobs. Corporate volunteers are expected to provide activities using their professional skills and resources.NEC supports the reconstruction in Tohoku through NEC "TOMONI" Project and other social contribution programs.
Watch volunteer activities of removing debris and "Fukkou Ichi" in Minamisanriku, Miyagi Prefecture.
(Link to YouTube website)