Displaying present location in the site.
Corporate Citizenship Activities
Policy on Corporate Citizenship Activities
As stated in our Purpose, NEC has committed itself to creation of the social values of safety, security, fairness and efficiency to promote a more sustainable world where everyone has the chance to reach their full potential.

Guided by this concept, each member of NEC, from directors to employees, acts as a good corporate citizen by carrying out NEC Make-a-Difference Drive corporate citizenship activities aimed at resolving social issues over the medium to long term.

Through these activities, we work with local communities, NPOs and NGOs, local governments and universities, among other entities, to promote "Life," "Society," and the "Environment," the three layers of our vision for an ideal society, laid out in the NEC 2030VISION. NEC recognizes that local communities are responsible for, or otherwise play a leading role in, solving social issues, and that sustainable local communities enable business activities to be carried out in those areas. As members of communities, we want to support them in achieving the necessary solutions.

This thinking is also connected to "coexistence with local communities" in the NEC Group Code of Conduct. In addition, NEC has positioned the NEC Make-a-Difference Drive as one of the foundations of its efforts to promote diverse human resource development, which is one of the Company's priority management themes from an ESG perspective—materiality. Through the NEC Make-a-Difference Drive, officers and employees engage in dialogue and co-creation with various stakeholders, such as local communities and the social sector. This provides them with occasions and opportunities to experience social issues that merit NEC's attention as a Social Value Innovator.

We believe that through these occasions and opportunities, employees acquire a mindset for volunteerism and co-creation, enabling them as highly socially literate personnel to sensitively grasp the true nature of issues facing customers and society so that they can play a leading role in creating businesses inspired by social issues. The social contribution programs and collaborating NPOs under the NEC Make-a-Difference Drive are selected based on the following policies and guidelines.

Furthermore, we have established an evaluation system for social contribution programs, and we regularly confirm their social impact and promote program improvements and revisions.
Medium- to Long-term Targets, Priority Activities and Progress, Achievements, and Issues
Medium- to Long-term Targets and Priority Activities
(Scope: NEC Corporation unless otherwise specified) Period: April 2021 to March 2026
Expand range of corporate citizenship (Aim for 10,000 new registrants with the NEC Volunteer Support Service database by FY2026)

Utilize corporate citizenship as a launching point for social value creation
FY2023 Goals, Progress, Achievements and Issues, and FY2024 Goals
Expand range of corporate citizenship

Increase the number of new employees registered for the NEC Volunteer Support Service (a database of employee volunteers) by 1,500 people per year
Officially launch the new NEC Future Creation Program (SDGs training program for the next generation)

Utilize corporate citizenship as a launching point for social value creation

Create new businesses and strengthen cooperation with local communities beginning with corporate citizenship initiatives such as the NEC Social Entrepreneurship School and the NEC Pro Bono Initiative
Progress, Achievements and Issues
Expand range of corporate citizenship

NEC has created various opportunities, mainly online, for all employees in Japan to easily and proactively participate. As a result, the number of newly registered employees for the NEC Volunteer Support Service increased sharply, by 1,500 people in a year
Total number of newly registered employees: 7,376
Steady start of the NEC Future Creation Program

Utilize corporate citizenship as a launching point for social value creation

Started business collaboration between NEC Karada Care, a healthcare service trial project by NEC, and BANSO-CO, Inc., a company founded by NEC Social Entrepreneurship School graduates
Entered into a comprehensive cooperation agreement with Itabashi City (Tokyo Metropolitan Area) regarding next-generation education.
The aims of the project are to conduct investigative research and trials in order to implement ICT education and create new education services for the next generation
Expand range of corporate citizenship

Increase the number of new employees registered for the NEC Volunteer Support Service (a database of employees with high social awareness) by 1,200 people per year

Utilize corporate citizenship as a launching point for new business creation, support business activities and forge relationships with local communities (reach comprehensive cooperation agreements, etc.)
Corporate Citizenship Activity Framework
NEC's corporate citizenship activities are conducted under three main implementation frameworks:
Social contribution programs planned and executed under the initiative of the Corporate Promotion Group of the NEC Corporate Communications Department and the department in charge of promoting corporate citizenship activities of each NEC Group company;
Activities for contributing to local communities planned and participated in by NEC Group employees around the world; and
Various grants from foundations
Key Areas of Corporate Citizenship Activities
Earthquake Relief Support for Türkiye and Syria
The NEC Group donated 10 million yen to help people and areas affected by the earthquakes, through the Embassy of the Republic of Türkiye in Tokyo. In addition, NEC Group companies around the world make donations, via methods including online donation or through the "cafeteria points" system, to organizations such as the World Food Programme and the Red Cross.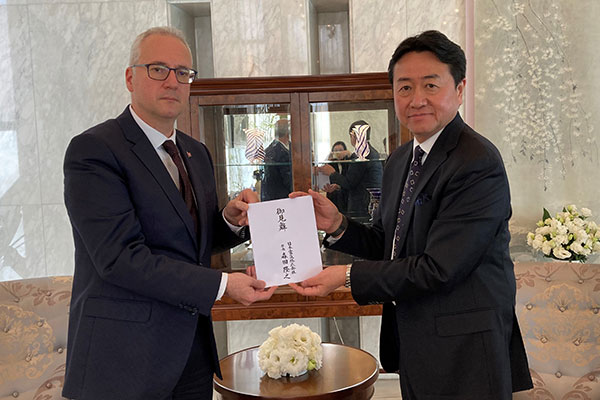 NEC Social Entrepreneurship School
In fiscal 2003, we began the NEC Social Entrepreneurship School, a project for nurturing young social entrepreneurs that we launched in cooperation with the NPO ETIC. As of fiscal 2023, 70 groups have graduated from the school. The project has been called a gateway for the success of social innovators because of the large number of celebrated young social innovators that it has produced.

In February 2023, the NEC Social Entrepreneurship School invited the NPO ETIC. and young social entrepreneurs (alumni) to take part in a special program, involving a special dialogue on the theme of "What is Social Value Creation through 'Co-Creation'?—Case Studies in Agriculture and Healthcare." The special program aims to encourage employees to interact directly with active entrepreneurs who are leading social innovation. This enabled them to (1) discover and learn about social issues as an individual employee, (2) foster an entrepreneurial spirit, and (3) renew their understanding of the importance of co-creation to achieve the previous points, in order to realize the goal of social value creation as part of NEC's Purpose.

About 400 employees, who are either currently engaged in solving social issues or intending to tackle them, participated in the program.

The following two social entrepreneurs explained social issues that they are tackling, before discussing the importance of co-creation in resolving those issues.

Participating social entrepreneurs:
Kunihiko Ono, SAKA NO TOCHU Co., Ltd. (graduated in fiscal 2010)
Satomi Doi and Aya Isumi, BANSO-CO, Inc. (graduated in fiscal 2022)

BANSO-CO, Inc. and NEC Karada Care, a healthcare service trial project run by NEC, started a business collaboration in June 2022. This collaboration between BANSO-CO, which deals with mental healthcare, and NEC Karada Care, which handles physical healthcare, aims to realize provision of more efficient and effective total healthcare services.
In fiscal 2011, NEC introduced the NEC Pro Bono Initiative, a program that helps NPOs and social entrepreneurs address their target issues with assistance from the professional skills of NEC employees. In doing so, NEC became the first Japanese company to start pro bono activities. In fiscal 2023, we conducted joint activities with the Tokyo Metropolitan Government, Kawasaki City (Kanagawa Prefecture) and the Japan Network for Public Interest Activities (JANPIA), a Designated Utilization Organization for the utilization of funds from dormant accounts, as pro bono partners.
In our partnership with the Tokyo Metropolitan Government, in July 2021 we entered into an agreement regarding technical support for lessons on the use of digital technology in public elementary and junior high schools in the metropolitan area. This initiative led to NEC and Itabashi City entering into a comprehensive cooperation agreement in September 2022 regarding next-generation education, which has included running an internet safety and security class for elementary school students called e-Net Caravan. Employees volunteered to participate in the lessons, with the aim of identifying issues and needs in the education space and conducting investigative research and trial projects in order to create new education services.
In our partnership with Kawasaki City, the Kawasaki City Social Welfare Council, Toko Gakuen High School (Kawasaki City) students and employee volunteers from the NEC Pro Bono Club planned events for distributing food and daily necessities collected through donations to households struggling during the COVID-19 pandemic. The events were held at NEC's Tamagawa Office in May 2022 and March 2023, and were attended by a total of 310 people from 150 households.
In our partnership with JANPIA, employee volunteers from the NEC Pro Bono Club participated in pro bono activities for the Sumiyoshi Area RINPO Project Promotion Association (Sumiyoshi Ward, Osaka City), one of the recipients of funds from dormant accounts. This activity involved providing promotional support to raise awareness of the association's new initiatives (to create a space for local children and a children's cafeteria) among local residents.
In addition, as a new initiative, in fiscal 2023 NEC collaborated with Osaka Prefectural Toyonaka High School on community co-creation activities through pro bono work. This initiative was part of a comprehensive cooperation agreement that NEC and Toyonaka City (Osaka Prefecture) entered into in 2020, related to next-generation government services that utilize ICT.

In fiscal 2023, NEC's pro bono work to date was recognized for its continuity, pioneering spirit, and future development potential. NEC received the Grand Prize in the Corporate Volunteer Awards from the Tokyo Council of Social Welfare and the Special Prize in the Kawasaki SDGs Awards from Kawasaki City.
NEC Future Creation Program
In line with the revision of high school curriculum guidelines from fiscal 2023, NEC has developed the NEC Future Creation Program in collaboration with the educational consulting company Careerlink Co., Ltd. This education program, aimed at high school students, draws upon the SDGs as themes to learn about creating an ideal future. It has been implemented at three high schools in Kochi, Saitama, and Fukushima prefectures, with a total of 100 students and 63 employees participating online.

In this program, students take advantage of analysis tools and video content that introduces cases of NEC's contributions to the SDGs while thinking about their own ideal image of the future and coming up with solutions for social issues. Employees will also help these students refine their ideas through dialogue.

In a survey of participating students, 95% responded that their understanding of the SDGs had improved, and 97% responded that their interest in social issues had increased. Furthermore, the students also said in their feedback that they were able to produce better ideas by exchanging opinions with people from different generations, rather than their own generation; that they enjoyed learning about how to exchange opinions by listening to other people's views and widening and expanding the conversation, rather than rejecting them; and that they felt that with so many types of technology available, the potential of IT is infinite.

Meanwhile, the employees who participated in the program reported that engaging in discussion with the high school students helped to broaden their own perspectives; that they also gained insights for new business creation; and that the program helped to deepen their understanding of the Company's initiatives as an employee, and they feel able to give feedback related to their core work area. In fiscal 2024, we plan to expand the program and run it nationwide.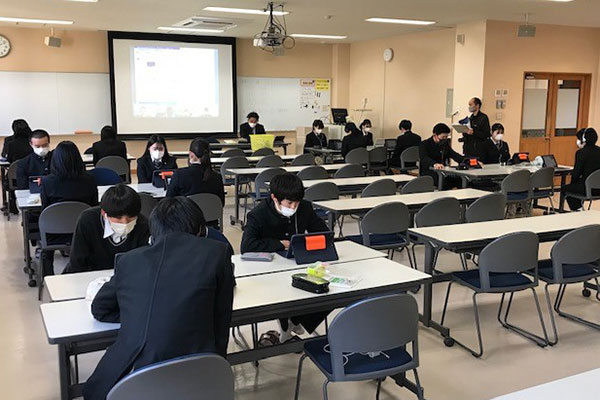 Promoting Employees' Volunteer Activities
Under the cafeteria-style benefits and welfare system, "Will be," provided two options for using points: "support volunteer activity expenses" and "donate to volunteer groups and areas affected by disasters." These options enable employees to allocate their points to transport expenses for volunteer activities or donations for the Red Cross, UNICEF and other organizations
Through the NEC Volunteer Support Service (a database of employee volunteers), introduced a range of volunteering opportunities, including online, to promote casual and proactive volunteering activities by employees
In December and January of each year, the NEC Group promotes collection activities for seven items, including Bellmark symbols from sponsored products, used books and used postcards, as a familiar activity that is easy for employees to participate in.
Collected items are used to support people in disaster affected areas and developing countries through NPOs and other organizations.
Initiatives in Local Communities Worldwide
Through its corporate citizenship activities, NEC works on initiatives to promote inclusion and diversity worldwide and within local communities, and on community support activities to help solve local issues.
e-Net Caravan

NEC has implemented e-Net Caravan, which offers awareness-raising activities and guidance for elementary school students (third and fourth grade) through to high school students, as well as for guardians and educational professionals, to teach them how to use the internet safely and securely. This initiative is meant to address the rights of children set out in the Children's Rights and Business Principles developed by Save the Children (NGO), the UN Global Compact, and UNICEF.
Nationwide, 300 of our employees currently participate in this initiative as certified instructors.

Para-sports promotion activities
To help promote and develop para-sports, we cooperate with various regional stakeholders to collaborate on planning and holding prefectural para-sport competitions and Para University Festivals, as well as supporting Boccia activities.
Wheelchair tennis
Since 1991, NEC has supported wheelchair tennis tournaments held by the International Tennis Federation, spanning a period of over 30 years, and employees have supported operation of the tournaments.
NEC Corporation India's initiatives
In 2021, NEC Corporation India Private Limited received the India CSR Leadership Award in recognition of a series of humanitarian initiatives.
"Gift the Warmth Drive"

NEC distributed shawls to 1,200 senior citizens living in financial difficulty in rural areas, as a measure against the cold.
The Gift the Warmth Drive marked its 12th consecutive year in fiscal 2023.

Radhakund Ashram

Since 2015, through the local community NEC Corporation India has been contributing to the health of the women at a residential facility for 650 widows, called Radhakund Ashram, by distributing nutritious food such as fruit and milk.
The subsidiary also conducts health checkups twice a week.

Collaboration with NGO Krish

In cooperation with the NGO Krish, the subsidiary supports the education of 350 underprivileged girls at two rural schools so that they can acquire the knowledge, skills, and self-confidence that will help them avoid economic and social insecurity.
The subsidiary is also working on efforts to protect the environment, create jobs and provide digital infrastructure in rural areas, and promote digitalization in these areas through digital literacy.
NEC Corporation of America's initiatives
Collaboration with NPO Catch Up & Read

NEC Corporation of America has been a partner of Herbert Marcus Elementary School in Dallas, Texas for the past seven years and has developed an instructional program from first to third grade in collaboration with educational NPO Catch Up & Read.
Many children who attend Herbert Marcus Elementary School come from families suffering from economic hardships or have difficult situations academically, but thanks to the school's six-year program, it has become highly recognized as a breakthrough campus.
NEC Corporation of America participates in the leadership program at Herbert Marcus Elementary School, where children learn to be leaders by engaging with collaborators from various regions.

Collaboration with Haven for Hope

Haven for Hope in San Antonio, Texas, is the largest homeless support facility in the United States. NEC is cooperating with Haven for Hope to develop initiatives that provide hope and a new start for homeless people.
Haven for Hope is an innovative facility that provides not only shelter, but also emergency support programs and services for over 1,300 men, women and families every day.
Together, we work on creating solutions that use technology to strengthen safety and security for homeless people, streamline facility operations, and give homeless people greater self-confidence.
Social Contribution Activity Expenses
In fiscal 2023, total corporate citizenship activity expenses for the NEC Group were approximately 697 million yen. We promoted activities in a variety of fields, including "Academia, Research, and Education" and "Arts, Culture, and Sports." Corporate citizenship activity expenses included the following: 1) financial assistance, 2) charitable donations of products quoted on a unit price basis, and 3) public use of NEC facilities (converted into monetary amounts based on the unit price of using equivalent external facilities to quantify the cost of using NEC facilities for socially beneficial purposes).
Fiscal 2023 Activity Expenses Breakdown
The fields of activity used in the expenses breakdown below correspond to the fields of activity used in surveys of social contribution activities conducted by the Japan Business Federation.
Measuring the Effectiveness of our Corporate Citizenship Activities