Displaying present location in the site.
NEC aims to realize a sustainable society where everyone has the chance to reach their full potential. Our management approach entails conducting dialogues and co-creation with many different stakeholders while advancing business activities that help address social issues. Moreover, in addition to conducting rigorous compliance with laws, regulations, and sound corporate ethics, we also proactively lower risks attendant on activities that have potentially negative effects on society or the environment.

Guided by the NEC Way, NEC promotes management for sustainability in accordance with the following Basic Principles on Management for Sustainability. In addition, we have identified our priority management themes from an ESG perspective— materiality. Addressing these themes is central to minimizing risk and maximizing the value we provide, which in turn will contribute to improving future financial performance and achieving the Sustainable Development Goals (SDGs).

Fiscal 2022, the Sustainability Advisory Committee was newly established to promote management for sustainability as a means to improve corporate and social value.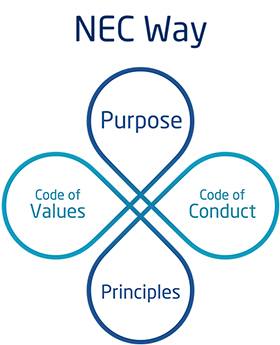 We are also taking part in a variety of initiatives in pursuit of our goal to help achieve the SDGs and create a sustainable society.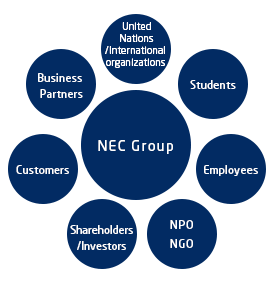 Values are constantly changing for our customers and society. To supply products and services that deliver real value, NEC needs to incorporate processes for dialogue and co-creation with stakeholders into its corporate activities. This is a chart of the main dialogue and co-creation that we conducted in fiscal 2023.
"Materiality" refers to priority management themes from an ESG perspective. We identify materiality from the perspective of risks and opportunities, referring to global guidelines in considering the impact of our materiality on both NEC and society through dialogue with experts and stakeholder representatives in various fields.
A part of our financial strategies in the Mid-term Management Plan 2025 involves identifying and implementing initiatives to address seven priority management themes to strengthen the non-financial foundation that encompasses ESG and underpins the sustainable growth of companies and society.

In fiscal 2024, we have further clarified our approach to increasing corporate value by addressing ESG issues in an integrated manner to both reduce risks and generate growth and opportunities. We positioned our seven priority management themes as our "Fundamental Materiality" with the objective of reducing risk and increasing our growth rate. The social and environmental themes to be created by the growth businesses in the Mid-Term Management Plan 2025 and the next pillar of growth businesses have been organized into five themes as "Growth Materiality" to create growth/opportunities and improve the growth rate.