No.1 (March, 2009) Special Issue: Electronic Devices
Vol.4 No.1 (March, 2009)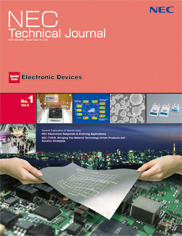 Special Issue: Electronic Devices
---
---
---
Semiconductors and Solutions for Image Processing and Display
YANASE Ryoji ・ISONO Hiroshi ・AZUHATA Hiroaki ・KUBOTA Takeshi ・
KOMORI Hideki ・MATSUURA Yoshihiro
NEC Electronics has developed a system LSI using the "single-frame super-resolution technology." This technology has been developed jointly with NEC Central Research Laboratories. This paper describes the IP (Intellectual Property) provided by using the above technology for the design of ASIC (Application Specific Integrated Circuit) and a system LSI (Large Scale Integrated Circuit) developed by using the IP that is suitable for embedding systems.
---
OKUYAMA Tomoyuki ・ITO Masahiro ・ONODA Yoshio ・MIYAMOTO Atsushi ・
MIYAUCHI Tetsuo ・SUYAMA Hiroo
For yet another world first achievement NEC Electronics has developed the EMMA3PF, a system LSI integrating all of the major functions of a Blu-ray Disc (BD) player in a single chip. The functions integrated into the EMMA3PF include those for reading signals from optical discs, those for decoding the signals into video/audio signals and those for supplying the HDMI output. It also incorporates high-performance multi-core CPUs and a graphics engine for significantly improving the player's operability. At the same time as the release of the EMMA3PF, NEC Electronics is also planning to launch a reference board and software compliant to the latest BD standard.
---
OOYA Akitaka ・MATSUMOTO Hisami ・KAWAGUCHI Hiroshi
The cameras incorporated in cell phones have now evolved to have a similar picture quality to that of compact digital cameras. This paper introduces the CE131 camera engine that is compatible with the highest pixel values among the cell phone camera engines of the 8 megapixel range. Development has been undertaken by NEC Electronics based on expertise that has been acquired via the camera engine solutions business.
---
Semiconductors and Solutions for Mobile and Wireless Fields
FUKUSHIMA Osamu ・SADO Masaki ・ITOH Atsushi ・ARIKADO Tomohiro
This paper is intended to introduce the dual-system communication software used in the 2G/3G dual communication system incorporated in the Medity2 chipset developed by NEC Electronics. This software features the GSM technology, digital baseband control with parallel task operation and a status-dependent power save control that is designed to achieve both 2G/3G dual communications and energy save.
---
IWATA Naotaka ・FUJITA Masanori
Recently cellular phones have been advancing toward multi-band and multi-mode phones and many of them are now provided with Near Field Communication (NFC) functions as represented by FeliCa. Their antennas are required to be capable of fine impedance matching so that the functions can be implemented in small cellular phones. The GaAs switch IC is suitable for such a purpose because of its low insertion loss, etc. This paper is intended to introduce the technologies and products of the GaAs switch ICs that have been developed by NEC Electronics for use in antenna impedance matching.
---
Semiconductors and Solutions for Energy-saving/Low-power Systems
OBA Koji ・KAWAI Kazuyoshi ・MATSUSHITA Rumi ・ISHIHARA Kuniyasu ・ETO Kimiharu
The NEC range of all-flash microcomputers is entirely composed of flash microcomputer products that offer our customers systems aimed at improved competitiveness. Recently there has been a rise in the awareness of the need for energy saving and a resulting focus on customers' needs for a reduction in the power consumption of microcomputers. In order to meet this trend NEC has developed the "78KOR/Kx3-L" 16-bit range of all-flash microcomputers that aim at a power consumption performance at the industry's most efficient level. The new products have been implemented by adopting a creative approach to product specifications and circuit designs that aims at reducing power consumption during the 1MHz and standby operations, which are particularly important for battery-driven equipment. These products are expected to contribute significantly to the extension of the battery life of customers' appliances.
---
TORIKAI Masahiro ・ASAI Michinari ・KANATAKE Mitsuhito
Backed by the rise in environmental concern and demands for energy saving, the fields involving inverter controls such as FA (Factory Automation) and home appliances incorporating photocouplers are required both to reduce their system sizes and improve their functions. This paper introduces a series of SDIP (Shrink Dual Inline Package) -packaged photocouplers that features a reduction of the mounting area by about a half while maintaining the package structure parameters in compliance with the safety standards of high-speed couplers and IGBT gate-drive couplers.
---
Next-generation Key CMOS Technologies
HAYASHI Yoshihiro
The LSI Fundamental Research Laboratory, NEC Electronics, is developing materials, processes, devices and circuits required for the establishment of high reliability, high performance, low-power consumption devices that can satisfy the needs of our customers. This paper is intended to introduce some of the recent research activities of the laboratory in the fields of the key CMOS basic-technologies (FEOL/BEOL) and of the performance-boosting technologies (RF/circuit/variation-control, etc.).
---
HIRATA Morihisa ・SHIMIZU Takashi ・YAMADA Kenta
Advancement in the microfabrication of semiconductor chips has made the variations and layout-dependent fluctuations of transistor characteristics noticeable. It is necessary to develop a design technique that can predict the above phenomena and their effects from the design stage, in order to exploit the maximum performance of transistors and implement high-performance LSIs at low costs. This paper is intended to introduce the efforts made by NEC Electronics for designs considering variations and layout dependence.
---
FUKAI Toshinori ・IKEDA Masahiro ・TAKAHASHI Toshifumi ・NATSUME Hidetaka
The UX8 is the latest process from NEC Electronics. It uses the most advanced exposure technology to achieve twice the gate density of the previous generation. It adopts new technologies to improve performance, as well as to enable embedding of memories, including SRAM and DRAM, in core, 1.8V and 3.3V type transistors. In addition, the UX8 is implemented as a device platform for a wide range of users who may use it in logic products, as well as DRAM-embedded products, because it offers a selection of two kinds of core devices, including the 0.9V LOP (Low Operation Power) and 1.1V LSTP (Low STandby Power) cores, which can deal with applications ranging from those featuring high-speed operation to those featuring low power consumption. This paper is intended to introduce the representative technologies applied in the UX8 and its device lineup.
---
Production Technologies for Mass-production
UCHIYAMA Takayuki
NEC Electronics has pioneered the development of the immersion lithography technology in order to deal with micro-fabrication from the 65nm logic to the 55nm logic and after. Instead of air, the immersion technology introduces water between the lens and wafer of the exposure system for use in fabricating the circuit pattern and this makes it possible to improve the resolution and to fabricate finer patterns than have been achieved hitherto. NEC Electronics has completed the material development, exposure system development and process optimization for this technology and the process is currently being applied to mass-production of the 300mm wafer production line at the NEC Semiconductors Yamagata factory.
---
NIKAIDO Masafumi
Advancements consequent on the increase in functions and the decrease in the size and weight of home electrical appliances and various related devices have been promoting improvements to the micro-fabrication technologies. This trend is tending to bring about increases in the scale of the LSIs that are used in them. In the case of the LSIs, it is extremely important to ramp up and maintain a high yield from the start of production and to supply high-quality products stably both from the viewpoints of acquiring customer confidence and of securing profits.This paper is intended to introduce a fault identification technology, which is an innovation that features a pinpoint identification capability. This solution is important in quickly clarifying the causes affecting the yield. Some aspects of actual cases are also examined.
---
Noise & Power Solutions
SHIMO Akitoshi
A new type of decoupling device called the Proadlizer has been developed by NEC TOKIN that has been used as the decoupling capacitor in CPUs for notebook PCs. As the next-generation CPU is required to achieve a total ESR of 1mΩ, NEC TOKIN has newly developed an ultralow-ESR Proadlizer to meet this new trend. This paper is intended to introduce the Proadlizer as well as to discuss its potential for higher capacitance when used in desktop PCs with higher power consumption values.
---
SAITO Yoshihiro ・YAMAUCHI Hideaki ・TABATA Tsubasa
The accelerating trend in the increased density of the components packaged in various electronic devices has been tending to make the requirements of the standards for high current-compatible compact choke coils more severe than ever. In particular, in the case of the mobile notebook PCs, the decrease in voltage and the increase in current demand the more importance to improve the power loss characteristic. In order to meet this trend, NEC TOKIN has developed the MPCG Series of integrally molded choke coils that feature improved power conversion efficiencies by using a low-loss magnetic core material called "Senntix." The series incorporates a flat rectangular conductor coil that is wound edge-wise and is fabricated with "Senntix" by a one-piece construction method. The "Senntix" magnetic material features the high saturation magnetic flux density and stable amorphous crystalline structure that are characteristic of metallic glasses. A high-current energization capability and a significant reduction in core loss are also achieved.
---
KATO Kazuyuki ・ABE Satoshi ・YAMASHITA Daisuke
Mobile electronic equipment as represented by cell phones and digital cameras is rapidly decreasing in size and the electronic components used are being subjected to strong pressures for size and thickness reductions. In order to meet these needs, NEC TOKIN is developing tantalum capacitors with compact sizes and large capacitances and has already commercialized the F/SV Series of tantalum capacitors from the 2012-size with face down structures that offer an electrostatic capacitance of 100μF.This paper introduces the results of the new developments with regard to meeting market needs for further capacitance increases. The G/SV Series tantalum capacitors that began production in 2008 offer 220μF from the 2012-size.
---
Energy Solutions
OGAWA Keiichi ・TOBIOKA Kazuhiro ・OHGA Keisuke ・YAMAGUCHI Kohei ・MIYATA Shinji
The electric double-layer capacitor (SuperCapacitor) is an energy storage/supply device that makes use of the electric double-layer phenomenon in which positive and negative charges are accumulated at the interface of a solid and liquid.NEC TOKIN has already produced the FC Series of SuperCapacitors with a 235°C reflow compatibility for use in surface mounting. Recently, NEC TOKIN has succeeded in the development of a high heat resistance product (FCS type SuperCapacitor) that has compatibility with lead-free solder reflow conditions (260°C reflow temperature). Details of this development are introduced in this paper.
---
ZAMA Koichi ・SUZUKI Shin ・KASAI Masakatsu ・SHIOYA Taishi
This paper introduces 24V type standard battery packs composed of large-capacity or high-power type laminated battery cells connected in series. These battery packs are used in combination with a dedicated battery charger and can be handled easily even by beginners who are not familiar with lithium ion batteries. The large-capacity type is designed mainly for power storage related applications, such as for UPS (Uninterrupted Power Supply), backup power supply for large equipment and natural energy storage (wind, solar, etc.) The high-power type is designed mainly for motor-drive related applications that require a momentary high current, such as for momentary power failure backup UPS, motorized bikes, motorized carts and robots.
---
Access Solutions
URATA Junetsu ・HAMAARATSU Iwao ・MISHINA Hirokazu ・
ONUMA Tomoyuki ・OIKAWA Yoshinori
NEC TOKIN started its RFID business from a very early stage and has been expanding its reader/writer range as well as that of antennas that feature compatibility with various frequency bands, including the 125kHz, 13.56MHz, 2.45GHz and the UHF bands. This paper is intended to introduce a UHF band portable reader/writer and a group of antenna products developed newly by NEC TOKIN.
---
NEC Information