Displaying present location in the site.
Featured articles related to Human Resource Development
With the advancement of digital technology, the business environment is changing dramatically, and companies are facing challenges such as the influx of competitors from different industries and the emergence of new businesses. As a result, the demand for DX talent to support companies in their digital transformation journey is increasing. The need to develop DX talent who can design next-generation businesses is also essential to enable companies to focus on creating new value and businesses and continue to be the customers' company of choice. Introduced below are the top articles on developing DX talent with expertise in artificial intelligence and digital transformation and the skills to deliver results.
DX Human Resource Development in the Digital Age
Today, one concept more than any other is driving the way businesses are structuring for the future. Digital transformation (DX) promises to revolutionize everything from products and services to business models. But this transition can't happen on its own. To get there, companies need workers with the skills and knowledge to understand, manipulate and deploy data and digital technology to meet the needs of customers and society. With DX talent now in high demand, companies worldwide are struggling to recruit competent DX talent, increasing the need for DX human resource development. NEC has launched the NEC Academy for DX, a one-stop service offering solutions for DX human resource development required for the digital age. We will describe that program in this paper and examine a number of case studies conducted at NEC Academy for DX that demonstrate the effectiveness and efficacy of this program.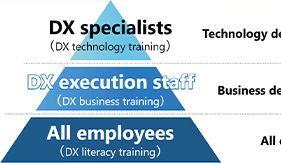 SUKENARI Teruki, SUGAJIMA Mari, KOCHU Daisuke
DX Offerings to Support Transformation of Organizations and Human Capital
In response to enormous progress in technology as well as the acceleration of the digital shift and the increase in uncertainty triggered by the novel coronavirus infection (COVID-19) pandemic, digital transformation (DX) is now an urgent matter for companies to tackle. To enable companies to promote DX so that they can increase their cooperate value while keeping a clear eye on the direction in which they should go, the transformation of their human capital and organizations that support their DX strategies is essential. In this paper, we will first discuss the type of human capital and organizations that are regarded as necessary for DX and then we will introduce NEC's DX offerings that support our customers as we accompany them in the digital transformation of their human capital and organizations by leveraging NEC's accumulated experience in the digital transformation of NEC's own human capital and organizations.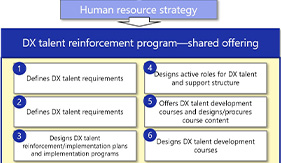 Talent Management: Managing Cybersecurity Human Resources
For several years now, NEC has been actively working to augment cybersecurity human resources. These efforts include promoting the expansion/deployment of training programs, improving the NEC Certified Professional (NCP) system, and encouraging the acquisition of certifications such as Certified Information Systems Security Professional (CISSP) and Registered Information Security Specialist (RISS). In this paper, we will review these policies and discuss our "talent management" program, that is, how we manage our cybersecurity human resources at the NEC Group including management of career paths and human resource exchanges.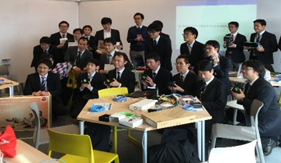 Total Cybersecurity in the DX Era
While companies and other organizations are furthering a commitment to digital transformation (DX), they are becoming increasingly vulnerable to cyberattacks, making cybersecurity a more critical management issue than ever before. To help customers better deal with this situation, NEC provides various services and DX offerings to achieve a robust security system required for DX era, while providing all sorts of solutions based on security-by-design principles, in which security is considered and built in from the planning and designing phase. By supporting DX at companies and other organizations, NEC contributes to the achievement of a safe and secure society.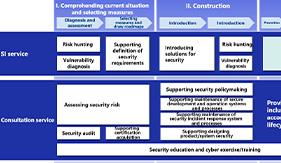 YOSHIFU Kenji, SUZUKI Akinori, OKAZAKI Takumi, NISHINO Shinichiro, OGAWA Kenichi, USUBA Toshimitsu
Human Resource Development in the Age of AI
As we move towards the "Super Smart Society" outlined in the Society 5.0 initiative proposed by the Japanese government in the 5th Science and Technology Basic Plan, new human resources are expected to play an active role in solving various social issues by utilizing artificial intelligence (AI) and thereby creating new value. Today, a worldwide shortage of AI specialists has pushed companies into intense competition with each other to secure competent AI specialists. To deal with this problem, a more aggressive approach to developing human resources specializing in AI is required. At NEC Group, we have been working hard to develop human resources specializing in AI since 2013 and many future AI specialists have passed through our workplaces. Based on a case study of NEC Academy for AI, this paper shows how we develop our human resources in the age of AI.