Stand Management System
By using up-to-date information obtained through a network of airline companies, the system provides smooth and efficient stand management services.
The key to airport stand management is to assign the ideal stand for each aircraft according to flight schedules.
Assignment results are used to draw up plans called "assignment charts," which are copied and distributed to all relevant sections of the airport.
NEC's Stand Management System utilizes computer technologies and an advanced information network to carry out this process quickly and efficiently. The system obtains flight information from the FIHS (Flight Service Information Handling System), and real-time information on stand changes, flight details, and block in-out schedules through a network linked to airline companies. The information received is instantly displayed on projectors to ensure smooth and efficient stand management.
Monitors provide clear visual confirmation of automatically assigned/verified spot-assignment schedules and current spot usage.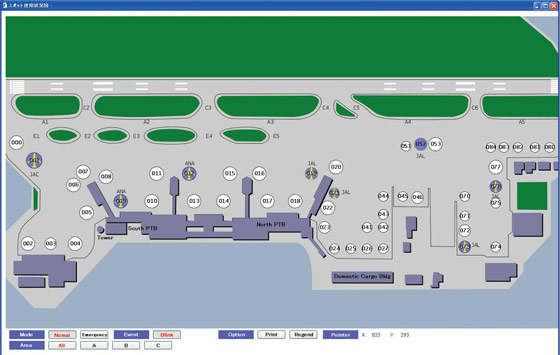 Examples of Operation Screens
Workplan Creation
Three types of assignment charts are drawn up (basic plans, master plans, and operation plans) based on flight schedules.
Operation Monitoring
Constant monitoring of the current stand usage situation is carried out based on the operation plans and flight information obtained through FIHS and the airline company-computer network.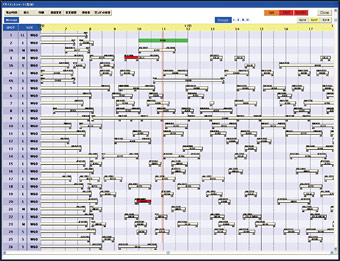 Configuration of Stand Management System
The system cosists of advanced components such as a powerful and reliable server-client system, and projectors to display the stand-usage situation.