Displaying present location in the site.
Air Traffic Control and Airport System
Over 50 years, NEC has been working with our customers to develop and deliver innovative solutions for Air Traffic Control Systems incorporating advanced technologies.
In so doing, NEC has accumulated comprehensive know-how of the ATC/NAV systems development.
This know-how adds value, high system quality, safe and flexible system operation, to the customer.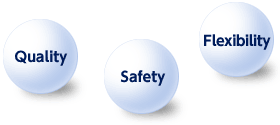 In order to enable both civil aviation and air defense authorities maintain air safety and accommodate future traffic growth, NEC offers an integrated Air Traffic Control System for enroute and terminal air traffic control.
NEC also offers various systems for the airport.
System and a comprehensive product line-up
An integrated Air Traffic Management infrastructure enables expansion of both air traffic service and airport operations.
NEC is aggressively moving forward by developing and advancing the five pillars of the next generation.
Air Traffic Management System shown below.
When the mouse is put on the name, the outline is displayed.
NEC designs, produces, installs, tests, and maintains equipments and systems which are operated by our customers, Civil Aviation and Airport Authorities.
NEC, together with our partners in your country, takes your future air traffic control and airport operations requirements into consideration, offers the best integrated solution.
Customer support is one of our top priorities. NEC provides high quality comprehensive maintenance and logistic support for safe, steady and smooth operation of your systems.
Navigation

MSAS Performance Monitor (Coming Soon!)