Displaying present location in the site.
SSR
Secondary Surveillance Radar
NEC's Secondary Surveillance Radar is an advanced Mode S/Mono-pulse Secondary Radar (MSSR) for Enroute and approach control area.

NEC has developed the unique system architecture focusing on maintainability and future logistic supports that improve system re-configuration and enable system lifetime extension without major hardware changes.
Over 12 years of experience of the Mode-S/MSSR development provides our customers with higher performance radar in high density air traffic control environment.
The Mode S capabilities such as selective interrogation and data link offers the customers safer and more effective air traffic control services.
ICAO standard mode-S model available
High performance Mono-pulse technique
Redundant and fault tolerant configuration
Easy to use and to maintain
Safe and easy replacement and repair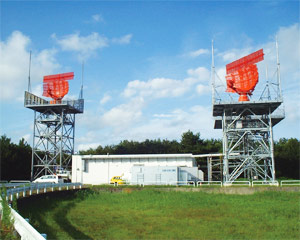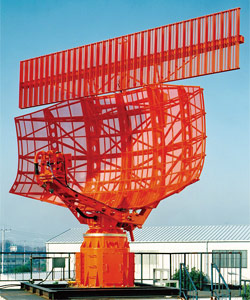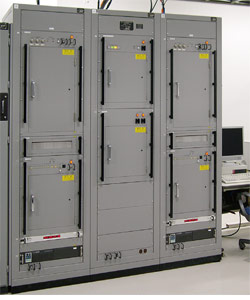 Technical Characteristics
Coverage
Range

60 nmi. / 100 nmi. / 250 nmi.

Altitude
100,000 ft
Elevation
0.5 to 45°
LVA Antenna
LVA Antenna
6 rpm, 15 rpm
Gain
≧ 24 dB
Beamwidth
2.5°
Interrogator/
Receiver
Interrogation modes

1, 2, 3/A, C, Intermodes, All-call, Roll-call

Mode S datalink modes
SLM, ELM
Transmit power
1 kW / 1.5 kW
Accuracy




Azimuth
< 0.06°
Range
< 30 m
Range (Mode S)
< 17 m
Mode A, C Code detection
> 95%
Mode S Code detection Error
< 10-7
Probability of detection (Pd)
> 95%
False target reports ratio
< 2%