Displaying present location in the site.
ASR
Airport Surveillance Radar
NEC's Airport Surveillance Radar (ASR) is a high performance S-Band radar system designed to provide air traffic controllers with reliable and clear picture of air traffic within its coverage area.

Latest solid-state and digital processing technologies are used to realize improved ground and weather clutter suppression and interference-free output.
Based on its more than 50 years of unique experiences of serving worldwide customers, NEC offers integrated advanced technologies listed below to meet each customer's requirements.
Benefiting in fully solid-state transmitter and signal processing technologies with system stability
Clutter rejection by use of dual beam antenna and multi-doppler filter technologies
A high level of data availability by sliding-window technique to provide aircraft and weather data simultaneously
Digital pulse compression technique
Redundant architecture based on a fault tolerant transmitter and duplicated receivers and processing channels with automatic switchover
Easy and safe maintenance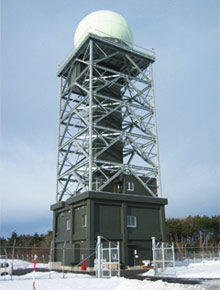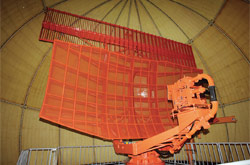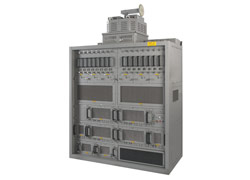 Technical Characteristics
Frequency
2,700 to 2,900 MHz
Typical instrumented range
80 nmi. / 45,000ft.
80 nmi. / 26,000ft.
60 nmi. / 22,000ft.
60 nmi. / 35,000ft.
Radar Cross Section
2 ㎡
15 ㎡
15 ㎡
2 ㎡
Accuracy (range/azimuth)

≦ 150 m (range)

≦ 1.5° (azimuth)

≦ 150 m (range)

≦ 1.5° (azimuth)

≦ 150 m (range)

≦ 1.5° (azimuth)

≦ 150 m (range)

≦ 1.5° (azimuth)

Pulsewidth (Long/Short)
1 μS / 80 μS
1 μS / 80 μS
1 μS / 80 μS
1 μS / 80 μS
Transmitter
Modules
90
54
16
24
Peak Power
50 kW
32 kW
10 kW
16 kW
Antenna
Gain
≧ 34.5 dB
≧ 34.0 dB
≧ 34.0 dB
≧ 33.0 dB
Polarization
Linear / circular
Linear / circular
Linear / circular
Linear / circular
Rotation rate
15 rpm
15 rpm
15 rpm
15 rpm
Beamwidth
1.3 deg.
1.3 deg.
1.3 deg.
1.4 deg.
Receiver
Subclutter visibility
≧ 35 dB
≧ 35 dB
≧ 33 dB
≧ 35 dB
Pulse compression ratio
80:1
80:1
80:1
80:1
Noise figure
≦ 1.6 dB
≦ 4 dB
≦ 4 dB
≦ 1.6 dB
MTI processing

6-pulse

Multi doppler filter

6-pulse

Multi doppler filter

6-pulse

Multi doppler filter

6-pulse

Multi doppler filter

Weather processing
6 level
6 level
-
4 level