Displaying present location in the site.
MSAS
MTSAT-Satellite-based Augmentation System
Satellite Navigation brings forth Much Safer and More Efficient Aircraft Operation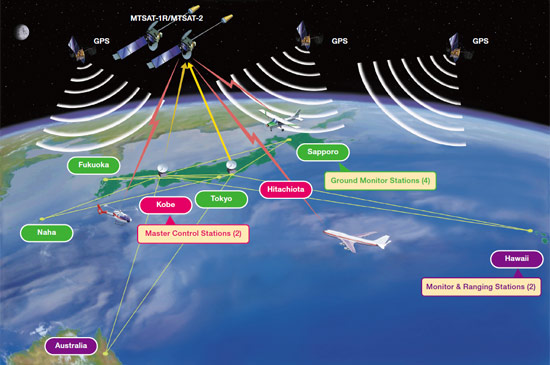 Kobe/Hitachiota

Master Control Stations (2)

System Monitoring/Control
Satellite Error Calculation
MTSAT Orbit Determination
Ionospheric Delay Correction Calculation
Integrity Augmentation Processing
GPS/MTSAT Signal Reception/Collection
Sapporo/Tokyo/Fukuoka/Naha

Ground Monitor Stations (4)

GPS/MTSAT Signal Reception/Collection
Hawaii/Australia

Monitor & Ranging Stations (2)

GPS/MTSAT Signal Reception/Collection
MSAS provides augmentation information, which improves the accuracy, reliability and safety of GPS, for aircraft using GPS navigation.
MSAS receives GPS signal at the Ground Monitor Stations and the Monitor & Ranging Stations, checks operational status of GPS, analyze GPS error and ionospheric delay, and then broadcasts augmentation information through MTSAT (Multi-functional Transport Satellite) from the Master Control Stations.
NEC manufactured and delivered MSAS under contract with the Civil Aviation Bureau, Ministry of Land, Infrastructure, Transport and Tourism.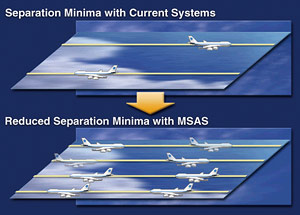 Merits of introducing MSAS
New CNS/ATM systems including MSAS not only improved coverage and accuracy increase air traf f ic control capacity but also produce the following merits.
Increased Safety

Direct flight path means less workload for both pilots and controllers resulting in more attention paid to the traffic situation.
Increased coverage results in increased use of instrument flight rules.
Flexible flight path makes weather deviation easy.
Protection of environment

Selection of the shortest flight path means fuel savings resulting in reduction of green house gas emissions.
Use of flexible flight path enables noise reduction in noise sensitive areas.