Displaying present location in the site.
TRCS
Transportable Radar Control System
NEC's Transportable Radar Control System (TRCS) provides an essential radar air traffic control service at an airport where its ATC system is inoperative due to unexpected accidents and/or disasters or its equipment upgrade work.

NEC's TRCS is a compact air traffic control system transportable by a medium size truck, aircraft or helicopter.
The system performance is equal to that of a standard airport radar system and capable of keeping safe and efficient air traffic control.
Keeping air traffic services
Highly mobile system
Sufficient coverage for the approach control service
Three control positions with A/G and G/G communications capability
Environment protection demands can be met easily
High reliable second generation system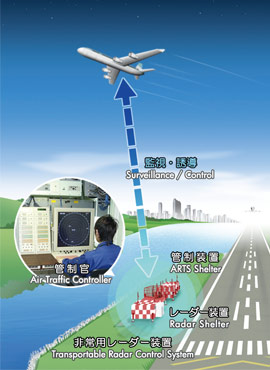 The feature of radar equipment
A compact shelter with a foldable antenna
Easily expandable shelter for provision of a maintenance area
Maximum detection range of 100 nm
A control room can be set up by connecting two shelters
High mobility by use of a shelter and folding antenna
Aircraft detected are shown graphically as in a standard processed radar display
Voice communications between the controller and pilot and other facilities are controlled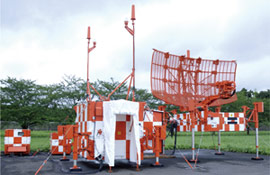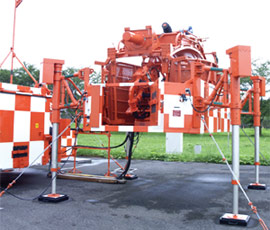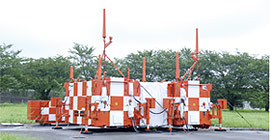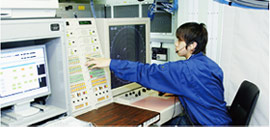 ASR
SSR
ARTS
Comm.
Coverage
60nmi.
100nmi.
60nmi.
-
Rotation rate
15rpm
15rpm
-
-
Interrogation Mode
-

3/A, C

(Mode S Upgradable)

3/A, C
-

Accuracy

Azimuth

Range

< 1.5°

< 2% of actual range

< 0.06°

< 100m

-
-
Pd

99%

(RCS 15m2)

> 95%
-
-
Number of aircraft
250
250
180
-
Air Traffic Control positions
-
-
3 positions
3 positions
Number of communication channels
-
-
-

Air to Ground 14

Ground to Ground 8