Multi Culture
Employees with different native languages mingle and innovate


Ratio of women/non-Japanese corporate officers: 20% (as of April,2026)
As of June 22,2023, ratio of women/non-Japanese corporate officer is 13.9%.
Number of non-Japanese corporate officer is three.
Activity of Employee Resource Group (ERG)
In its 2025 Mid-Term Management Plan, NEC has identified "Accelerating Diversity," the source of innovation, as one of the pillars for promoting transformation of people and culture. The success of a diverse workforce, including non-Japanese employees, is essential to the creation of innovation.
In FY2021, the Non-Japanese Employees Community, an Employee Resource Group (ERG) was established. They have been working to foster a more inclusive corporate culture through cross-departmental exchanges and initiatives aimed at resolving workplace issues.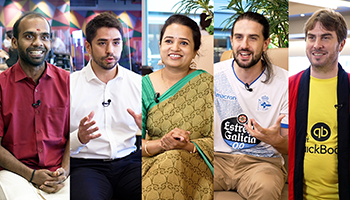 In March 2020, we opened a Prayer Room on the NEC HQ building as part of efforts to provide a friendly working environment for people from various religious backgrounds.