Displaying present location in the site.
NEC's Design Thinking to Accelerate Transformation with Future Creation Design
DX Offerings to Drive Business Transformation and Innovation
Design thinking and service design are well-known approaches to creating new businesses and achieving business innovation in a VUCA world of volatility, uncertainty, complexity, and ambiguity. Since the 1980s, NEC has been incorporating design-driven approaches and applying its experience-based knowledge of business processes and organizational structures to the creation of a wide range of businesses. More recently, NEC has applied a design-driven approach to its digital business design methodology and has been offering it to customers through its DX Design Consulting Service that was launched in April 2021. In this paper, we introduce Future Creation Design — a DX offering that is offered through the design consulting service for the purpose of accelerating new business creation and business innovation for our customers.
To survive and thrive in this VUCA world marked by volatility, uncertainty, complexity and ambiguity, digital transformation as well as the transformation of organizations must be a priority for companies and for the industry as a whole. Design thinking and service design are two well-known ways for companies to effectively maneuver through VUCA challenges to create new businesses and achieve business innovation1). These methods are also known for the wide range of benefits they offer, including minimum viable product (MVP) and prototyping methods to quickly formulate and test hypotheses of value creation for companies and their technologies; strengthening empathy and involvement, which are important for platform-based business creation; and collaborative ways of proceeding across value chains and organizational boundaries.

Governments and municipalities are faced with the challenge of bridging the digital divide and building systems that ensure that no one is left behind. To address these challenges, solutions range from citizen participation in the design of services, inclusive design using design thinking, and experience design using the concept of user experiences (UX). Service design guidelines for digital government have been prepared in many countries, and activities are underway to incorporate the user's perspective in these designs through the use of design thinking2).

As shown in Table, NEC began its universal design initiatives in 1986. Since 1993, together with IDEO, a world-renowned design firm that is said to have created design thinking, NEC has developed the design process that is the basis of today's design thinking and has achieved a long history of maintaining the top domestic share in the PC and global market domains3).
Table NEC's design method history.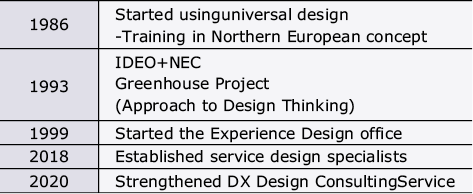 In the 2000s, NEC's business shifted to the system integration (SI) business with a focus on social infrastructure. In line with this shift, NEC's design process evolved into a design consulting methodology to support customers in creating businesses and achieving business innovation and it continues to be used in various fields to create businesses.

Nowadays the use of digital technology has become a management issue in itself, and design approaches are applied to clarify the purpose of business creation and innovation. NEC has developed the NEC Design Thinking Framework in collaboration with Business Models Inc. (BMI), a company with global business design experience and sophisticated methods to help customers solve their business challenges (Fig. 1).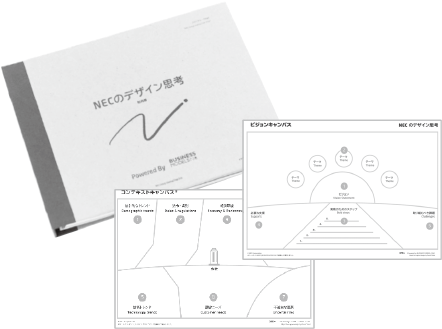 NEC's Future Creation Design, one of NEC's suite of DX offerings, leverages this framework and the power of digital technology to help customers drive innovation (Fig. 2).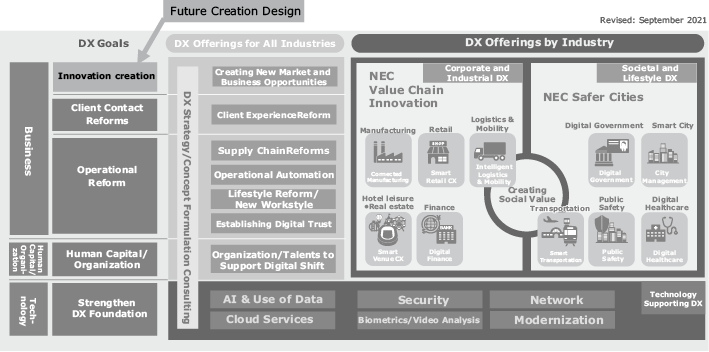 2. Future Creation Design
Section 2 presents the typical offerings and individualized programs for Business Grand Design 60 Days, Service Branding Design 60 Days, Experience Design 60 Days, and Technology Experiment.
2.1 Business Grand Design 60 Days
A grand design, produced during your business opportunity exploration or value proposition phase, is used to help you realize and clarify business opportunities and build a roadmap of concrete actions that need to be undertaken to achieve your vision.
2.2 Service Branding Design 60 Days
This consulting service is intended to help you design sophisticated branding strategies that will enable the brand and image of your business or service to achieve greater market penetration and lead to stable sales and management.
2.3 Experience Design 60 Days
A refined user experience is developed using prototyping verification during your proof-of-value or effectiveness confirmation phase. We offer both a collaborative approach with our customers and a coaching approach to enhance your team's capabilities.
2.4 Technology Experiment
This is useful when you want to perform an experiment that combines NEC's key assets with new technologies. For example, you can quickly test the availability and feasibility of new technologies to create sophisticated user experiences, such as training that uses virtual reality (VR) and Local 5G or a combination of face recognition, conferencing, and emotional analysis.
2.5 Individualized Programs
2.5.1 Research to gain insight
By analyzing the real voices and behavior of customers and end users, we derive the essential issues (insights) that serve as the starting point for planning new services and businesses.
2.5.2 Support for the Servitization of Manufacturing
This program assists in setting the strategic direction that is critical for successfully building revenue streams for manufacturers from their services.
We design the user interface (UI) with the user experience (UX) in mind to improve the experience and value of a service and to realize products and services that are in tune with the behavior and state of mind of users.
MVPs and prototypes are created in accordance with your objectives to verify acceptability, business feasibility, and viability.
By using user experience (UX) and technologies based on ergonomics and human-centered design (HCD)4), a wide variety of information that changes in real time can be used to optimize human decision making and to improve the quality and efficiency of operations in control rooms.
3. Manufacturing Execution System of Future Creation Design
NEC's design consulting team is comprised of a diverse group of individuals with expertise in seven areas and the team is capable of providing solutions using design thinking in a variety of ways, from solving abstract social and corporate issues related to customers' businesses to realizing product design (Fig. 3). Teams are organized in accordance with the project themes, and team members participate in the projects as active members to transform the businesses together with the customers.

4. NEC Academy for Future Creation Design
NEC Academy for Future Creation Design (FCD) is a place to learn, practice, and develop skills to solve social issues and to design next-generation businesses with the use of digital data and NEC's Design Thinking (Fig. 4). The program supports the development of talent to design next-generation businesses.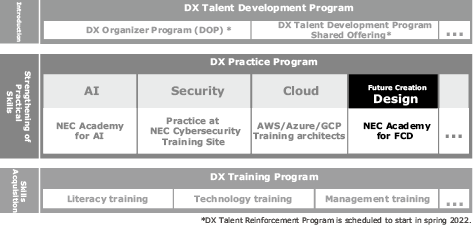 5. Implementation Case Studies
All Nippon Airways Co., Ltd. (ANA) used Business Grand Design 60 Days to chart a course for its business using digital technology, and Itec Hankyu Hanshin Co., Ltd. used the Experience Design 60 Days coaching program. In this way, Future Creation Design is already being used for the creation as well as the transformation of business in a variety of fields.
5.1 All Nippon Airways
Cutting-edge technology and virtual-reality (VR) applications at comprehensive training centers5) 6)
ANA Blue Base (ABB) covers an area of over 30,000 square meters and is one of the largest and most advanced training facilities in Japan and in the world. It is used as a base for human resource development to improve operational quality, encourage innovation, transform workstyles, and disseminate the ANA brand — starting with safety as the foundation for management. By introducing the latest technology, we aim to improve service quality through personalized training and to develop new services through sharing talent and ideas. For example, data on posture, procedures, gaze, and trainees' emotional changes that could not be collected in the existing training program was collected and analyzed in real time from various IoT devices such as cameras, devices for remote gaze detection, vital sensors, and VR goggles. This information was then fed back to each individual trainee to further enhance the effectiveness of training. In this way by using new technologies and combining them with existing terminals, simulators, and mockups within ABB, we are developing new services together. Amidst the rapid headway of DX, ANA and NEC are using the latest technologies and proactively responding to digitalization to create new businesses and services that are not bound by conventional frameworks (Photo 1).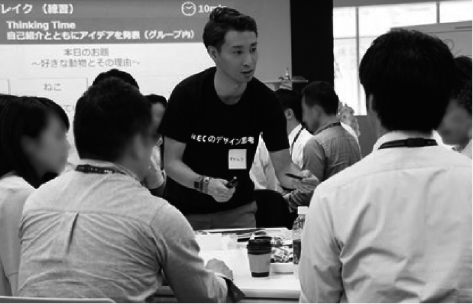 5.2 Itec Hankyu Hanshin7)
New value creation in the railway vehicle field
In this project, the participants gained practical experience in developing new businesses that led to improved profitability by introducing NEC's Design Thinking. Itec Hankyu Hanshin, a member of the Hankyu Hanshin Toho Group, is engaged in business development. Amidst a changing business environment, the company was faced with challenges such as the need to transform its business from a traditional contract model of business to a proposal model based on the services and business models developed by the company itself. They needed to quickly launch highly profitable businesses with an eye on the next era and to develop the next generation of talent through cross-functional interactions. We introduced NEC's Future Creation Design, one of NEC's suite of DX offerings, to pave the way for the company to develop new businesses that will lead to the next generation. The project was launched by mainly the younger members, and the participants were able to gain firsthand knowledge of how to create businesses and how to develop ideas (Photo 2). Based on the skills and experience gained through the program that included cross-divisional exchanges and activities to raise awareness from the customer's perspective, the participating members are expected to actively create new value in their respective workplaces in the future.

This paper explained the origins of NEC's Design Thinking, the methodology of the Future Creation Design in the suite of DX offerings, and the characteristics and examples of use of each offering. Based on the knowledge and practical skills we have cultivated over the years and NEC's technology, we will create the social values of safety, security, fairness, and efficiency through design consulting for our customers and contribute to the realization of a sustainable society in which everyone can fully realize their humanity.
YASU Hiroko
Senior manager
DX Strategy Consulting Division