Displaying present location in the site.
Community Revitalization Centered on Safety, Security and Event Facilities
DX Offerings to Improve Customer Touchpoints
Government interventions aimed at mitigating the novel coronavirus infection (COVID-19) pandemic have devastated the event industry. Sports, concerts, theme parks, and museums or galleries have all struggled in the face of restrictions that limit the number of people who can attend — or, in some cases, preventing any people from attending at all. In an effort to bring back the crowds without creating viral clusters, NEC is creating event environments centered around a variety of sophisticated preventative measures for COVID-19 that offer an enhanced sense of safety and security, giving people the confidence to attend in person, thereby increasing the number of visitors. More than this, NEC has developed new ways to enrich the live experience by building a hybrid environment of online and real worlds. By restoring event facilities to their places as entertainment hubs and community activities, NEC hopes to revitalize COVID-ravaged communities. By effectively implementing fan marketing to create devoted fans of the community and by encouraging event visitors to actually go out and experience the host community, NEC is confident that one-time visitors can be induced to return again and again. All of this is packaged in what NEC calls Event Vitalization DX Offering Suite, an integrated set of event and community solutions that will help towns and cities leave the pandemic behind and begin life anew.
For more than two years, efforts to battle the novel coronavirus infection (COVID-19) pandemic have brought ordinary life to a halt. Nowhere has the impact of these efforts been more keenly felt than in the event industry. Concerned that large gatherings of people could lead to superspreading, governments have imposed severe restrictions on the number of people permitted to attend sports events, concerts, theme parks, and exhibitions.

In Japan, for example, strict restrictions were imposed during the state of emergency typically limiting the number of attendees to 5,000 people or 50% of the seating capacity — whichever was greater. In some cases, no audience at all was permitted. Such restrictions have made people who attended such events previously hesitant to attend public events even when permitted for fear that they might get infected. This has led to a situation in which many event venues are unable to even attract the minimum number of attendees permitted by local or national governments. Instead, online events — which were relatively rare pre-pandemic — have enjoyed a tremendous boost in popularity and are now frequently held. Online concerts and esports events (video game competitions) are increasingly becoming the norm.

NEC has announced the Event Vitalization DX Offering Suite against this backdrop. With this set of solutions, we provide new ways of enjoyment to build an environment that promises potential visitors safety and security, enabling them to confidently attend events at large venues even under COVID-19 circumstances. More than this, however, the Event Vitalization DX Offering Suite is designed to help users prepare for and take advantage of the post COVID-19 world with features such as the ability to strengthen your team's morale or send inspirational messages, fan marketing, facility management using robots to both attract media coverage and save labor, and other innovations. The idea is to facilitate a quick and sustained recovery as soon as possible while providing fans with convenient services such as online ordering of food and beverages, face recognition entry and payment, as well as fun functions such as smile contests using smile detection technology, augmented reality (AR)/virtual reality (VR)-enhanced sports viewing, and automatic photos taken of events.

Event facilities act as centers where information is disseminated and that convert visitors into fans of the community, encouraging them to take the time to experience local hospitality rather than returning straight home after the event (Fig. 1). Whether they number a few thousand or tens of thousands, the presence of these visitors can invigorate struggling communities. In the following pages, we will lay out in detail the nature of the solutions NEC has developed to help bring communities back to life.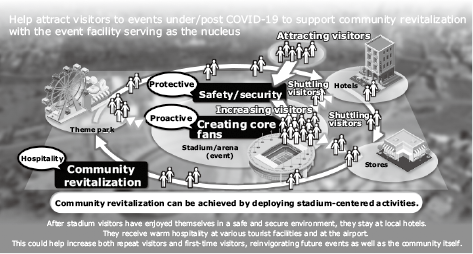 2. Commitment to Provision of Safer, Securer Environments
When thousands of people all gather together in one place, breathing the same air, watching the same thing, and sharing moments of both joy and sorrow, they experience something rare and transcendent that is almost impossible to reproduce in everyday life. Under COVID-19, NEC's goal is to bring back those experiences by providing environments that make people feel safe enough and secure enough to visit the event venues.
2.1 Using the world's number-one ranked biometric technology to provide contactless face recognition entry and payment
Preregistered face information can be connected to ticket information to facilitate ticketless entry with face recognition. Combining this with the detection of abnormalities in body surface temperatures can significantly reduce waiting time and help to alleviate congestion while increasing fan satisfaction (Fig. 2). Moreover, face recognition payment systems can make possible a completely cash-free environment, eliminating the need for any contact during payment and thereby helping to minimize the risks of infection for visitors while significantly reducing the hassles of handling cash and the corresponding risks of infection for staff working at the event. NEC's face recognition technology makes it possible to verify someone's identity even when masks are worn and also works with colored or patterned masks.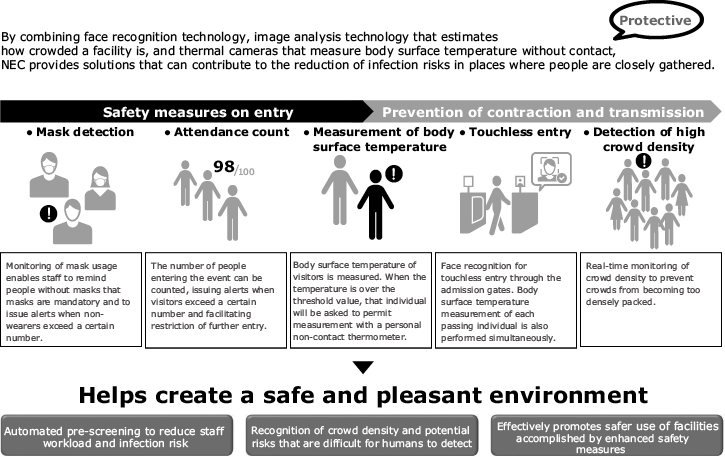 2.2 Flow detection and crowd monitoring helps prevent overcrowding
NEC's image analysis technology can analyze flows of people. In addition to counting the number of people and determining whether or not they are wearing masks, this technology can also gather information on age, gender, and even the degree of a smile. While the number and flow of people can be used to support preventative measures for infectious diseases, such additional information can also be used for marketing. Moreover, by setting the minimum distance between individuals in advance, the occurrence of high crowd density can be quickly detected and displayed via easy-to-understand heat maps. Monitoring of all this data helps prevent overcrowding by changing the flow of people and dispatching security guards when necessary (Fig. 3).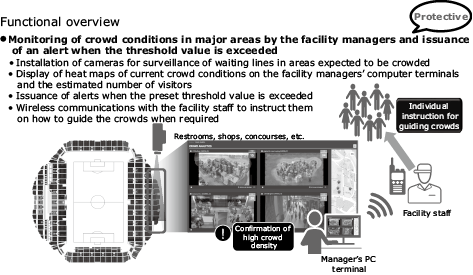 Case study: Technology verification at Yokohama Stadium in 2020
In October 2020 NEC participated in a consortium led by DeNA which conducted a project to verify preventative measures for infectious diseases at a large-scale event (Fig. 4). This project was intended to clarify where key hazards might be when holding large-scale events to enable the event holder to create guidelines for a safer, more secure event by effectively using information and communication technology (ICT) while making appropriate adjustments in event management methods.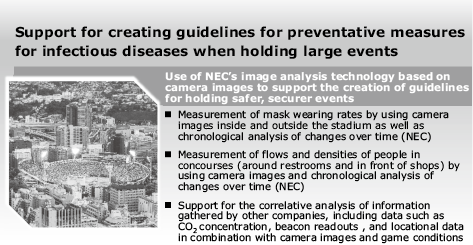 NEC used image analysis technology to obtain data on the transition of mask wearing rates of spectators in the stadium stands, human flow conditions in the concourses, occurrences of overcrowding, and changes in human flows around the stadium and in the entry and exit ramps. Chronological as well as correlative analyses were performed on the data obtained, combining it with other data such as changes in CO2 concentration, while taking steps to avoid crowding at the gate such as having well distributed exits. This enabled NEC to clarify the points that need to be addressed when holding a large-scale event in the future and provide support for formulating crowd management plans. This technology verification was covered by various media outlets both in Japan and abroad. As a result, numerous inquiries were received from many facility managers of stadiums and arenas, and this technology is now contributing to the creation of safer and more secure environments.
3. Building up a Fan Base and Offering New Ways for Enjoyment
Ensuring a stable audience is key to success in the event industry — particularly in the sports domain. Some sports teams, especially in major markets outside Japan, have all their games permanently sold out, making tickets especially hard to come by. So-called core fans are a critical source of income for sports. They are the people who show up at every game, who spend enormous sums of money on team paraphernalia, and who, according to some studies, play a leading role in bringing in new fans. In other words, creating and cultivating loyal core fans is essential to a team's success.
3.1 Understanding the audience is a prerequisite for fan marketing
The first step in developing a fan marketing plan is to collect data on the fans who come to the venue. In this context, NEC's image analysis technology makes it possible to integrate estimates on the gender and age of visitors with image analysis technology in addition to information on fan clubs and ticket purchases — all of which can potentially be leveraged to quickly create and deploy policies to lead to more effective fan marketing (Fig. 5).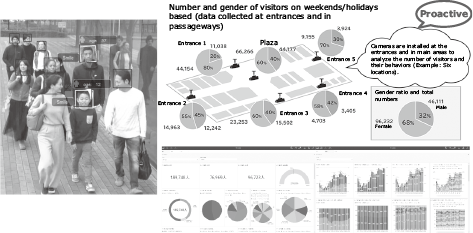 3.2 Easy-to-start, hard-to-delete fan app and common data platform
Another effective way to capture and retain fans is to build a system that provides useful information while creating a stronger, more intimate bond between fans on the one hand and between teams and players on the other. Many teams have attempted to take advantage of this by creating fan apps, but many are either troublesome to install or are rarely used and eventually deleted. In lieu of a dedicated app, NEC offers FORESTIS which is a tool on the LINE platform — the most popular instant messenger in Japan. All the user has to do is add the LINE Official Account of events to their list of friends. This completes registration, and the user can start using FORESTIS immediately without having to install an app. This lowers the barrier to entry and minimizes the chance that the app will be deleted. Using FORESTIS as an entry point to collect data makes it possible to build a common data platform. When the collected data is combined with other data (Fig. 6) such as unstructured data including the Internet of Things (IoT), services can be customized to better meet individual needs.
3.3 New ways to watch games
In addition to the ways fans watched games in the past, today fans expect more. Meeting those expectations requires the implementation of ever more versatile ways of watching the game that correspond to the levels and tastes of fans. For fans who want a more realistic feeling of being at a game, artificial reality (AR) and virtual reality (VR) can be used in our system in which images from cameras installed at multiple locations allow fans to enjoy the game from their preferred vantage point. We also offer a system that displays past statistics on smart glasses, enabling fans to watch the game while taking advantage of statistics to predict and interpret the action. For fans who cannot make it to live events because they live too far away, we have created an environment where they can get together with fellow fans to enjoy the game while enjoying food and drinks in remote pseudo-stadiums set up in different locations. We will continue to grow and expand our range of services by listening to the fans to find out what they want and how they think we could improve.
3.4 Use of robots to capture fan attention and minimize labor requirements
NEC is promoting the use of robots at event facilities. When visitors buy drinks and food, they are served by a robot without human assistance. Using that image analysis technology incorporated into the robot, we can estimate the customer's gender, age, and an indication of their mood by measuring their smile to customize the robot's interaction with the customer, including talking about topics that match the customer's estimated propensity to help relieve the boredom of waiting in line. This robot service has already been introduced at some large theme parks and restaurants to offer something newsworthy and to entertain visitors (Fig. 7). In restaurants the waiter robots bring food to the tables (Fig. 8). At hotels the room service robots bring towels and linens. These robots can travel autonomously. They can even take the elevators by themselves and are able to reliably deliver articles to specified destinations. They are therefore expected to be one way to help deal with labor shortages and to significantly reduce labor costs.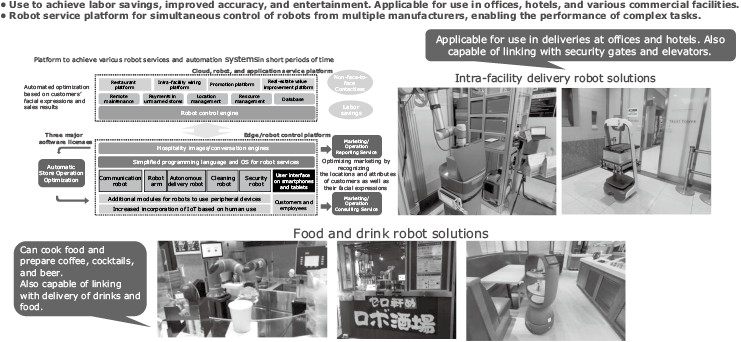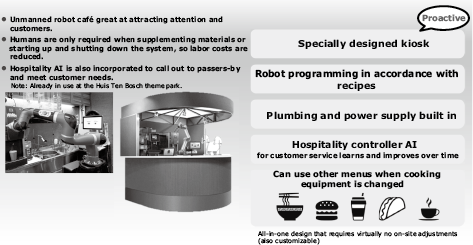 3.5 Commitment to dynamic pricing
With a view to optimizing the prices of merchandise sold in stadiums and other facilities, we conducted a demonstration of dynamic pricing in cooperation with Kashima Antlers F.C. (Fig. 9). This project was aimed at testing variable pricing of confectionaries from locally popular sweet shops at the Kashima Football Stadium in Ibaraki Prefecture. Prices were adjusted depending on the degree of crowd density.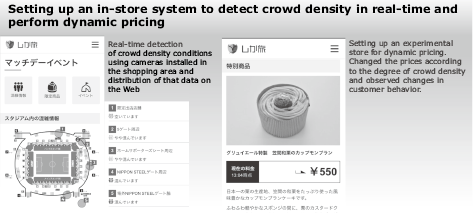 Here we used NEC's technology to detect the degree of crowd density. Crowd density conditions were detected in real-time using the cameras installed in the shopping area, and the resulting data was then uploaded to the Web and made public to the visitors. Prices were adjusted according to the degree of crowd density, and the impact of these changes on shopping behavior was closely monitored. We will use the data collected from this test project to help shape policies for implementation in actual stores.
4. Community Revitalization Centering on Event Facilities
Event facilities such as stadiums, arenas, and theme parks attract anywhere from a few thousand to tens of thousands of people. NEC is aiming to create an environment in which event visitors can also enjoy the community itself by strolling around nearby sightseeing spots and restaurants and staying at local hotels (Fig. 10).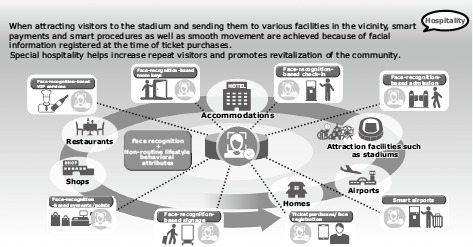 In the Nanki-Shirahama area in Wakayama Prefecture, entry and payment services have been standardized at many locations from the airport to hotels, including theme parks, restaurants, stores, and other places. Visitors will be able to enjoy services and purchase goods anywhere in this area using only face recognition without the need to carry a purse or wallet. The visitors are treated warmly as if they were regular customers even if it is the first time they have visited. They will experience a special feeling that they will not experience anywhere else.

Based on this case, we can implement a community revitalization system centered on event facilities that links various services to create an enjoyable experience for visitors. That experience will translate into an appreciation of local hospitality and make them fans of the community, eager to return and participate in future events held in that community.

Many stadiums and arenas endeavor to increase their operational ratio and ideally achieve a facility that operates 24 hours a day, 365 days a year. That is why the companies planning to renovate an existing facility or to open a new facility are aiming at building a new city, so to speak, by developing a facility complex that includes a stadium, hotels, a shopping mall, and public facilities such as municipal offices and schools. NEC proposes, designs, develops and installs networks and ICT equipment to help these new cities (Fig. 11). We have already implemented these systems successfully in Japan and other countries around the world (Fig. 12), continually refining and enhancing them with the latest technology and best practices to offer various revitalization solutions to suit any requirements.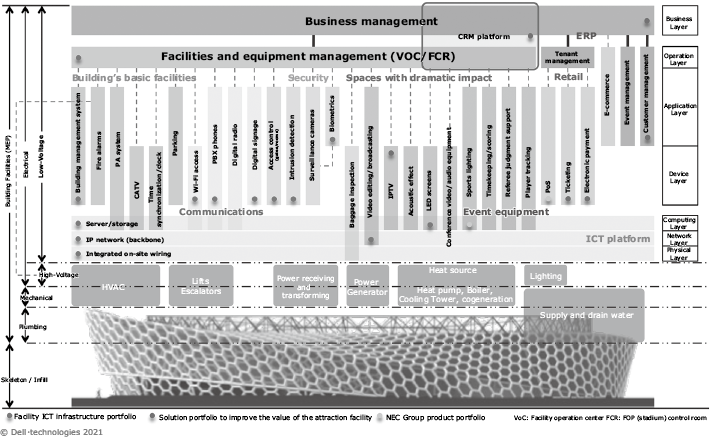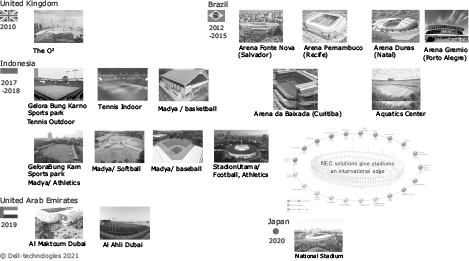 NEC also offers solutions to control the flow of human traffic and to generate new ways for visitors to have fun during their stay by optimizing customer experiences (CX). We hope to work closely with members of local communities to integrate facility complexes into local areas and help revitalize them as we have done in Nanki-Shirahama.
*

"LINE" is a trademark or registered trademark of LINE Corporation.

*

All other company names and product names that appear in this paper are trademarks or registered trademarks of their respective companies.
SUGAWARA Masaharu
Director
Digital Business Offering Division,
Digital Business Platform Unit
YONEDA Daisuke
Senior Manager
Digital Business Offering Division,
Digital Business Platform Unit
MORIMOTO Hiroo
Manager
Digital Business Offering Division,
Digital Business Platform Unit
KOBAYASHI Tetsuro
Manager
Digital Business Offering Division,
Digital Business Platform Unit
SHIBATA Taiki
Digital Business Offering Division,
Digital Business Platform Unit