Displaying present location in the site.
No. 2 (June 2017) Special Issue on FinTech That Accelerates Digital Transformation
Vol. 11 No. 2 (June 2017)
NEC's FinTech development focuses on four areas: AI, blockchain, cyber security, and IoT - the Internet of Things -. We are also aiming to create new social values by using related solutions created by technological components that include robotics, rapid mobile app development, and biometrics.
This special issue discusses NEC's commitment to developing the advanced technology that we believe will provide the foundation for future FinTech innovation, as well as offering unprecedented social value.
Special Issue on FinTech That Accelerates Digital Transformation
Remarks for Special Issue on FinTech That Accelerates Digital Transformation
An Overview of NEC's FinTech Strategy
NONAKA Masaya, HAYASHI Naoya
FinTech - financial technology - is a recently coined neologism that describes innovative 21st century financial services made possible by the integration of financial services and technology. Over the past few years, advances in mobile computing and data processing have ignited an explosion in innovation, driving forward the evolution of FinTech at an ever-accelerating rate and shining a spotlight on the unprecedented new services being generated in this disruptive new sector. FinTech's ability to develop services that transcend conventional industry models has brought it attention precisely because of its potential to further accelerate social innovation. This article discusses NEC's commitment to developing the advanced technology that we believe will provide the foundation for future FinTech innovation, as well as offering unprecedented social value.
A New Relationship between Financing and Technology in the FinTech Era
The progress and dissemination of ICT have brought about a significant shift in the banking systems. This paper reviews changes happened in the Japanese banking systems and discusses how the relationships have varied between banking systems and ICT. It then goes on to introduce a new relationship between financing and technology based on the changes in the roles of technology and of relationships with consumers.
How AI Is Transforming Financial Services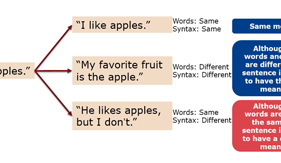 The era of artificial intelligence (AI) is upon us. The impact of AI and automation technologies on our work and daily lives is more pervasive than many of us realize. The financial industry is no exception. In fact, financial institutions are pioneering the application of AI in business, with utilization of AI expanding at an exponential rate. This paper describes the financial systems to which AI can be applied and shows how powerful AI systems can be built with NEC the WISE - a suite of AI technologies developed by NEC.
Advancing Customer Communications via AI-Robot Linkages
The use of robots in various settings to support human lifestyles has recently been gathering momentum.
In Japan, the reduction of workforces brought about by the falling birth rate and the increase in the aging population is attracting attention to the use of service robots in the fields of customer reception and caregiving. This paper proposes methods of utilizing service robots based on NEC's authentication technologies, such as that of face authentication. In addition, advanced customer communications that can be implemented based on linkages with the authentication technologies are also introduced.
Safe, Reliable, Convenient Self-Monitoring Services That Use Wearable Devices
SHIMOMURA Junichi, GOTOU Fumihiro
As businesses and entrepreneurs begin to understand the power of IoT to create a dynamic and seamless network of devices interacting behind the scenes, interest in, and demand for, IoT solutions is growing rapidly. The range of IoT solutions is expanding rapidly, encompassing not only quality/operation control, Home Energy Management Systems (HEMS), and security, but also such applications as life care and healthcare, well as autonomous cars and driving support systems. This paper introduces advanced wearable device-based personal IoT solutions (self-monitoring systems) developed by NEC and reviews challenges for the future.
Biometrics Achieves Compatibility of Security and Convenience in Mobile Services
NAKATSUKA Yutaka, IKEYA Ryohei
TEZUKA Yukiko, AMANO Shinichi
AOYAGI Toru, IWASA Ayaka
Illegal access to online services using personal authentication IDs and passwords still remains a security threat. This paper introduces the approach of FIDO in using biometrics to provide mobile terminals with secure online authentication that will not be "forgotten, lost or stolen." This strategy, which includes facial recognition, a technology in which the NEC excels, is implemented without transmitting or storing "information required for authentication, such as biometric information," either to or in the server. An advancement of the financial services by using FIDO and API-GW is also achieved.
Rapid Mobile App Development Enabling Prompt Provision of New Services
AOYAGI Toru, KOBAYASHI Shigenori, KOIZUMI Ken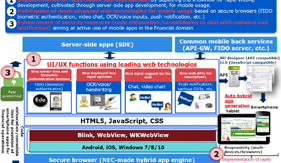 This paper introduces NEC's approach to a rapid mobile application development platform and services designed to meet the era of API and "mobile first." NEC can boast of an established history in server development. In providing the "API-driven" development techniques for the rapid mobile app development platform, we intend to make the best use of our innovative technologies and proven expertise. We are also planning to enhance API and the services that are necessary for the provision of mobile applications. The corporation will provide a development platform that is suitable for an SoE era that generates highly advanced financial services as well as savings in both time and cost. This will be achieved by API integration that will integrate the businesses that have previously been built with SoR into API, as well as by our application developments that leverage the various published APIs for implementing "open innovation".
Improvement of Financial Service Safety by Promoting Cyber Security Measures
MIYAKAWA Koichi, SATO Takamichi
AGA Kouichi, SUGIYAMA Yohei
The recent advancement of IT and Internet and the expansion of the scope of service applications has tended to support an increase of cybercrimes that aim at obtaining money or obstructing businesses and services. This trend has resulted in suitable countermeasures becoming an important issue for society. In particular, attacks on critical infrastructures are increasing on a worldwide scale. Among them, the increase in attacks that are targeting financial institutions with the aim of obtaining money are most noticeable. This paper describes the latest trend in cyber security threats and reviews the potential proposals and issues of financial institutions based on the guidelines given by the Japanese Financial Services Agency. NEC's approach to issues of cyber security for financial institutions is also introduced.
Enhancing FinTech Security with Secure Multi-Party Computation Technology
OKAMURA Toshihiko, TERANISHI Isamu
As the FinTech revolution gains momentum, a key challenge threatens to bring this progress to a crashing halt: cybersecurity. Given the scope, complexity, and dynamism of FinTech solutions, cyberattacks are inevitable, making enhanced security technology indispensable to ensuring future growth. Information leakage is one of the most common vulnerabilities and is still difficult to be prevented completely. The most promising approach to solving this problem is secure computation, which, thanks to its ability to process encrypted data, has proven to be a robust information leakage prevention technology. This paper discusses NEC's own contribution to Secure Multi-Party Computation (SMPC) technology. In SMPC, data on multiple machines can be processed while maintaining the security of the data on each machine. In addition to explaining the technology itself, we will show how it could work in FinTech applications by reviewing some case studies centering around NEC's high-speed method and protection of information for authentication.