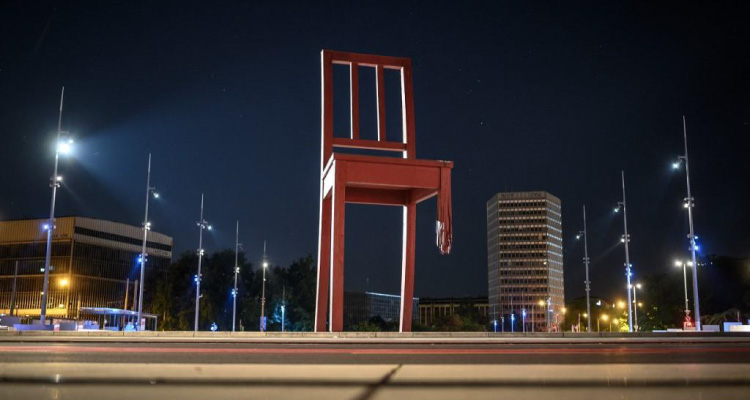 AI, Data Analysis Supports Demining Activities
-- To minimize civilian casualties of mines as victims top 5,000 annually --
A picture taken on June 17, 2022 at a park in Geneva shows the "Broken Chair," a wood sculpture by Swiss artist Daniel Berset, depicting a giant chair with a broken leg against land mines.
©Fabrice COFFRINI / AFP
Inhumane consequences of "land mines"
With the development of digital technology, tools for humanitarian assistance have changed. If we can predict threats such as land mines and humanitarian damage by using AI and data analyses, damage to civilians can be minimized -- An initiative to deliver safety and security to the world has begun with NEC's state-of-art technology and collaboration with the International Committee of the Red Cross (ICRC).

There are still many areas of the world where wars and conflicts have prolonged. Even an end to them does not necessarily mean an end to harm. The subsequent lives of people living in these areas are extremely harsh.

The most serious postwar damage could be the human toll taken by unexploded ordnance and land mines that remain all over the world.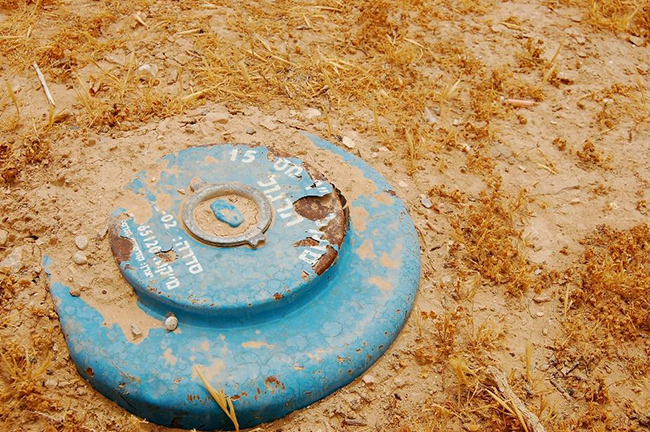 Even after a war or a conflict ends, such explosive hazards are left behind at a high rate. The Ottawa Convention, which prohibits the use and storage of anti-personnel mines, sets a goal of clearing all mines by 2025.*1 Land mines, however, have still been used in times of war. Mine clearance is extremely difficult and the sufferings caused by mines have never disappeared from the world.

Land mines are buried in all environments. Protective colors are often used in forests and deserts to avoid detection by the enemy, and mines are also set in areas used for the passage of soldiers, tanks and other vehicles. Therefore, even after a conflict is over and people can return home, they face full of danger of mines that are hard to find and buried in places where people pass by. In addition, land cannot be developed in areas where mines may be buried, which hinders economic development.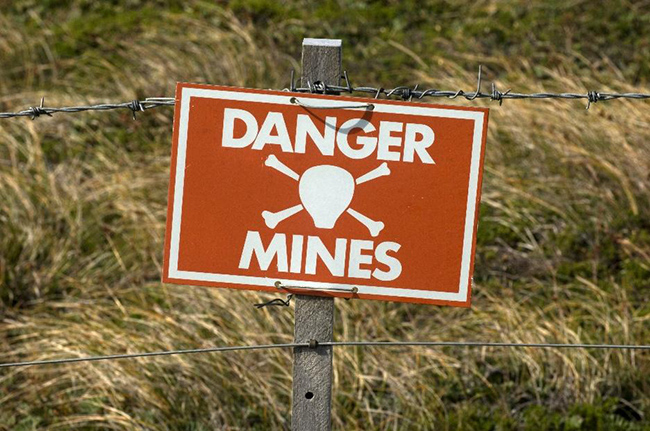 Some types of mines are designed to damage only parts of the enemy's bodies such as legs and arms.*2 It may require extra people to treat a wounded soldier and carry the personnel off the battlefield, which can be more effective in reducing the number of troops than taking the life of a single soldier.

War casualties are not only soldiers; mines also affect civilians. Land mines block the path of civilians trying to evacuate and actually take their lives. Even after a war is over, civilians who are trying to restart their daily lives fall victim to mines.

Since wounded soldiers and civilians must be protected by international humanitarian law, the use of land mines that cause such casualties should be described as an absolutely inhuman act. Such weapons are still being used repeatedly in many parts of the world.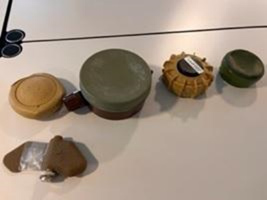 Although international organizations and peace actors have long helped eliminate the hazards, there is no sign of an end to the fight. Now, the ICRC, which conducts neutral and humanitarian activities in wartime, and NEC have teamed up to leverage the power of information technology.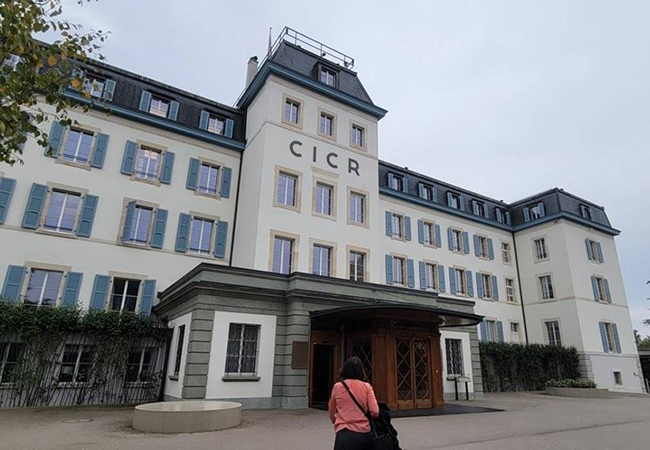 The ICRC, based in Geneva, is "an impartial, neutral and independent organization whose exclusively humanitarian mission is to protect the lives and dignity of victims of armed conflict and other situations of violence and to provide them with assistance." *3

NEC has worked in partnership with the ICRC on various challenges. For example, Japanese firms and organizations are trying to prevent digital technology from exposing people to risks in humanitarian operations that handle vast amounts of personal information. Several workshops and discussions on the verification of biometric technologies have been held. In particular, workshops on predicting minefields using image recognition and AI technologies have been conducted vigorously.

In June 2021, NEC and the ICRC agreed on a framework for building a joint project, concluding a Memorandum of Understanding (MOU). The project has started in full swing.
The purpose of the MOU is to contribute to humanitarian relief efforts by using ICT (information and communication technology) solutions, and it was agreed that one of the areas of immediate focus would be "mine detection."

As mentioned earlier, there is no end in sight to the casualties caused by land mines buried and left behind.

According to data published by an international NGO in FY 2019, there were 5,554 casualties worldwide due to explosive remnants of war, such as cluster bombs and land mines, and a majority of them were civilians. *4 The project has been launched to reduce the number of such victims as quickly as possible and to improve the safety, speed and efficiency of demining operations.

At the signing of the MOU, Peter Maurer, then President of the ICRC, expressed his high expectations for the project, saying: "We are an organization that stands by the most vulnerable people in conflict. We want to bring together a great deal of wisdom and create new solutions through collaboration in the fields of technology, business and humanitarian work."
Desktop review proves 87% effective
This chart below shows details of the project.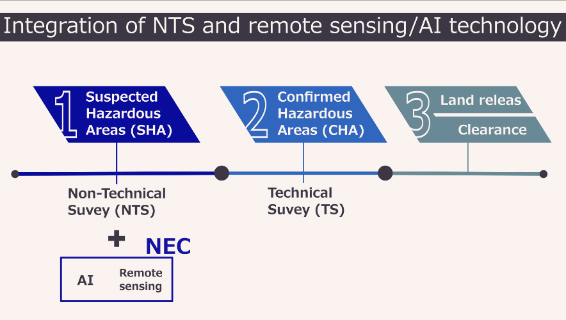 Mine clearance activities require survey activities to identify areas or particular locations where mines are buried. First, a vast amount of information on indications of a mine contamination is collected and analyzed. This is done during the Non-Technical Survey (NTS). If there is evidence of a land mine contamination, the area changes its status to a Suspected Hazardous Area (SHA). After the SHA is identified, Confirmed Hazardous Areas (CHA) can be specified through further analysis of information and field surveys. This is done through a Technical Survey (TS). The TS involves physical visits to SHA locations and deliberate searches for buried mines with mine detectors. The mines can be removed manually, by digging them up with heavy machines or special vehicles, or sometimes by detonating them on the spot.

The surveys conducted to identify SHA and CHAs can be costly and risky. Therefore, NTSs are extremely significant. Until now, NTS has been conducted through the analogous process of collecting various types of unorganized and voluminous information such as past documents and information provided by local residents. This is a very costly and time-consuming process, and without accurately identifying the areas and locations, demining teams cannot certainly guarantee safe operations and the danger to local people cannot be fully eliminated.

The ICRC and NEC are collaborating on a project to improve NTS through the use of ICT.

The ICRC collects information from various open data sources, including written reports, soil characteristic, topography, locations of waterways as well as information on land use and infrastructure (buildings, road network, position of wells etc.). NEC integrates and organizes the information into a usable form of big data. It analyzes the information by utilizing the learning function of AI so that areas and locations where mines are highly likely buried can be identified and costs and risks in NTS can be minimized.

In the future, by combining AI with sophisticated information from "remote sensing" by drones and other means, the objectives of "faster, more efficient, less expensive and lower risk" operations can be realized. In other words, it can be a mechanism to contribute to humanitarian assistance by saving more local residents and demining operators with limited human resources.

The question is how accurately the analysis of such data can help identify areas where land mines remain. A demonstration experiment was conducted using data from actual conflict zones.

The two image maps below show the results of the experiment using data from a certain area where there was a real conflict in the past. First, the area surrounded by the red square was analyzed. The map 1 shows the blurred red area which was predicted by AI analysis. On the map 2, the actual locations where land mines were buried are shown in yellow-green. The concordance rate was 87 percent.

The demonstration experiment was conducted in an area where the mined areas were known in advance, but no information on the actual burial points was used for the IA data analysis.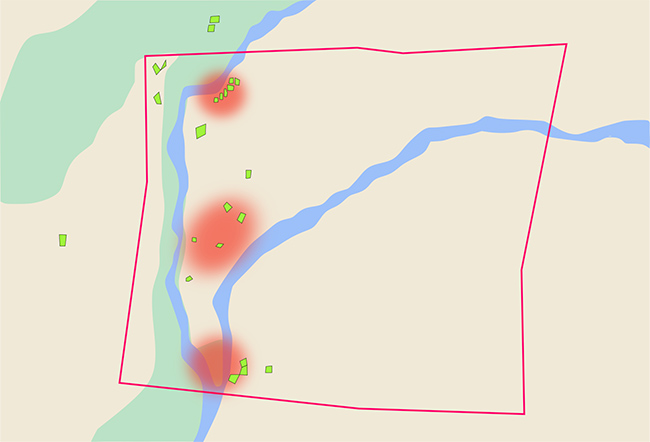 On the other hand, the data analysis involved extraordinary difficulties and took an enormous amount of time.

Sorting out and correlating such a vast amount of data was fraught with challenges. Due to local security and other restrictions, information that humanitarian aid organizations could gather on their own was limited. And Publicly available data sets were also limited. In addition, information was not sorted out, and the relevance of each data set was not clear. Therefore, the first step was to analyze the meaning and significance of each piece of information and data sets. And the polygons of contaminated areas were needed in order to train the AI.

It was truly an analysis using AI technology based on a combination of time and wisdom.
Greater safety and security in post-conflict areas
NEC will aim to turn the system into a mechanism to support safe and secure mine detection. By analyzing data more quickly and enhancing the accuracy of AI analysis, NEC aims to improve the efficiency of minefield detection, speed up the removal process, improve safety and in the end minimize the number of victims of mines.

This will lead to a step toward the objectives – supporting the most vulnerable people in conflict and creating new solutions by bringing together a lot of wisdom in the field of technology, business and humanitarian cooperation, which was mentioned by then ICRC President Maurer.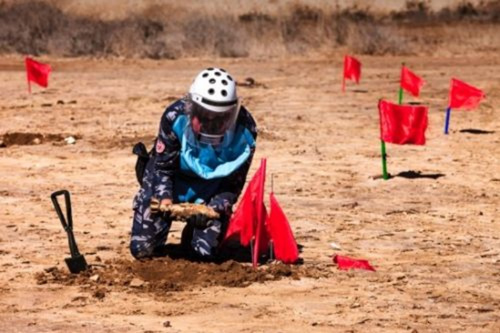 This project embodies NEC's purpose of "Orchestrating a brighter world." Creating social values such as safety, security, fairness and efficiency, NEC aims to create a sustainable society where everyone can fully realize their humanity.
NEC's challenge continues.