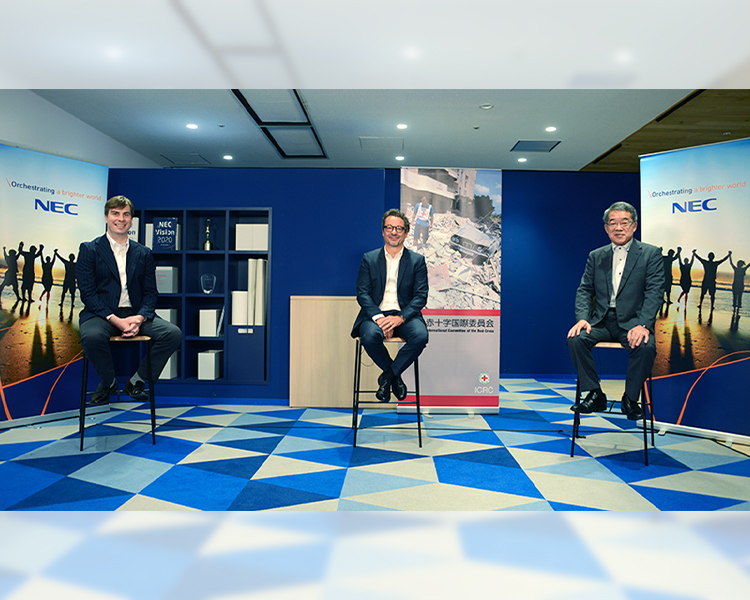 NEC & ICRC: A blueprint for ethical technology partnerships between the private and humanitarian sectors
Behind every action taken by NEC is careful consideration of the value it brings to society and how it contributes to a more sustainable future. This commitment to social value creation has enabled NEC to develop a strong partnership with the International Committee of the Red Cross (ICRC), whereby NEC's unique solutions, technologies and knowhow are applied to the global dilemmas facing the ICRC.

Since 2019 NEC has had the opportunity to draw on its own ethical AI and human rights principles to support ICRC in the development of its second Data Protection Handbook for Humanitarian Action. In the digital age, protecting individuals' personal data is of fundamental importance, so this handbook aims to provide a set of guidelines on how data protection principles should be applied by humanitarian organizations in crisis or armed conflict situations.

NEC invited the ICRC to its Tokyo headquarters for a panel discussion about the handbook and its official "Follow the Sun" release event, as well as looking at how their partnership has developed, current joint projects, and what may be in the pipeline.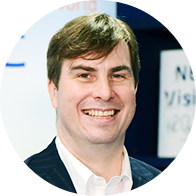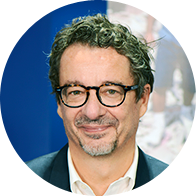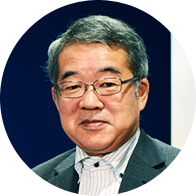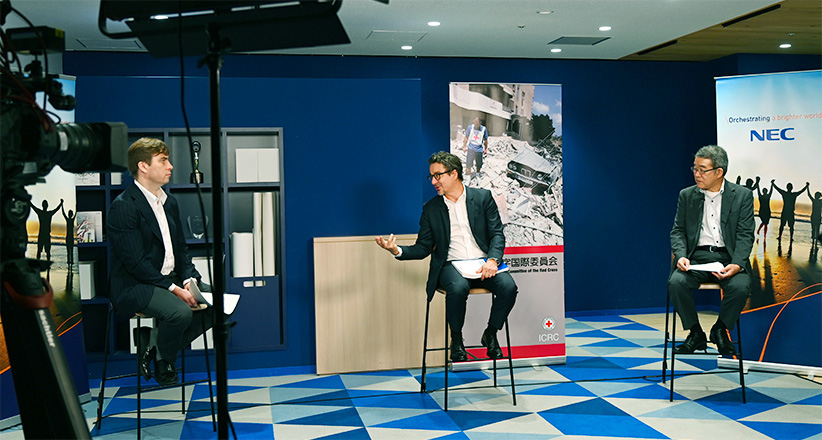 Benjamin Butcher: Hello, I'm Benjamin Butcher. I work at NEC's Global Relations Division (GRD). At GRD, our role is to work with the many humanitarian and international organizations around the world to create sustainable social value. From last year, we've been working with the International Committee of the Red Cross to develop the Data Protection Handbook for Humanitarian Action.

Before we jump into the topic of today's conversation, let's meet our two guests, Régis Savioz and Shinya Kukita.

Régis Savioz: Thanks very much. I'm the head of the ICRC delegation here in Tokyo. The ICRC has a very specific mandate to protect and assist people in situations of armed conflict. Here in Tokyo, my focus is on humanitarian diplomacy and promotion of international humanitarian law. However, one key component of my work is to tap into the technology on offer in Japan to find solutions for the humanitarian sector. This is where our conversation with NEC is so important.

Shinya Kukita: I've been at NEC for more than 30 years, acting as an evangelist for new technologies and new applications. Now, I support NEC's corporate executives to prepare policy recommendations to different organizations. I'm glad to join this discussion today.
THE DATA PROTECTION HANDBOOK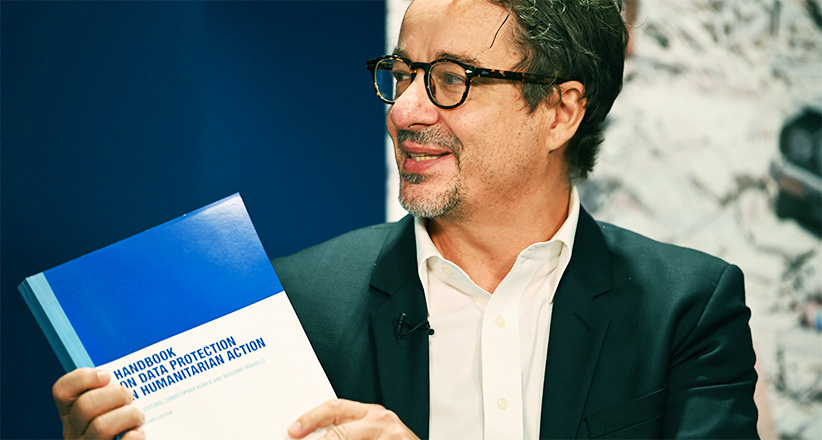 Benjamin Butcher: To kick off, please tell us a little bit more about the Data Protection Handbook.

Régis Savioz: Let me start with some background. We are in a period of digital transformation, and in the humanitarian sector the digital footprint is greater than ever. There is also a significant increase in the collection of sensitive data. We see the development of technologies as a great opportunity for the humanitarian sector, but we also see huge risks. Personal data of people affected by a crisis falling in the hands of an armed group for example could become a question of life or death. Our priority is to become a leader in convincing humanitarian organizations to make commitments regarding personal data protection and ensuring that they responsibly apply internationally recognized standards. This was the background to our decision to develop this handbook.

Together with NEC and many partners here in Japan, we held a workshop in October 2019, where we exchanged ideas on how to make that protection compatible with the mandate of humanitarian organizations.

Shinya Kukita: Benjamin, if I could I play the role of facilitator for one question, since you were part of the project from early on, can you talk about NEC's involvement?

Benjamin Butcher: Sure. As Régis mentioned, there was a workshop last October. This was a gathering of academic, private and other humanitarian organizations as well as data protection experts to talk about some of the topics of the handbook, such as biometrics. NEC joined other members of the private sector to talk about the technology and provide our unique perspective as a firm that has established our own ethical standards for the use of technology. We were happy to participate in the workshop, and it led to a deeper discussion about how we can partner together with the ICRC on other projects.

Régis Savioz: We realized the importance of bringing all concerned stakeholders around the table so that we can share our experiences. There are thousands of what we call digital dilemmas for people in their daily lives. So how can we respond to these dilemmas? How can we cooperate with companies to reach our objective? How can we communicate with governments so that they understand the need to empower us to collect data while not being unduly intrusive or punitive? These are all dilemmas that we are trying to address. We are already in the second edition of this handbook, and there will likely be a third and fourth edition because new technologies are constantly arising.

Benjamin Butcher: It was a very robust discussion that made us think about how we can use the technology, and we look forward to helping develop the third and fourth editions.
Now let's talk about the official release event for the handbook, "Follow the Sun".
How did things go?

Régis Savioz: It was an all-day digital event to introduce and discuss the content of the handbook. It started at the Tokyo ICRC delegation, then moved to Kuala Lumpur followed by Amman and the United Arab Emirates, then Africa to our delegations in Addis Ababa, Rwanda and Nairobi, then to Europe in both London and Brussels. We finished the day with two panels, in Washington and Bogota. The aim was to bring together as many specialists as possible from different sectors for an in-depth discussion about protecting the dignity of the people in situations of armed conflict by respecting the international standards of data protection.

Benjamin Butcher: Kukita-san, you were one of the specialists from NEC. Could you tell us about your day?

Shinya Kukita: I joined as a representative of both NEC and the private sector. I contributed to three parts of the program. First was to introduce digital ID technology, particularly biometrics identification technology, and potential issues arising from it. Later, I spoke about NEC's own efforts to define AI ethics and other guidelines. Then in my final part I spoke about the importance of our partnership with ICRC and other humanitarian activities.

Régis Savioz: Topics included mobile messaging apps, digital identity, biometrics, social media, blockchain, connectivity, as well as artificial intelligence and machine learning, which are all very much pertinent to humanitarian action today, and for building a more efficient response for people in need around the world.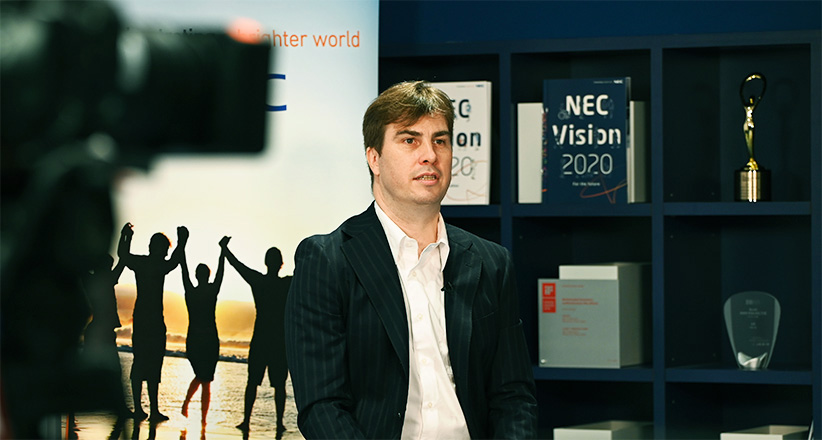 Let's talk a little more about current projects and the partnership between NEC and ICRC. Kukita-san?

Shinya Kukita: I have experienced many different partnerships through my career, and I've learned that partnerships work best when we share common standards. In that sense, the ICRC has a very clear guidelines about the way they act. So that really helps us understand how to work with the ICRC on humanitarian activities.

Benjamin Butcher: The ICRC have many unique challenges, and we've learned to apply our technology as we develop this partnership.

Régis Savioz: One particular project I want to mention came out of our Weapons contamination unit. The challenge was to find an efficient way to detect mines and explosive remnants of war preventing people from going back to their homes or accessing water sources.

We set up a project with NEC and Waseda University to identify whether we could develop an easy way to find the problematic materials by combining drones with thermal sensors, artificial intelligence and deep learning. The ICRC is obviously not capable of producing this type of technology, and this is where we quite naturally turned to NEC, knowing that the company has all the experience and capabilities to provide us with a solution that also takes into consideration international humanitarian law and the very principle we are defending.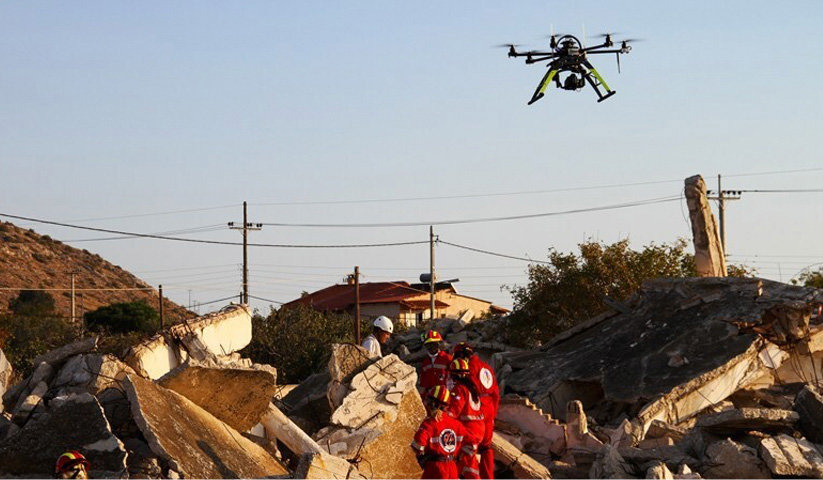 Shinya Kukita: AI, image recognition and image analysis are areas where NEC can really contribute. One thing we have to keep in mind is that through these activities we might gain unintended data, and we need to ensure that that data is not used for malicious intent. For that purpose, the data protection handbook is an extremely helpful guide for us to understand how to operate.

Régis Savioz: I think this is a central point that illustrates why we produced this handbook. It gives organizations a lens through which they can assess whether they can responsibly manage data. This is a serious challenge, but it is also very encouraging that we have so many people around the world willing to discuss these issues.

Benjamin Butcher: Privacy and how we protect data is a challenge that we face in the private sector all the time, so we bring that experience to the partnership.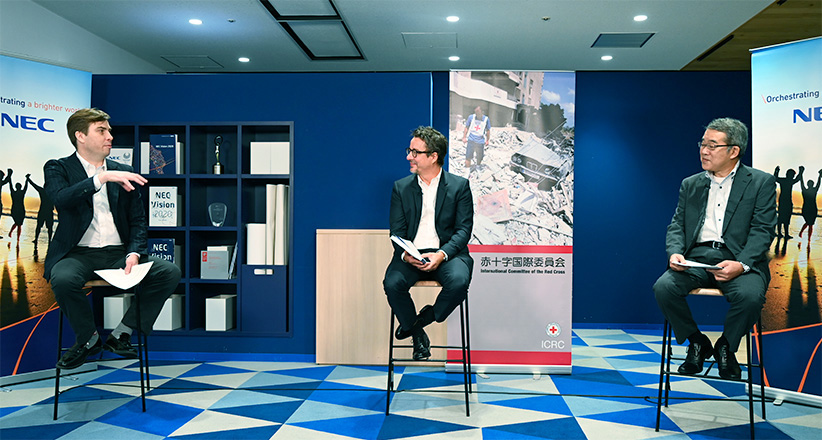 Benjamin Butcher: Where do you see the NEC-ICRC relationship going?

Shinya Kukita: I think there will be more opportunities for the private sector to work with humanitarian organizations and take more effective roles in humanitarian activities. At the same time, based on our own corporate ethics and guidelines, at NEC we will continue to carry out our own response to global issues. We very much look forward to working with ICRC on ongoing projects and new opportunities to deliver value to people around the world.

Régis Savioz: Looking at the state of the world today, it's inevitable that we are going to partner more with the private sector. I think this partnership is very promising because we have gotten to know each other very well. We have different mandates and different objectives, but when we come together there is so much value that we can produce. I believe we will continue to have plenty more challenges to put on the table, and we will continue to need the support of private companies to find the solutions.

Benjamin Butcher: As a company we are always looking for new partnerships with humanitarian organizations and research institutions, where we can take on new challenges to make the world a better place.

Thank you for your time today.
You can also see it in the video