Displaying present location in the site.
Case Studies - India Steel Summit
Business Continuity Solution for Virtualization Environment
NEC proposed a server and clustering solution that would satisfy the both the tacit and explicit requirements of India Steel Summit Private Limited (ISS).
India Steel Summit Private Limited (ISS) had an aging IT system that could not be further upgraded to meet the ever increasing requirements of the organization. A robust system was required that would meet existing demands and be scalable in the future. NEC proposed a server and clustering solution that would satisfy the both the tacit and explicit requirements of ISS.
A robust system was required by ISS that would not only meet current requirements but could also handle future expansion. NEC proposed a virtualization solution based on its world-class cost-effective NEC Express 5800/R120d-2M servers, which could effectively handle existing requirements and provide scalability. NEC also proposed NEC's EXPRESSCLUSTER X to deliver the high availability required for ISS's critical servers and applications, such as its mail server, file server, ERP, endpoint protection application, web application server, and database. EXPRESSCLUSTER X ensures high availability for mission critical applications by monitoring resources, detecting system failures, and performing failover of applications to their corresponding standby servers, providing both business continuity for applications and data protection through data mirroring technology.
The physical Dell servers being used by ISS were not designed for failover recovery. These servers included the company's ERP and file servers which were storing critical data. The IT team and top management were therefore constantly worried about server failure. There were no automated processes for monitoring servers, detecting failures, and executing recovery. The non-scalability of the existing infrastructure was also a challenge as it could not keep pace with the growing demands of the company.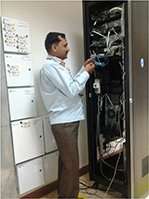 With an impressive suite of products and position as a highly trusted Japanese brand, NEC was selected by ISS to provide a robust solution to their problems. To meet ISS's requirements, NEC proposed NEC Express 5800/R120d-2M servers to run virtual machines (VMs) containing the company's critical applications in a virtualized environment and EXPRESSCLUSTER X to provide business continuity for all their mission critical applications. Virtualized environments often bring the risk of system disruption because a failure on the host OS, hardware or network could affect all guest OSs. To counter this risk and minimize the impact of failure, NEC installed EXPRESSCLUSTER X on each guest OS, thereby protecting not only the host system but also the applications running on the guest OSs. EXPRESSCLUSTER X monitors the hardware, network, guest OSs and applications, and performs failover automatically if it detects a system failure. Guest OSs do not have to be rebooted after failover, allowing ISS to recover from failures in the shortest possible time.

The system provided for ISS consists of six application clusters:

1. Exchange Server 2010
2. File server
3. FlexiBizz ERP Application Server and Oracle database
4. HG ERP Application Server
5. Oracle Database for ERP HG Application Server
6. Symantec Endpoint Protection
The solution consists of two physical servers with six primary virtual machines running on Server 1 and their standby virtual machines running on Server 2. In a normal running scenario, all applications are accessible from their respective primary VMs on Server 1. The data of applications is synchronously replicated by EXPRESSCLUSTER X from the data partition of the primary VM on Server 1 to the corresponding data partition on the respective standby VM on Server 2. If any of the VMs on Server 1 fails, EXPRESSCLUSTER X executes failover of the application to its corresponding standby VM on Server 2, providing high availability for ISS's six mission critical applications.
The proposed solution has helped ISS to achieve high return on investment (ROI) with low total cost of ownership (TCO).
EXPRESSCLUSTER X monitors various levels of failure (hardware, network, guest OS, application) and executes quick and automatic failover in a virtual environment.
EXPRESSCLUSTER X has slashed downtime and also reduced the financial impact of recovery, as business operations continue on the secondary server if a primary VM fails. This has also led to increased productivity for all ISS employees.
EXPRESSCLUSTER X quickly and accurately detects failures and performs instant and automatic failover, providing protection for both applications and data.
EXPRESSCLUSTER X protects data by synchronously replicating data in the primary server and making it available to applications from the standby server after a failover.
India Steel Summit Private Limited (ISS) is a 100% owned subsidiary of Sumitomo Corporation, Japan. ISS is an integrated steel processing facility that includes a steel service center, which is engaged in trading and processing of many different kinds of steel, such as CRCA, HR, stainless steel, SuperDyma, EGN, GI, GL, EG, aluminum, and zinc coated steel, a tool room for designing and manufacturing sheet metal parts (Tandem & Progressive), and a press shop (Tandem & Progressive).

Daisuke Kajikawa, Managing Director of ISS, had the following to say about their experience working with NEC:

"NEC not only provided a great solution and an impressive selection of products, but also offered comprehensive service support. We are very happy with our decision to go with NEC."
India Steel Summit Private Limited
Type of business
Steel services center, tool and die design and manufacture of sheet metal parts (Tandem & Progressive) and press shop (Tandem & Progressive).
Established
2010
Address
2F-2G, Ecotech III,Udhyog Kendra Greater Noida - 201306 Uttar Pradesh (INDIA)
Employees
177 (as of September 2014)
URL
http://www.indiasteelsummit.com/