External Ratings and Evaluation
NEC received high marks in non-financial areas for its approaches to CSR or ESG (Environmental, Social, and Governance) issues and is included in world-renowned SRI (Socially Responsible Investment) indices.
FTSE4Good Global Index
This index is created by FTSE Russell, part of the London Stock Exchange Group. Over 4,000 companies are evaluated and those that meet the ESG criteria are included in this index. NEC has been included since September 2002 (As of June 2017).
(NEC is a member of the FTSE4Good Index, an equity index series that is designed to facilitate investment in companies that meet globally recognized corporate responsibility standards.)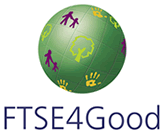 MSCI ESG Leaders Indexes
Designed by MSCI, these indexes are the globally recognized ESG indexes. Companies that have received high evaluations based on ESG are included in these indexes. NEC has been included since 2015. (The name of the Indexes was changed from the "MSCI Global Sustainability Indexes" in 2017.)

THE INCLUSION OF NEC Corporation IN ANY MSCI INDEX, AND THE USE OF MSCI LOGOS, TRADEMARKS, SERVICE MARKS OR INDEX NAMES HEREIN, DO NOT CONSTITUTE A SPONSORSHIP, ENDORSEMENT OR PROMOTION OF NEC Corporation BY MSCI OR ANY OF ITS AFFILIATES. THE MSCI INDEXES ARE THE EXCLUSIVE PROPERTY OF MSCI. MSCI AND THE MSCI INDEX NAMES AND LOGOS ARE TRADEMARKS OR SERVICE MARKS OF MSCI OR ITS AFFILIATES.
oekom Corporate Rating
oekom research AG, an ESG rating agency in Germany, evaluates companies with social and environmental criteria. Companies that are received high evaluation in their industry sectors are rated "Prime."NEC has been rated "Prime" in March 2018 in the "Electronics Devices & Appliances" industry sector.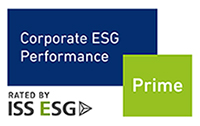 Euronext Vigeo World 120
This sustainability evaluation index was designed by NYSE Euronext, the world's largest stock exchange group, and Vigeo Eiris, an agency that has expertise in the assessment of companies and organizations based on their practices and performance related to ESG. This index includes the 120 most advanced companies in the European, North American, and Asia Pacific regions based on ESG. NEC has been included since 2012.

Indices Euronext Vigeo Eiris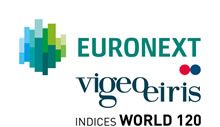 Ethibel Pioneer & Excellence
Forum ETHIBEL, a non-profit organization that actively promotes Socially Responsible Investing (SRI) and Corporate Social Responsibility (CSR), includes companies identified as sector leaders in terms of CSR into the ETHIBEL Investment Registers. Forum ETHIBEL manages two universes, the ETHIBEL PIONEER label and the ETHIBEL EXCELLENCE label, which are regularly updated and monitored. NEC has been included in the ETHIBEL "EXCELLENCE" Register since 2009 and in the ETHIBEL "PIONEER" Register as well since 2013. In 2018, NEC is continuously included in the both Registers.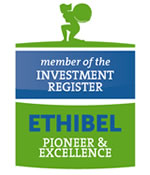 STOXX Global ESG Leaders Index
This index is generated by STOXX Ltd., a group company of Deutsche Börse. It selects world leading companies based on a survey results related to ESG by Sustainalytics, an SRI research/analysis company. NEC has been included since 2014.
STOXX Global ESG Leaders Index

Morningstar Socially Responsible Investment Index (MS-SRI)
This is an SRI index created by Morningstar Japan K.K. Companies are evaluated on "governance," "environmental," "social contribution," and "employment" based on a survey that Toyo Keizai Inc. conducted on approximately 4,000 listed companies, to select 150 excellent companies. NEC has been included since 2003. (As of June 2017)
Morningstar Socially Responsible Investment Index (MS-SRI) (Japanese only)
EcoVadis
EcoVadis is the first global collaborative platform that provides Supplier Sustainability Ratings and assesses suppliers with their CSR assessment methodology which covers 150 purchasing categories, 110 countries and 21 CSR indicators including "Environment," "Labor Practices & Human Rights," "Fair Business Practices" and "Sustainable Procurement." NEC has been awarded "Gold" CSR rating, the highest rating, for the third consecutive time since 2014.
Other External Evaluations