Displaying present location in the site.
External Ratings and Evaluation
NEC is included in world-renowned Environmental, Social and Governance (ESG) indexes.
Dow Jones Sustainability Indices (DJSI)
DJSI is an evaluation indices developed by the S&P Dow Jones Indices that evaluates the sustainable practices of major global companies, categorized by a "Governance & Economic Dimension," "Environmental Dimension" and a "Social Dimension."
In 2020 NEC was included in the DJSI World Index and the DJSI Asia Pacific Index.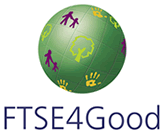 This index is created by FTSE Russell, part of the London Stock Exchange Group. Over 4,000 companies are evaluated and those that meet the ESG criteria are included in this index. NEC has been included since September 2002 (As of June 2020).
(NEC is a member of the FTSE4Good Index, an equity index series that is designed to facilitate investment in companies that meet globally recognized corporate responsibility standards.)

Designed by MSCI, these indexes are the globally recognized ESG_indexes. Companies that have received high evaluations based on ESG are included in these indexes. NEC has been included since 2015. (The name of the Indexes was changed from the "MSCI Global Sustainability Indexes" in 2017.)
THE INCLUSION OF NEC Corporation IN ANY MSCI INDEX, AND THE USE OF MSCI LOGOS, TRADEMARKS, SERVICE MARKS OR INDEX NAMES HEREIN, DO NOT CONSTITUTE A SPONSORSHIP, ENDORSEMENT OR PROMOTION OF NEC Corporation BY MSCI OR ANY OF ITS AFFILIATES. THE MSCI INDEXES ARE THE EXCLUSIVE PROPERTY OF MSCI. MSCI AND THE MSCI INDEX NAMES AND LOGOS ARE TRADEMARKS OR SERVICE MARKS OF MSCI OR ITS AFFILIATES.
CDP (Climate Change, Water Security and Supplier Engagement)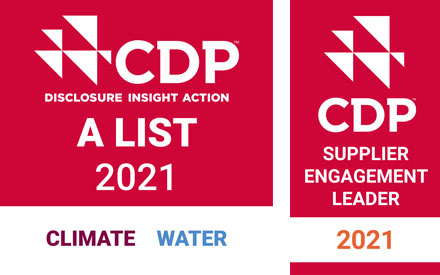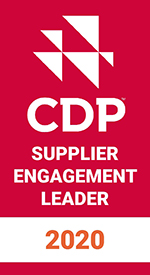 CDP is a not-for-profit charity that runs the global disclosure system for investors, companies, cities, states and regions to manage their environmental impacts. Over 9,600 companies with global market capitalization of over 50% around the world disclosed environmental data through CDP in 2020.
NEC has been included in "A List" for both Climate Change and Water Security in 2019 and 2020 consecutively.
Furthermore, NEC has been listed in the "Leaderboard" of the Supplier Engagement Rating on climate issues in 2020, which resulted in achieving 3 awards: Climate, Water Security, and Supplier Engagement.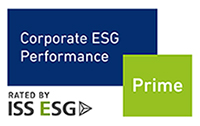 ISS ESG is an ESG investing solution unit of ISS, the world's leading provider of proxy voting and distribution solutions, and evaluates companies with social and environmental criteria. Companies that are received high evaluation in their industry sectors are rated "Prime." NEC was rated "Prime" in March 2018 in the "Electronics Devices & Appliances" industry sector. (The name of the Indexes was changed from the "oekom Corporate Rating")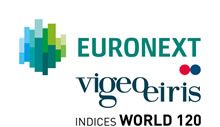 This sustainability evaluation index was designed by NYSE Euronext, the world's largest stock exchange group, and Vigeo Eiris, an agency that has expertise in the assessment of companies and organizations based on their practices and performance related to ESG. This index includes the 120 most advanced companies in the European, North American, and Asia Pacific regions based on ESG. NEC has been included continuously since 2012.
Ethibel Pioneer & Excellence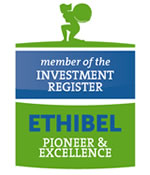 Forum ETHIBEL, a non-profit organization that actively promotes Socially Responsible Investing (SRI) and Corporate Social Responsibility (CSR), includes companies identified as sector leaders in terms of CSR into the ETHIBEL Investment Registers. Forum ETHIBEL manages two universes, the ETHIBEL PIONEER label and the ETHIBEL EXCELLENCE label, which are regularly updated and monitored. NEC was selected for the ETHIBEL "EXCELLENCE" Register in 2009, receiving ETHIBEL "PIONEER" Register, the higher evaluation in 2013. NEC has been selected for PIONEER & EXCELLENCE continuously from 2013.
STOXX Global ESG Leaders Index

This index is generated by STOXX Ltd., a group company of Deutsche Börse. It selects world leading companies based on a survey results related to ESG by Sustainalytics, an SRI research/analysis company. NEC has been included continuously 2014.
EcoVadis is the world's largest and most trusted provider of business sustainability ratings, which assesses suppliers with a methodology built on international sustainability standards, covering 190 spend categories and 160+ countries. Its Sustainability Scorecard illustrates performance across 21 indicators in four themes: Environment, Labor & Human Rights, Ethics and Sustainable Procurement. Since 2012 NEC has been awarded "Gold" sustainability ranking in the top 5% companies, and in 2020 we awarded the "Platinum," that is newly set and places NEC among the top 1% of companies assessed worldwide.
Other External Evaluations