Displaying present location in the site.
DX Strategy Consulting Service Develops Strategies and Roadmap for Enterprise Digital Transformation
DX Offerings to Drive Business Transformation and Innovation
New technologies that enable content to be personalized through the use of social media, mobile devices, and analytics are transforming every aspect of the customers' experiences. As the value of these new technologies becomes increasingly important to the outcome of service use and the overall experience or using services, it is imperative that companies leverage new technologies such as AI, IoT, VR, AR, and drones to build a sustainable competitive advantage. This paper introduces NEC's DX concept and strategy consulting services, which is a digital transformation (DX) offering that enables companies to identify issues in DX promotion, plan strategies to effectively implement DX, and develop a roadmap for the realization of DX.
In recent years, not only have social media and devices using mobile technologies become ubiquitous, companies are also using big data and AI to deepen their understanding of their customers and provide personalized content to match their preferences. These changes are transforming the relationship between consumers and companies. In the past, value was placed on owning the best products and the customer journey was a linear process from companies delivering information about their products to customers ultimately making purchases. With the advent of new technologies in recent years, however, customer-perceived value has evolved, prompting a need to rethink the customer journey. Now that services are available anytime anywhere, customers are more concerned with the results of using the services than with owning the products. Also, as communication between customers and companies has become two-way, a need exists to create a map for the customer journey that does not end with the final purchase but extends to post-sale services and an ongoing relationship with the customer.

Emerging technologies that are key to building the customer journey are not limited to social media, mobile devices, and analytics but also include technologies that can transform the customer experience such as artificial reality (AR) and extended reality (XR); technologies that can change the nature of distribution such as automatic driving, drones, and 3D printing; and technologies that can change business processes such as IoT and AI. These technologies have ushered in the fifth industrial revolution, otherwise known as the digital transformation (DX) (Fig. 1).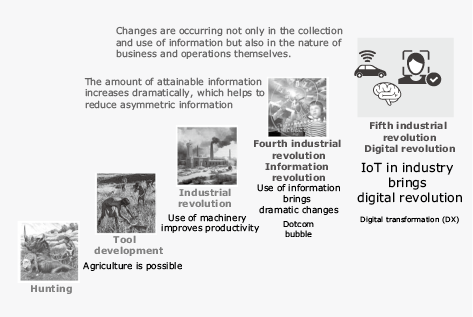 In Section 2, we explain the key questions that companies need to answer when starting the DX journey as well as the targets and expected effects of promoting DX. Section 3 provides an overview of the current state of DX, Section 4 introduces NEC's offerings for promoting DX, and we conclude with a summary of this paper.
2. Answering Key Questions in DX Promotion and the Expected Results
The DX concept was first proposed for academic development in 2004 by Professor Erik Stolterman of Umeå University in Sweden. In Japan, since the formulation of the Guidelines for Promotion of Digital Transformations (DX Promotion Guidelines) by the Ministry of Economy, Trade and Industry (METI), the objective of DX promotion has been focused on leveraging digital technologies to bolster the competitive edge of Japanese industry (Table 1). To promote DX and establish a competitive edge, companies will need to find solutions to address the key questions and produce results.
Table 1 Changes in the definition of DX.
2.1 Key questions companies need to answer
To promote DX, companies need to answer several questions related to overall corporate management, such as those related to transforming the business itself, providing value to customers, building DX promotion capability, creating an organization that enables repeated verification as well as flexible and timely adaptation, and developing new business performance indicators for the DX era (Table 2).
Table 2 Key questions companies need to answer before starting the DX journey.
2.2 DX promotion targets and expected effects
DX targets can be broadly divided into business, customer experience, and operations (Table 3). In business, the objective of DX is to transform existing businesses through the use of digital technology and to build and develop new businesses by using digital technology to enhance core business competencies. In the area of customer experience, the objective is to utilize big data, AI, and other digital technologies to reveal new customer insights that have not been pursued before and then use these insights to provide positive customer experiences and to strengthen relationships with customers to increase sales and revenue. Lastly, in operations, the objective includes enabling employees to shift to higher value-added work through smarter operations and work-style transformation using digital technology as well as formulating new employee performance metrics that take into account the new skills required to enable the shift to higher value-added work1).
Table 3 DX promotion target areas and expected effects.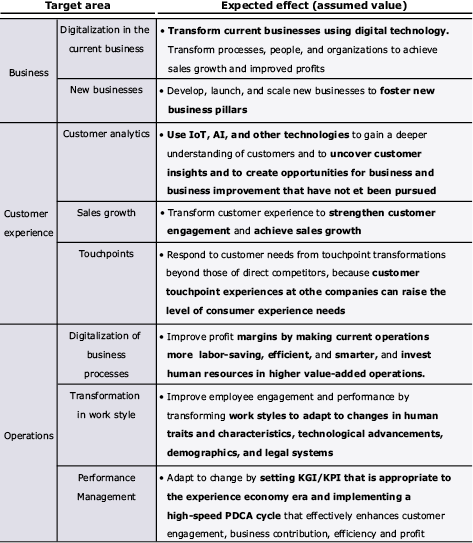 2.3 DX initiatives in Japan
As shown in Fig. 2, many companies in Japan consider improving business productivity and adding value to products as important management issues. The development of new customers and new businesses are also viewed as important management issues by nearly half of the companies in the survey. In view of this trend, we can expect companies to continue adopting tools and applications to make their existing businesses smarter while, at the same time, cultivating new customers and developing new businesses in parallel. With the advancement of digital technology causing the boundaries of traditional industry to become ambiguous and potentially causing the replacement of businesses that have been serving as pillars of growth, the move by enterprises to improve operational efficiency is expected to bring management issues such as the development of new customers and new businesses further into the spotlight2).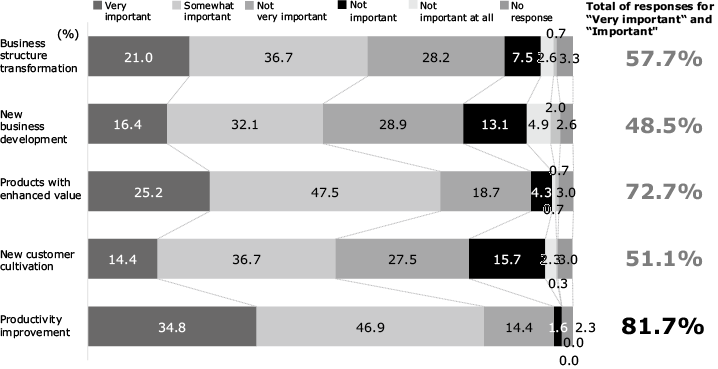 We are currently in the midst of the fifth industrial revolution known as the digital transformation (DX), and many companies are working to promote DX. As stated in the interim summary of the Ministry of Economy, Trade and Industry's DX Report 2, however, approximately 90% of DX projects are said to have failed to achieve their intended results. As shown in Fig. 3, there are a wide variety of reasons why DX projects do not achieve the results originally envisioned.
3.1 Challenges in project management
Although DX is inherently about continuous business transformation, many cases exist where DX is organized as a one-shot project. In addition, project management might have many issues, such as projects being carried out without leadership or projects being carried out with an implicit bias against the dazzle of new and emerging technologies.
3.2 Issues in the steps to promote DX
DX projects are usually conducted by examining ideas based on insights that were derived from understanding the surrounding environment from various perspectives, updating the concept through small-scale verification of the examined ideas, and proceeding with the establishment and scaling of the concept. In each of these steps, a variety of issues can arise, such as failing to notice the seeds of new ideas in the ideation stage or conversely, not playing a central enough role in the organization's ecosystem to follow through on what are regarded as good concepts or not having the capability to turn them into a reality.
3.3 Challenges in organizational penetration and retention
Challenges can also arise when organizations are vertically divided, show reluctance in promoting new ideas, or attempt to drive transformation across the entire organization. In DX, it is desirable to continuously update the system while conducting small-scale verifications, but if such activities have not been conducted until now, integrating these steps into the organization will be a challenge. While a variety of issues can be observed, it is important to consider a balance of core capabilities, including technology, ideas, and strengths. If this balance is lacking, the project is expected to stagnate or not achieve the initially expected results3)4).
4. Approach to DX promotion
NEC's DX Strategy Consulting Division, in collaboration with other NEC organizations, can provide total NEC support not only for market research and ideation but also for the study of various DX strategies and the development of technologies, system construction, and operations to achieve DX. In accordance with the recent trend toward digitalization, NEC itself is promoting reforms to create value in the DX era and can provide support for the formulation of more concrete and feasible measures based on our own experiences.
4.1 Two approaches to DX promotion
NEC recommends two major approaches to DX promotion. One is the traditional waterfall approach in which a DX agenda and roadmap for the entire company and each functional area is established; followed by conceptual planning, solution planning, and a transformation preparation phase; and then finally the execution and establishment of that transformation. The other approach is to promote agile change through a series of verifications and updates, similar to the lean startup approach used in new business development after the DX agenda is finalized. Depending on the nature of the DX theme, either a waterfall approach or a lean startup approach will be necessary. For example, for customer experience transformation or new business development, a lean startup approach is used because it is necessary to proceed while verifying value, but a waterfall approach is used for mission-critical areas such as system construction.
4.2 NEC's consulting service for developing DX concepts
As part of our DX offerings, NEC provides consulting services to support the formulation of DX concepts and strategies for each business, customer experience, and area of operations. We offer DX strategy planning services, DX business organization services, and other services targeting current and future businesses as well as services that promote DX for enhancing customer experiences and operations (Fig. 4).
This paper describes the targets and expected effects of DX promotion as well as the actual situation and challenges in DX promotion. In order for a company to achieve sustainable growth, it is important to build a competitive advantage through DX.

By leveraging our own DX experiences, NEC will support the realization of DX for companies by providing DX strategy consulting services.
ABEKI Takumi
Customer Experience,
Innovation and Administrative DX
DX Strategic Consulting Division