Displaying present location in the site.
DX Offerings to Accelerate the Digital Transformation of Society
Against the backdrop of the current, highly uncertain business environment coupled with advances in digital technology, many of our customers are turning to digital transformation (DX) to create corporate value and transform their businesses to achieve new business growth. This requires developing a DX strategy in collaboration with experts. The DX offerings menu described in this paper feature various services to help solve issues in DX advancement, such as DX strategy formulation, implementation of technology, as well as talent reinforcement and organizational development. These are bundled assets so they can be provided to customers in a prompt and speedy manner. The DX offerings, based on a value proposition model leveraging NEC's accumulated experience in resolving management challenges for customers and NEC's best practices for handling DX proposals, provides a suite of services that customers can use with confidence.
HIRANO Shinji
Senior Manager
DX Offering and Platform Strategy Division
The spread of the digital transformation has fundamentally changed people's lifestyles, communication styles, social norms, and values. At the same time, companies and industries are placing greater emphasis on adopting digital technology to fundamentally change existing business practices and create better value for customers.

To respond promptly and flexibly to change, the need has been growing to accelerate the advancement of digital transformation (DX) by shifting to a way of thinking that discards conventional values and business models.

In recent years, the advancement of digital transformation has shifted from the level of technical concept to actual usage and enhancements in DX applications. Many of our current customers who are engaged in digital transformation are beginning to focus their attention on the selection of which external experts they should collaborate with to solve the challenges ahead as their most important management strategy.

In this context, NEC has prepared a suite of DX offerings as an approach to aid customers in selecting a DX expert.
2. Approaches to Digital Business Transformation
In addition to skills in the formulation of DX strategies, technologies as well as talent reinforcement and organizational transformation, a sense of speed when making proposals as well as a successful track record and accumulated experience in DX implementation like NEC has are essential for creating value and providing support for our customers.

In the IT industry to date, vendors have sold a variety of systems that meet customers' needs and requirements, and customers in turn have purchased those systems. With digital transformation, a partner approach with customers is required rather than a focus on simply selling systems. In other words, we believe it is important to be selected as a partner who walks alongside our customers while contributing to their business growth.
What are NEC's strengths in relation to the DX approach? Our strengths lie in the fact that we can provide end-to-end services, from upstream consulting on the formulation of DX strategies to better understand a customer's business environment and management challenges to DX implementation that includes system development, operation, and maintenance services using digital technology (Fig. 1).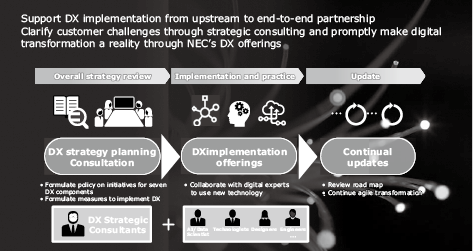 Next, NEC's DX business know-how and knowledge can be integrated, and we can propose the most suitable DX business to our customers through the implementation of digital transformation at our own company and experiencing the benefits.

In addition, we can combine multiple IT environments — cloud, data center, and on-premise — to provide our customers with hybrid IT services that are seamless, agile, and continuously updated.

The concrete realization of the DX concept is our DX offerings, which will be discussed in this paper as a solution that enables customers to quickly respond to constant business changes.
2.2 Purpose of digital transformation and perspectives on problem solving
First, we clarify the customer's management issues through the DX Strategy Concept Development Consultation, develop the customer's business roadmap and growth scenario, and propose specific measures to resolve the issues through the DX offerings (Fig. 2).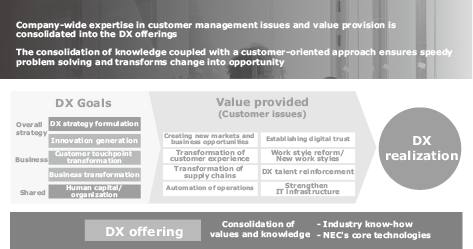 The customer's DX objectives are organized in five perspectives.
(1)

Innovation generation
To maximize long-term value-added creation in an uncertain business environment, we propose the creation of new markets and business opportunities, focusing on management-level and line-of-business (business unit) customers.

(2)

Customer touchpoint transformation
With companies and industries affected by the novel coronavirus infection (COVID-19), we will provide a safe and secure environment and enable business continuity through the provision of online, touchless, and other services.

(3)

Business transformation
By utilizing digital technology, we propose the business process transformations that have not been possible up to now, such as reviewing SCM, automating and streamlining operations, and reforming work styles.

(4)

Human capital and organization
One of the biggest challenges in promoting digital transformation is the shortage of DX talent. NEC will provide one-stop support for customers' DX human resource development by bringing together the digital human resource development know-how that NEC itself has put into practice.

(5)

Technology and DX platform
To speed up the advancement of digital transformation described in (1) to (4) above, the digital technology and DX platform supporting them are important, and NEC will make ready-made DX proposals using its core technologies.
To realize concrete digital transformation advances, we have prepared a DX offerings menu as proposals to support the realization of optimal digital transformation for resolving the various issues and meeting the business needs of our customers.
3.1 DX offerings menu system
As mentioned earlier, the DX offerings menu focuses on achieving digital transformation from five perspectives: innovation generation, customer touchpoint transformation, businesses transformation, human capital and organization, and technology, and the DX offerings is structured around this DX framework (Fig. 3).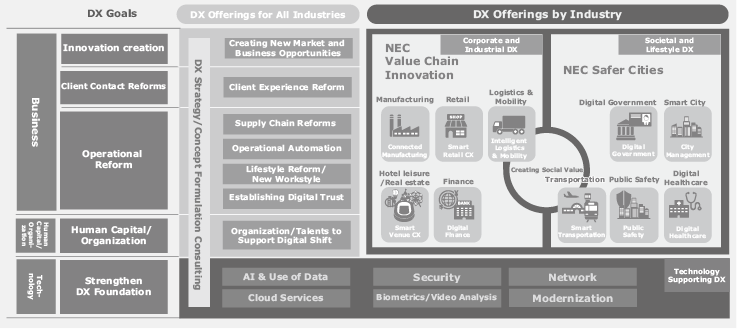 The system is further divided into industry-common DX offerings and industry-specific DX offerings, with both backed by technologies supporting digital transformation.

The industry-common DX offerings is based on a value proposition model that brings together the digital expertise of NEC's entire company as DX offerings in areas that are common to specific industries and business categories or that transcend industry boundaries.

The industry-specific DX offerings support the digital transformation of companies and industries. The offerings are designed to provide DX solutions tailored to each of the five sectors of manufacturing, retail, logistics & mobility, hotel/leisure/real estate, and finance through the concept of NEC Value Chain Innovation (VCI), which is aimed primarily at the enterprise market.

In addition, we are developing and providing DX solutions for society and daily living that leverage the unique characteristics of five sectors — digital government, smart city, transportation, city safety and disaster management, and digital health care — that underlie NEC Safer Cities (NSC), a business concept mainly for the public market.
3.2 Advantages of introducing DX offerings
Here are some of the benefits for customers when adopting DX offerings.

First, we prepare ready-made solutions in advance to meet your DX promotion challenges.

Based on NEC's own experience and track record of implementation and operation, NEC has created a DX offerings menu that includes internal digital transformation, work style reform/new work styles, and successful models common to all industries and operations, allowing customers to choose from a wide variety of solutions.

In addition, these have been prepared as a series of products, services, and knowledge for solving customers' issues that have been standardized, formalized, and compiled into a collection of repeatable best practices. Furthermore, NEC provides support from DX consulting to implementation, construction, and operation, so customers can implement digital transformation with confidence.
3.3 Technology to support digital transformation and DX offerings
The DX offerings in the technology sector are located at the lower level of the menu system and serve the role and function of supporting all industry-specific and industry-common DX offerings (Fig. 3).

The DX offerings for the technology sector is positioned not as NEC recommended packaged products but as best practices that are preset with NEC's DX experience and knowledge to solve customer issues. The offerings are organized by competency in the areas of consulting, AI & data utilization, biometric authentication and video analytics, cloud services, modernization, security, networking, and VCI.

As of January 2022, 68 DX offerings are available, and including future plans, the company plans to release over 100 DX offerings (Fig. 4).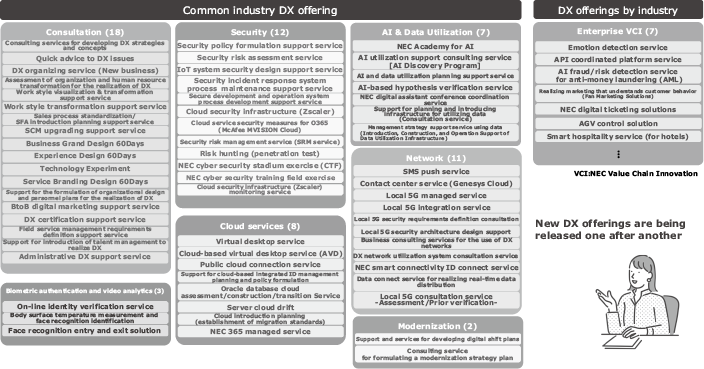 From a medium- to long-term perspective, we offer the most appropriate combination of multiple DX offerings for our customers' larger business challenges (Fig. 5).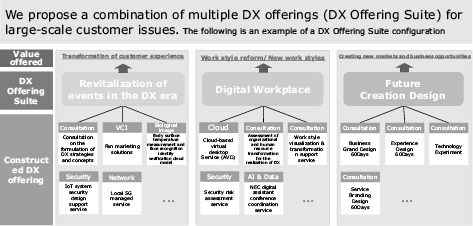 3.4.1 Example 1: Event activation in the DX era to transform customer experiences
Operators, including overseas operators, of facilities such as theme parks, museums, and movie theaters, in addition to stadiums and arenas that serve as venues for large-scale events such as baseball, soccer, and other sporting events, concerts, and other musical events
Challenges and business needs:
Attract customers to events during and after the COVID-19 era
Contribute to the revitalization of the local economy centered on event venue
Safety and security at facilities through measures to mitigate the spread of infections, such as touchless systems, body surface temperature detection, and crowding and unmasked individual detection, as well as security measures, such as suspicious object detection
Strengthened marketing to increase not only the number of visitors, but also the number of core fans, thereby increasing the repeat rate and sales per capita
3.4.2 Example 2: Digital Workplace to change the way people work
Management, administration and IT departments of companies and organizations aiming to achieve safe and secure business continuity and maximize use of human capital during and after the COVID 19 era
Challenges and business needs:
Telework is implemented, but there are challenges in security enhancement, management, and communication
Achieve the same work style whether working remotely or at the office
Enjoy services anytime, anywhere through online customer touchpoints
Safety and security achieved through touchless services
Improved efficiency by using AI and robotics to achieve automation and labor saving
Building trust through transparency and visualization in the digital society
3.5 DX offerings and research themes
The following table shows the relationship between the DX offerings and each of the topics introduced in this issue (Fig. 6).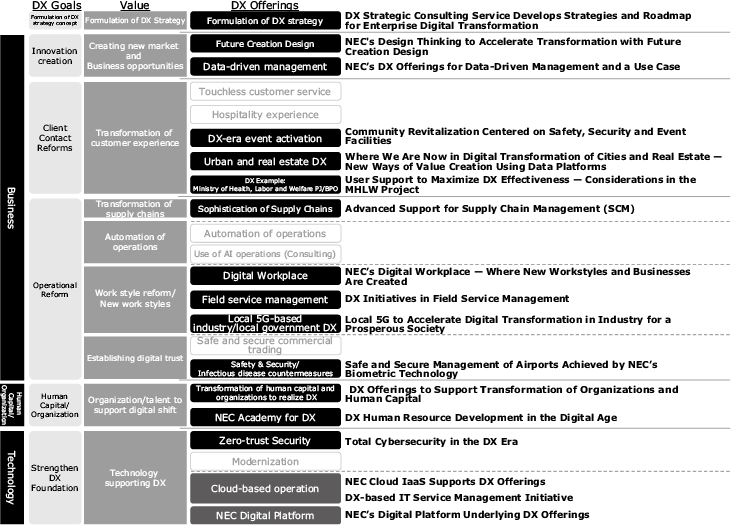 The DX approach we propose to our customers is based on pinpointing the areas that require transformation. The first step is to change the customer's vision on the way business is conducted, and then change the digital platforms, human capital, and organizations to put this vision into practice.

The goal is not to promote digitization, but to consider what value is provided to customers (users) and what operations and tasks are necessary to achieve this. The key to success in digital transformation is to simultaneously determine the delivery system and organizational development to realize and deliver the value to be provided.

These DX offerings are based on a value proposition model leveraging NEC's track record in resolving management issues for customers. It incorporates the expertise possessed by NEC as a whole and best practices for DX proposals as a reference, and is constantly being updated.

NEC will continue to contribute to the growth of our customers' businesses and strive to remain an important partner in their long journey.
*

Office 365 is a registered trademark or trademark of Microsoft Corporation in the United States and other countries.

*

Oracle is a registered trademark of Oracle Corporation and its subsidiaries and affiliates in the United States and other countries.

*

All other company names and product names that appear in this paper are trademarks or registered trademarks of their respective companies.