Displaying present location in the site.
Fast Travel: Using Face Recognition to Improve Airport Services with a View towards Wide scale Implementation
The International Air Transport Association (IATA) is now promoting the Fast Travel program which offers passengers self-service options such as check-in and boarding using face recognition technology. Major airports around the world have already introduced pilot projects using this program. Also efforts are underway to adapt this technology to widespread use in various services not just at airports but also in town to achieve seamless and ticketless identification. This paper outlines NEC's commitment to Fast Travel and introduces several case studies in Japan and elsewhere that highlight NEC I:Delight, a concept first proposed in 2019 whose objective is to achieve a truly seamless customer experience across a broad range of locations and services.
With the Tokyo Olympics—originally scheduled for 2020—as the focal point, Japan has been engaged for the past several years in a massive effort to expand and improve its tourism infrastructure—a project made all the more necessary by the rapidly accelerating number of inbound tourists from overseas, rising from less than 5 million in 2000 to more than 30 million in 2018.

The devastating impact of the COVID-19 pandemic has brought all this progress to a shuddering halt, with the tourism industry being dealt the severest blow. Efforts to mitigate the spread of this disease, in particular, avoidance of the "Three Cs" (closed spaces, crowded places, and close-contact settings), have continued to wreak havoc in the tourism and hospitality industries.

Fast Travel—of which NEC's face recognition technology is a critical component—is one of the tools that can help airports improve their response to COVID-19 and upgrade the tourism infrastructure in general, while providing travelers with greater convenience and safer check-in. This paper provides an overview of Fast Travel and discusses future prospects.
1.1 The current airport environment in Japan
The massive increase in overseas visitors in recent years has strained the capacity of airports, resulting in overcrowding, forcing passengers to wait for hours in long lines. This increased pressure on airports is bringing more problems to the surface—such as the need for extended service hours, the shortage of workers necessary to facilitate that, and the corresponding requirement for additional and enhanced security.

New COVID-19-related restrictions—such as minimizing congestion in immigration and customs areas and limiting contact between passengers and airport staff—make traveling even more arduous.
1.2 Fast Travel—automating travel to help solve airport problems
Japan is not the only country facing these issues; the trend is global. Recently, the International Air Transport Association (IATA) has begun promoting an airport automation system called Fast Travel that provides travelers with an array of self-service options.

Fast Travel gives passengers the opportunity to streamline their airport experience with a contact-free automated process that enables them to complete most procedures on their own. Such approaches will improve the passenger's experience, reducing the time they spend waiting in queues and alleviating congestion at immigration and customs checkpoints.

Automation of passenger services for domestic flights in Japan is very close to being fully realized thanks to the leveraged power of smartphones and IC cards. When it comes to international flights, however, the automation process has been held up by the need for identity verification with passports. Only biometrics can eliminate the need for identification documents, resulting in a push to incorporate face recognition technology, which would enable full automation of passenger services. Pilot projects have already been launched at major airports around the world.

Clearly, the seamless experience enabled by Fast Travel and face recognition technology has the potential to be effectively utilized across a broad range of travel-related services. Possible deployment of this technology in other areas is now being studied.

In the following sections, we review several case studies on the introduction of face recognition technology in airports and also examine the prospects for digitized airports in the future.
2. NEC technology key to success of airport automation
NEC is playing a key role in helping achieve IATA's Fast Travel by supporting integration of its proprietary face recognition technology, which is number one in the world1).
In 2016, NEC's face recognition technology2) was adopted by the John F. Kennedy International Airport in New York, one of the largest and busiest airports in the United States, where it is used in the immigration system to confirm that the passenger matches the passport holder.

With a view to improving security and streamlining immigration procedures, the United States Department of Homeland Security and its law enforcement agency, Customs and Border Protection (CBP), are strengthening immigration control at international airports throughout the United States. The federal government is implementing a departure program that utilizes biometrics in order to confirm the identities of those who depart from the United States. NEC's face recognition technology is critical to successful achievement of this objective.

In collaboration with CBP, we set up a validation test of our face recognition system at Washington Dulles International Airport in 20173). Tests were conducted at the boarding gates operated by Emirates Air for flights bond for Dubai in the United Arab Emirates.
Japan's first electronic customs inspection system—the Electronic Declaration Gates (e-Gates)—started operation at Narita Airport's Terminal 3 in 2019 (Fig. 1).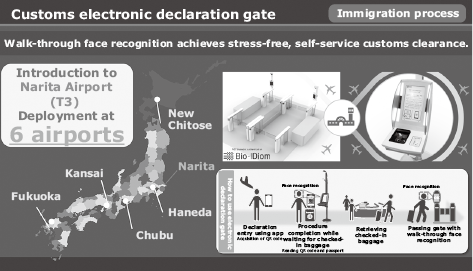 This system will simplify the creation of the "Declaration of Personal Effects and Unaccompanied Articles" document, as well as facilitating quicker declaration and customs procedures. Passengers will be able to proceed quickly through each step of the arrival procedure, moving smoothly from immigration to customs inspection without having to repeat identification procedures.

The system works like this: passengers use a customs declaration app developed for smartphones and make an electronic declaration ahead of time while they are still on board. When they arrive at the airport, they verify their identity at a dedicated kiosk called an electronic declaration terminal, using the QR code displayed on the app as well as their passport and face recognition. The whole procedure is executed seamlessly, resulting in very fast, easy processing.

Thanks to this technology, entering the country is a simple matter of passing through a gate equipped with walk-through face recognition technology.

The resulting dramatic reduction in congestion and passenger waiting time in customs inspection areas and immigration control will greatly improve the traveler's experience.

Also in 2019, Narita International Airport Corporation decided to adopt NEC's face recognition system in its new One ID check-in boarding process.

When this new process is put into actual operation, passengers at Narita Airport will simply register photos of their faces at the first step of the check-in procedure and from that point on will be able to move seamlessly through each subsequent step (baggage check-in, security check, and boarding gate clearance) without having to present any documents—such as boarding pass or passport. Instead, their identity will be instantly verified using face recognition.

One ID will eliminate much of the stress and anxiety normally associated with the various procedures preceding final boarding as it will enable passengers to move quickly and smoothly through each stage, reducing lineups and saving time (Fig. 2).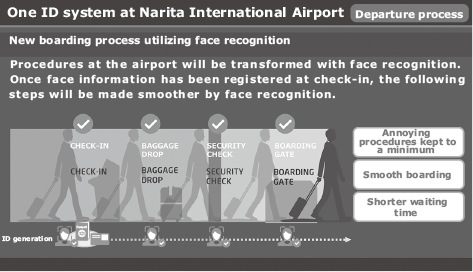 NEC's Fast Travel face recognition system won first prize at the 2019 Nikkei Superior Products and Services Awards (Fig. 3).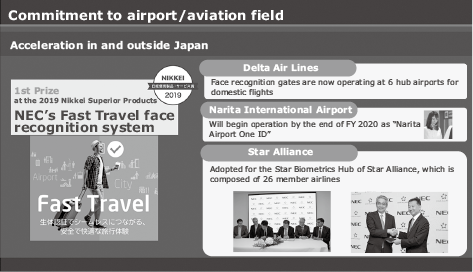 In July 2019, NEC and Star Alliance announced a collaborative business deal in the development of the Star Biometrics Hub, which is an identity verification platform leveraging biometrics4).

By taking advantage of this platform that utilizes NEC's face recognition technology, Star Alliance plans to achieve seamless boarding procedures and new services for passengers.

As long as passengers use the flights of alliance member airlines, they will be assured an improved user experience at airports all over the world without being restricted to specific airports.

This improvement in user experience for passengers will not stop at airports. Potential expansion of value experience into realms outside airports is also expected in the near future.
2.3 From the airport to the streets
In January 2019, NEC began conducting a demonstration of various face recognition applications for the Ministry of Internal Affairs and Communication's IoT Omotenashi Cloud Service in the service area of Nanki-Shirahama Airport in cooperation with Nanki-Shirahama Airport, Inc. and other companies. Tourists can use various services at hotels, tourist facilities, and commercial facilities, using face recognition based on face images and credit card data transferred from smartphones (Fig. 4)5).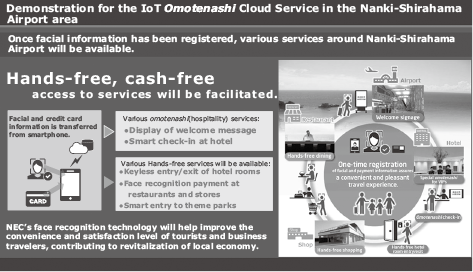 The objective is to create new hands-free tourism services.
3. From Fast Travel to NEC I:Delight
NEC I:Delight was announced in November 2019 with the goal of providing a consistent, hassle-free customer experience across a broad range of services at multiple locations through the use of a common ID (Digital ID) obtained with biometrics such as face recognition.

In addition to the various tourism-related services that take advantage of face recognition in the Nanki-Shirahama demonstration project discussed above, we plan to apply this concept across a much wider range. Everything from daily activities like commuting to grocery shopping to access to public services, we believe this technology can make life much easier for everyone.

The keys to successful implementation of NEC I:Delight are safety, security, and comfort.

Safety and security means locking down the system to keep out intruders and prevent identity theft and spoofing. Comfort means that the user experience is completely seamless and transparent; they can move comfortably and smoothly through the world without carrying with them physical documents such as ID cards, passenger tickets (Fig. 5).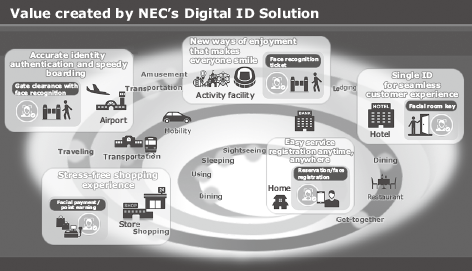 3.1 Digital ID in the age of the "new normal"
COVID-19 has ushered in dramatic changes to our social environment and concepts like safety and security are now viewed in a whole new light.

From shops to restaurants to hotels to airplanes, the overriding concern today is how to create an environment that makes people feel safe, while also ensuring that services can be offered in a timely and reliable manner without being slowed down by infection prevention measures such as avoidance of the "Three Cs."

NEC's Digital ID Solution offers a contact-free method for identity verification using biometrics that can help contribute to the creation of a service environment that is both safe and convenient. Users just hold up their ID and pass through the detector (contact-free operation). As these systems are deployed in more and more locations, they are likely to help accelerate the achievement of complete self-service in every facet of our life as there will no longer be any need for traditional face-to-face identity verification in which someone has to compare the person with the photo on their ID card.

This can create new value such as the reduction in the risk of infection from physical contact and face-to-face exchanges.
3.2 Validation testing at NEC headquarters
To test the validity of these concepts, we have launched a comprehensive validation project in July 2020 at our headquarters building in Minato Ward, Tokyo with a view to understanding how best to adapt our style of work to the "new normal" using NEC's Digital Transformation (DX).

We are testing a wide array of systems from simple contact-free entry/exit systems using face recognition to more aggressive measures against COVID-19 such as integration of new technologies including body surface temperature detection and facial recognition of people wearing masks (Fig. 6).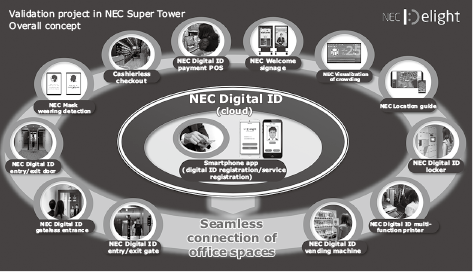 By testing our technologies in this way, we will improve their quality and performance, while collecting invaluable intelligence and experience that will enable us to more effectively create and deploy new services using NEC's Digital ID Solution, as well as to improve existing services such as Fast Travel.
*

QR code is a registered trademark of DENSO WAVE INCORPORATED.

*

All other company names and product names that appear in this paper are trademarks or registered trademarks of their respective companies.
OTA Tomohide
Senior Expert
Cross-Industry Business Development Division
ISHIHARA Kazuo
Senior Manager
2nd City Infrastructure Solutions Division
IWATA Atsushi
Vice President
Safer City Solution Business Headquarters
TORII Satoshi
Manager
1st Government and Public Solutions Division
HIRAMOTO Noriyuki
Manager
Cross-Industry Business Development Division
TAGAWA Risa
Cross-Industry Business Development Division