Displaying present location in the site.
1-fiber bidirectional transceivers

The conversion to an optics-based access system is expected to progress rapidly as the demand for high-speed, broadband access increases with the rapid expansion of the Internet. While access equipment used in conventional SDH/SONET and Ethernet systems employ two optical fibers, there is an increasing number of systems that transmit and receive signals over a single optical fiber with the view to raising the usage efficiency of optical fiber, decreasing the number of optical fibers to be accommodated by a communications office, and eliminating the complexity of identifying and connecting two optical fibers.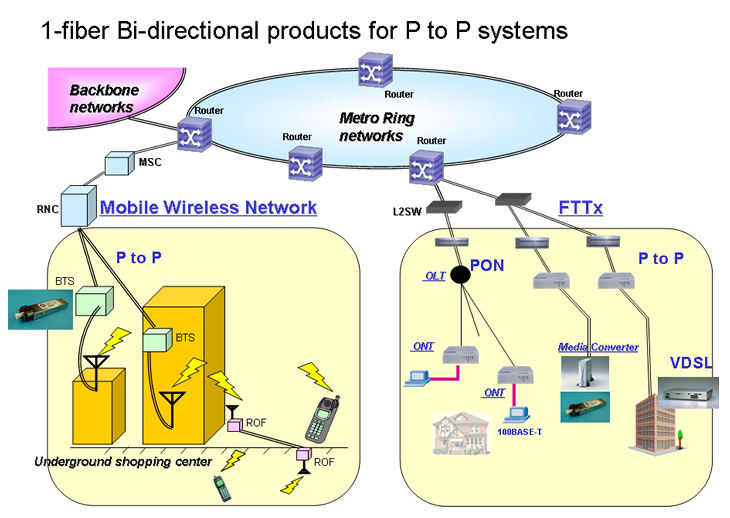 Small sized products ideal for mass production
Three product forms: MSA-compliant SFP, Compact SFP and Dual SFP(*)
NEC is one of the founding members of Compact SFP MSA and DSFP MSA (*).
(*) DSFP MSA web site: https://www.dsfpmsa.org/
An extensive set of data rates, transmission distances, and optical-connector shape, monitoring characteristics are ready.
And furthermore the highly integrated Compact SFP (Compact Small Form-factor Pluggable transceiver) and DSFP (Dual Small Form-Factor Pluggable transceiver) will enable network system vendors to increase port density and data throughput, while reducing network equipment cost.
Speed
Form
Part Number
Wavelength
Distance(*)
Specification
1.25Gb/s, 2.5Gb/s
SFP
OD-BP05xxxL
1.31/1.49um
10km/20km/>20km
CPRI/1G Ethernet/OC-48
4.9Gb/s
SFP
OD-BP07xxxL
1.27/1.33um
10km/20km
CPRI
6.1Gb/s
SFP
OD-BP08xxxL
1.27/1.33um
10km/20km
CPRI
10.3Gb/s
SFP
OD-BP09xxxL
1.27/1.33um
10km/20km
CPRI/10G Ethernet
10.3Gb/s
SFP
OD-BP09xxZL
1.27/1.33um
40km
CPRI/10G Ethernet
25.7Gb/s
SFP
OD-BP10xxxL
1.27/1.31um
1.27/1.33um
10km
CPRI/25G Ethernet
25.7Gb/s
SFP
OD-BP10xxZL
1.27/1.31um
30km
CPRI/25G Ethernet
(*) Maximum reach as defined by IEEE Standards. Longer reach possible depending upon link implementation.
Compact SFP Transceivers Low Power Version
Speed
Form
Part Number
Wave
length
Distance
(*)
Power
Consumption
Specification
2x
1.25Gb/s
CSFP
OD-BD06xxxL
1.31
/1.49um
10km
/20km
/>20km
1.0W(*)
CPRI/1G Ethernet
Speed
Form
Part Number
Wave
length
Distance
Specification
2x
25.7Gb/s
DSFP
OD-BD10xxxL
1.27
/1.31um
10km
CPRI/25G Ethernet