The secret to smoothly welcoming new colleagues is careful communication!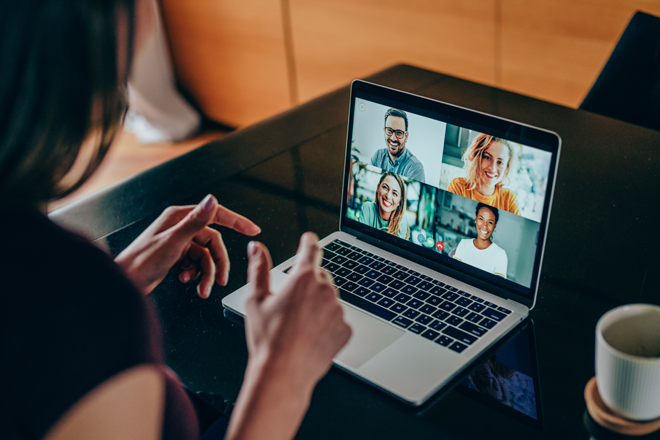 *Interview conducted in November 2020
(Affiliations and positions are current at the time of the interview)
As the impact of COVID-19 continues to diversify work styles, the number of cases of welcoming new members to a team in an environment centered on remote work has increased rapidly. This time we interviewed a mid-career hire who joined the company in the wake of the COVID-19 pandemic and their supervisor to unravel the secrets of smooth onboarding. We have also included tips for stimulating communication in a remote work environment. We hope you enjoy.
-- Kawamura joined NEC six months ago (June 2020) as a mid-career hire. What did you do to welcome Kawamura?
Abe: Our main customers generally work remotely, and our business negotiations and meetings are conducted online. I come to the office about once a week, but I could only see Kawamura about twice a month, so I tried to maintain close communication with him. Even now, we have group meetings to share information two days a week, and the other three days, Morishita, one of Kawamura's senior employees, spends about 30 minutes of one-on-one sessions with Kawamura every day.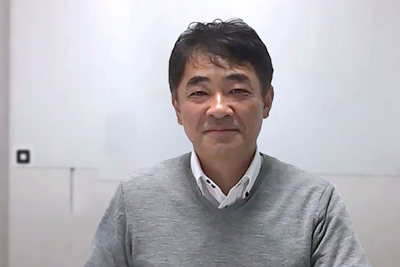 Kawamura: During the one-on-one sessions with Morishita, I ask him not only about how to proceed with work, but also about various things related to company life. It is very reassuring to have someone close to me with whom I can ask questions and seek advice, and this provides me with emotional support.

-- So, senior employees are your buddies or supporters?

Kawamura: Yes, that is right. In addition, my immediate supervisor, Abe, and a manager from another department act as career coaches and give me one-on-one advice once a month on my action goals and mid to long-term career plan, which I submit every month.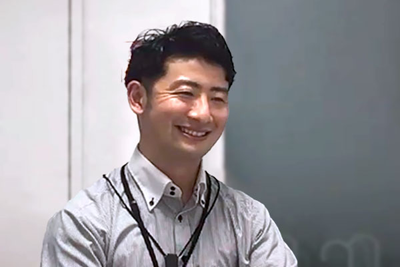 -- What do you talk about in the one-on-one sessions?

Kawamura: I often talk with Abe about specific business meetings and customers, while my second career coach, a manager from another department, often gives me advice from a third-party perspective. I am very grateful for the various insights I have gained from this advice, for example, "Our current customer is a customer who has advanced DX in their factory, so rather than thinking that this is the standard, you should also learn basic know-how and solutions in preparation for when you handle another customer in the future," or "I give this kind of advice to my subordinates, so why don't you also work on it?"

Abe: In the first half of this year, we started a trial program to assign a second career coach to mid-career hires and new hires as a department policy. In the second half of the year, it became official, and I have been serving as a career coach for mid-career hires in another department since October.

-- It is a wonderful initiative. Are there any other initiatives you are working on?

Abe: Around August, I started a chat meeting once a week for 30 minutes with people from other groups in the same department. This was launched when the lack of communication under COVID-19 was raised as an issue at a 2Q training camp. We divided the 16 members into three groups, shuffling the members each time and having informal talks about things other than work. Our goal is to build a relationship where if someone has a question, we can immediately ask the group next to us.

Kawamura: Last month, we had an online drinking party hosted by department executives. The members consisted of the department managers, deputy department managers, and ten people who joined the company as mid-career hires in the last six months. I was glad that the executives took the initiative to set up these opportunities. I am very grateful for the generous follow-up and the attitude of trying to train me through various training and initiatives within the department.

Abe: The 1st Manufacturing Industries Solutions Division has been focusing on education and human resource development for some time, partly because of the department manager's ideas. In addition to educational programs for department members, frequent online introductions of products, solutions, and case studies are provided, and I believe that we are well prepared for mid-career hires, new hires, and transferees alike to learn a variety of things.

-- With remote work becoming the main form of work, we often hear people say that it has become difficult to communicate with those around them. Do you find this to be the case?

Abe: With the diversification of work styles, different considerations from before may be necessary. However, if the supervisors really want to do something, they should be able to communicate, no matter how busy they are. Therefore, I believe that lack of communication is the responsibility of the supervisors.

People who change jobs join NEC with the intention of demonstrating their abilities at NEC as soon as possible. If such highly motivated people are made to feel that the company lacks acceptance, training, and communication, they may go elsewhere. They could stagnate in the company without being able to demonstrate their abilities. For that reason, I believe that careful communication when welcoming employees is extremely important.

-- What has changed since Kawamura and other mid-career hires joined the company?

Abe: As the saying goes, diversity creates innovation, and Kawamura and other mid-career hires have been very helpful in giving me ideas for solutions and process improvements from a different perspective. I think it is very important for an organization to have new members join regardless of whether they are mid-career hires, new graduates, or internal transfers, because increasing the mobility of human resources will help revitalize the organization and break away from old practices.

Kawamura: I want people to understand me as soon as possible, so I try to proactively speak up about what I notice and what I am thinking. I do this in order to fit in at NEC as quickly as possible, and I would be happy if I could promote positive change within the company as a result of this.

-- What advice would you give to departments that are about to welcome new mid-career hires?

Abe: While it is a matter of course to communicate well, I think it is a good idea, especially for young people, to arrange opportunities for them to build horizontal relationships not only with their supervisors but also with their close senior colleagues. It is indeed hard when you have to work 1-on-1 with your supervisor every day (laughs). In some cases, members closer to the field are more knowledgeable about practical matters, so I think it would be good if all team members can support new members by putting the right people in the right places.

Mid-career hires can acquire skills in at least two areas through their previous jobs plus their experience at NEC. I have high expectations for Kawamura, as I am sure he will be a promising human resource for NEC.

Kawamura: I will do my best to live up to Abe's expectations and make sure that many people recognize the name "Kawamura from NEC"!