Dive into Inclusion & Diversity Vol. 7 "What does it mean to be barrier-free at heart, according to wheelchair influencer Ryoko Nakajima?"
Event Report
Date and time: December 20, 2022, 12:05-13:15
Seminar format: Online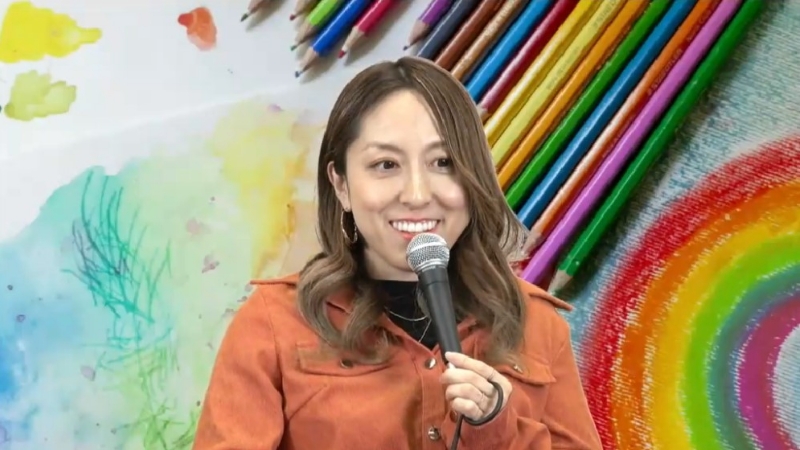 Dive into Inclusion & Diversity is an in-house online seminar held every few months to update knowledge on inclusion and diversity. To commemorate International Day of Persons with Disabilities (December 3), in December we invited Ryoko Nakajima, an active wheelchair influencer, for an online talk session on the theme of "Disabilities."

Ms. Nakajima's speech began with her life history. She spoke about suddenly losing the ability to walk in third grade of elementary school, of becoming a shut-in after that apart from going to school, of her encounter with "Titanic," the movie that changed her life, and of experiencing being "barrier-free at heart" in the USA.
She also discussed her activities as part of the groundbreaking wheelchair unit "Beyond Girls," and her thoughts about "the next step after Diversity & Inclusion (D&I) which is E&J (Enjoy & Join), a desire to help create a society where everyone can joyfully participate," which she began to consider as a result of her experiences participating in the Paralympics closing ceremony and other events.
Her words: "Creating a society that everyone can Enjoy & Join is what true inclusion means to us. I hope to popularize E&J together with everyone," were especially impactful.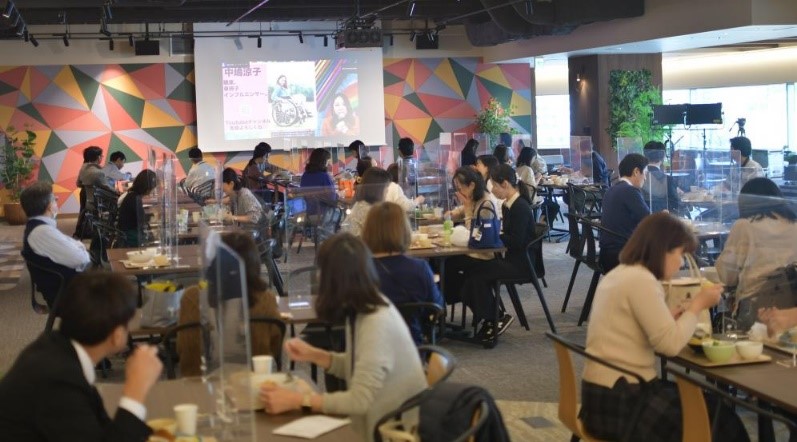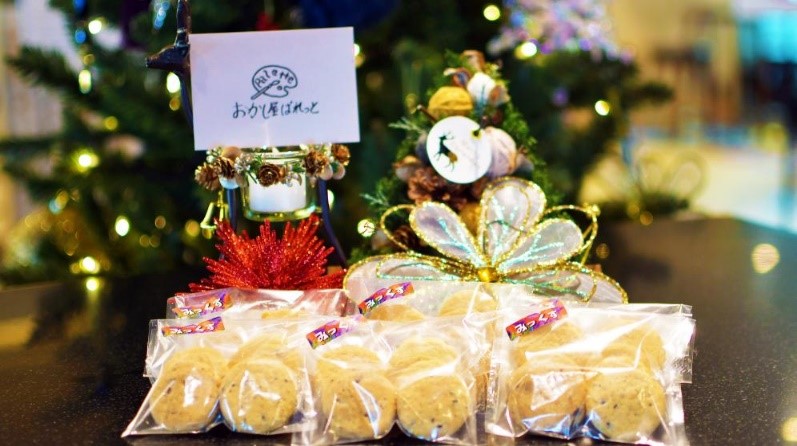 Viewers posed plenty of questions, and Ms. Nakajima answered every single one thoroughly based on her personal experiences. This article contains a selection of those questions.

Q: This matter is very personal to me as a fellow wheelchair user for the past three years. I left work for a while because of an illness and then returned to NEC. When a training session for new employees was held, the company said it was fine if I participated remotely. I think they were being considerate of me, in light of the difficulty of traveling by train, but I was sad that I couldn't meet my fellow new colleagues and chat and take photos with them. Do you have any thoughts about commuting and special considerations related to that?

Nakajima: Deciding whether to participate remotely or go in person is a very difficult and important choice for us wheelchair users, isn't it? Since the COVID-19 pandemic, remote interactions such as on Zoom have increased, which is a good thing, but I strongly believe there are benefits to meeting in person, such as being able to properly gauge the other person's attitude. It's great that the company was considerate enough to let you participate remotely, but I'm sure you wanted to meet your new colleagues personally and get closer to them. If their consideration had come in the form of staggered work hours, for example, it would have been easier for you to commute and you could have met your colleagues as well, killing two birds with one stone. It takes a lot of energy to communicate such personal desires, but I think having the courage to step forward and speak out and suggest things is also important.

Q: Whenever I try to start something new, negative feelings like, "What if I fail?" and "Someone might be against it," begin to well up and I end up not taking that step. Could you give me some words of encouragement so I can push on decisively with what I want to do without worrying too much about how people see or evaluate me?
Secondly, I hope you can tell me the most effective way, in your experience, to switch mindsets when I get discouraged after comparing myself to others.

Nakajima: I've also had times when I was concerned about how others saw me or wondered what to do if they opposed me. My teacher was against it when I said I wanted to study abroad in America, but my parents said, "Go for it. You'll be fine," and my mother even traveled with me to America. My parents brought me up with the mindset of trying anything that interested me. And once I actually started studying abroad, everyone gradually began to support me. Whenever I face opposition or feel that I am not trusted, that just makes me want to try all the harder. In my experience, as I continue working hard, I gradually gain recognition and things begin to take shape. The title of "wheelchair influencer" is something I just adopted for myself, but once I did, people began to call me that as well (laughs). So it's vital to keep believing and never give up.

People tend to think I'm strong when they look at me, but I have my weak side too. I often get depressed when I look at social media and compare myself to all kinds of people. When that happens, I try to avoid social media and make time to immerse myself in things I love. I love movies, so I might go out to watch a movie by myself, or I might sing karaoke alone for seven hours. Focusing on my favorite things without thinking about anything else fills me with energy and cheers me up again. Even though I tell myself "Don't compare yourself to others," I find myself doing it anyway and crying and getting depressed a lot, but at such times, I try to give myself leeway to be sad for a short while and then get right back to business.

Q: I'm sure you faced anxiety when you left Fox Networks and switched from being a video editor to a wheelchair influencer. Can you tell us if there is anything that supported or gave you courage back then?

Nakajima: Just like when I studied abroad in America, I had a lot of worries because people around me didn't believe me when I told them about my goals and dreams. However I wasn't afraid of anything because I had the inner conviction that I would definitely succeed. Plus I met many people living with disabilities through social media and I was able to share some of the concerns that come with having a disability with them, so that was very encouraging for me.
As the number of my acquaintances who were enjoying life despite their disabilities increased, it gave me the impetus to break out of my shell and try new things. Treasuring the people who support what you want to do will become a source of strength. And sometimes it is also important to discuss your worries with people in similar circumstances and share your concerns. No matter what others say, I believe that if you stick to your desires and believe in them, your dreams will come true.
That said, while I have decided to make my living as a wheelchair influencer, when I changed jobs, I was also planning to save money and living expenses steadily in my working years and live off that as well.
Comments from participants
Participating employees had the following comments to make: "I was moved by the words, 'You only live once, so instead of counting the things you can't do, find out what you can do.' I hope I will be able to stay positive no matter what environment I'm in." "I learned that the courage to invade others' comfort zones a little is necessary if you want to tear down walls." "The words, 'Even if you cannot change the environment, you can change people's hearts,' really struck a chord with me." "Hearing that 'Disabilities are created by society' was an eye-opener. I want to talk and interact more actively with minorities and persons with disabilities." It was a good opportunity for everyone to consider what they can do as individuals to create a society that everyone can Enjoy & Join.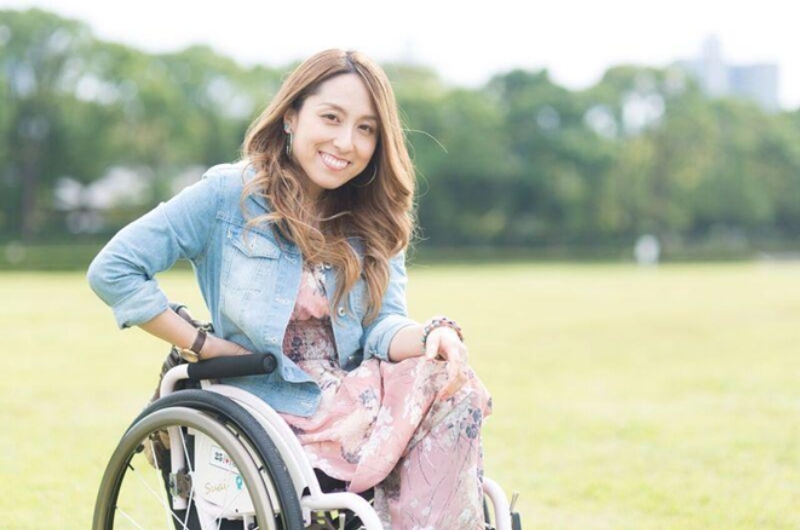 Ryoko Nakajima

Ms. Nakajima was born in Ota Ward, Tokyo on July 16, 1986.
At the age of 9 she suddenly lost her ability to walk and found herself having to use a wheelchair due to a paralyzed lower body for unknown reasons. She was diagnosed with transverse myelitis. Suddenly being confined to a wheelchair made her feel hopeless and she became a shut-in for a while, but she was greatly moved when she happened to watch the movie "Titanic." After that, as she learned more about world cultures and value systems through film, she began to dream of making movies to move people's hearts.
Upon graduating from high school in 2005, she moved to Los Angeles, California, USA. After studying at a language school, she graduated from the University of Southern California School of Cinematic Arts in 2011.
She returned to Japan in 2012 and worked as an interpreter and translator before joining Fox Networks as a video editor in 2016.
In December 2017, after leaving Fox Networks, she became a wheelchair influencer.
She is currently active in a variety of fields, including TV appearances, YouTube productions and speaking engagements. By shattering common notions about persons with disabilities, she constantly declares her intention to make Japanese society and the hearts of Japanese people barrier-free.

(Official website)

https://www.ryoko-nakajima.com/