"NEC Inclusion & Diversity Day" was held on International Women's Day on March 8!
Event Report
Date: March 8, 2022, 13:30-17:00
Format: Online Event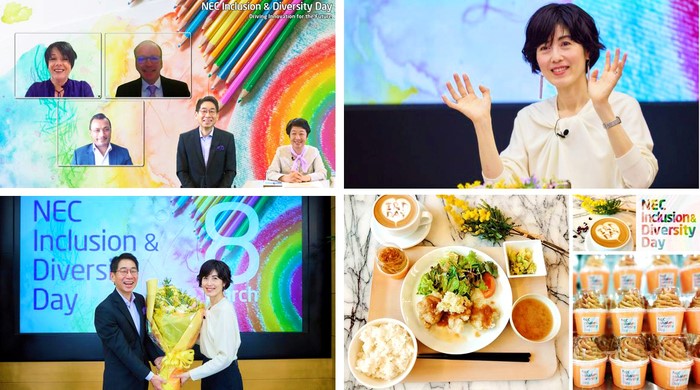 In conjunction with International Women's Day on March 8, 2022, NEC Inclusion & Diversity Day was held as an online event on the theme of inclusion and diversity (I&D), with the aim of supporting and appreciating the role and contribution of female employees, as well as becoming a company where diverse human resources play active roles in creating continuous innovation.
In addition to the "CEO Town Hall Meeting", which is held every month as a venue for dialog between NEC President Takayuki Morita and the employees, an event was held in collaboration with HuffPost Japan on the theme of "diversity and career," where Ms. Keiko Kojima, an essayist who is active in a wide range of fields, was invited as a guest speaker.
Further, a panel discussion by President Morita and the leaders of overseas subsidiaries and Group companies was held for NEC Group employees including overseas members under the title "Driving Innovation for the Future."
On March 8, offices in Japan offered a special lunch menu, branded sweets, and I&D Day latte art, giving employees the opportunity to think about the innovations that I&D and diversity generate.