Dive into Inclusion & Diversity Vol. 3 "Talk with Mika Imai, a filmmaker who lives in the visual world, on efforts toward the realization of an inclusive society"
Event Report
Date and time: December 23, 2021, 12:05-13:15
Method: online
Dive into Inclusion & Diversity is an in-house online seminar held every few months to update knowledge on inclusion and diversity.
This time, we welcomed filmmaker Mika Imai as a guest speaker and presented "Talk with Mika Imai, a filmmaker who lives in the visual world, on efforts toward the realization of an inclusive society."

The guest Mika Imai is deaf, and also a member of the LGBTQ community.
The lecture was all in sign language, and covered the following topics in a manner that was very easy to understand:
What is a deaf person and deaf culture?
Differences between Japanese Sign Language and Japanese
Imai's life story of working for a sign language related IT service company and working as a video producer and filmmaker
An episode of the movie Until Rainbow Dawn, which was produced based on the experience of deaf people and sexual minorities, as a double minorities in a difficult life environment
How a sign language related business can be inclusive in society
This article features content from the seminar in digest format.
Japanese and Japanese Sign Language are two different languages
Imai:
Among the hearing impaired, there are people who wear hearing aids, people who wear cochlear implants, people who watch mouth movements an speak with a voice, people who need a hearing dog, and many others.
Deaf people, whose mother tongue is sign language, are said to be about one in every 1,000 people. I myself am a deaf person whose mother tongue is sign language.
There are three points to explain regarding what a deaf person is. Firstly, deaf people receive information visually. Secondly, their first language is not Japanese but Japanese Sign Language, and thirdly, they have their own deaf culture.
"If I don't have it, I will make it myself!" I started making short movies when I was in the sixth grade of elementary school
I would like to tell you about my personal background and how I became interested in becoming a filmmaker.
I grew up in an environment where my entire family was deaf. When I was a child, the world around me was full of Japanese language and there was little entertainment available in sign language. I thought, "If I don't have it, I will make it myself!", and I started making short movies and eagerly began to study film production at my university.
While devoting myself to film production, I began to wonder about the sign language I use on a daily basis. I wondered what is sign language and I wanted to know more about sign language, so I went to Hong Kong to study sign language linguistics.
Many people may think that sign languages are the same all over the world, but each country has its own sign language. Having acquired knowledge of sign languages, including a comparison of signs from different countries, I realized once again that Japanese Sign Language is a language that can only leave accurate information on video. I also realized again that it is very meaningful and important for me, as a signer, to continue recording images.
The obstacles for double minorities - Where is my place in the world?
I would like to talk about the movie Until Rainbow Dawn.
This movie is about the main character who realizes that she is a double minority as a deaf person and an LGBTQ person, and wonders, "Where is my place?" and "Where do I fit in?" In fact, it was this film that made me open up about my own LGBTQ identity.
It was also the first film I made with sound. I had not put sound in my previous films because I wanted people to see only sign language, but I thought that the challenges that deaf and LGBTQ people face are not only the challenges of those who are deaf or LGBTQ, but also need to be known to all hearing people. I thought that if I can get more people to see the film by adding sound, so I added sound for the first time.
Toward the solution of social issues - Promoting understanding of deaf culture and the language of sign language
There is still a lack of awareness in society about deaf people and sign language as a language. Even if one wants to discuss being LGBTQ, is it possible to properly communicate due to linguistic differences? Is there a limit to what can be done with written communication? I sometimes hesitated to go to a hearing person's consultation service or an offline meeting where LGBTQ people and allies gather, because I was worried that I would not be able to communicate with them. In order to solve this problem, I would like to create an environment where both the deaf and LGBTQ world can expand a little more and be accepted by society as a whole.
The NPO ShuR, of which I am the president, works to promote sign language through entertainment.
The duo here is called Deaf W, a young deaf comedy duo. They make up their own stories about things that often happen in deaf culture. We hope that hearing people will enjoy watching their comedy with a fresh feeling, and wonder how such a thing is possible.
There are probably some deaf children who are worried about their future, and I would be happy if we can encourage them to follow their dreams by showing them one of our role models, Deaf W.
This is a sign language illustrated book for deaf children. There is a problem in the learning environment for deaf children that there are not enough teaching materials for them to learn in sign language. We created this illustrated book in the hope that it will be a part of creating an environment where they can learn in sign language.
In this way, we are promoting efforts to change society through entertainment.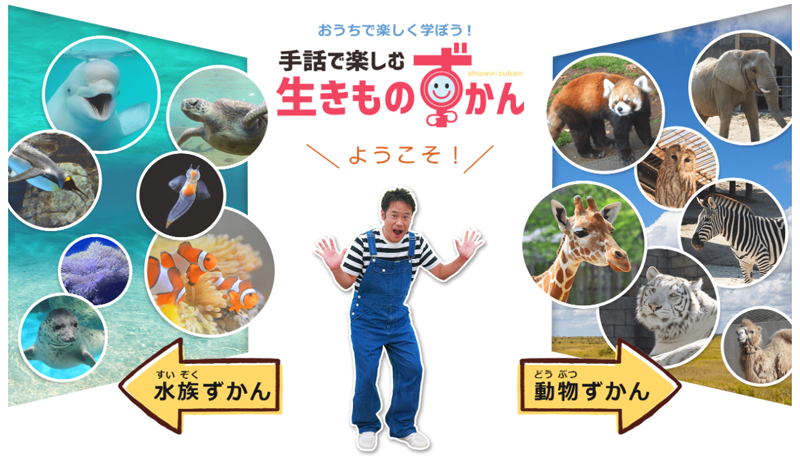 We want to create a society that is comfortable and easy to live in for people who are hearing, deaf, and from different cultures
I believe that Japan is currently in the midst of a multilingualization of its society. I hope that sign language will be included in the multilingualization as one of the languages. I would like to create an inclusive society where people who are hearing, deaf, or from different cultures can communicate smoothly with each other, and where all people can live comfortably in their own way.
Q: How have you overcome obstacles as a double minority? I would like to ask you about the process of how you have been able to express this as your individuality in your work.

Imai: There have been many small obstacles. However, the one that I felt I was able to overcome in a big way was the production of the movie Until Rainbow Dawn. This movie was based on the accumulation of my previous film productions, and I made it with a strong desire to change society.
People who saw the movie, not only the deaf and LGBTQ people, told me that they wanted to live their lives in their own way, and that gave me confidence in myself.
And now, when I hit an obstacle, I can afford to enjoy it a bit and wonder how I can overcome it. It used to be really hard, but I am now able to look at it positively and tell myself that there is a new future for me if I get over this obstacle.

Q: Please tell us about any episodes when you felt that someone understood you regarding LGBTQ.

Imai: I think that the understanding of LGBTQ is more widespread than it used to be. I think there are many activities to promote LGBTQ understanding in the hearing world as well.
In this context, when you are having daily conversations or chats with your friends, you may ask them, "Do you have a boyfriend/girlfriend?" At that point, when I meet someone who says "Do you have a partner?" instead of saying, "Do you have a boyfriend/girlfriend?", I feel that this person does not judge others based on their appearance, or does not see others as male or female, but as people, in other words, that they respect others and are able to care about them.
Talking in this manner makes me feel really good.

Q: Can you give us an example of the difference in the way of thinking about and dealing with disabilities between Japan and other countries?

Imai: If I may cite an overseas example, New Zealand is one of the countries that have a better understanding of deaf people. In New Zealand, sign language was recognized as one of the official languages in 2006. In addition, Sign Language Week is held every May to promote knowledge and understanding of deaf culture and the deaf community. For example, in the city of Auckland, there is a sign language parade and message boards and flags about sign language line the streets. It is similar to the LGBTQ Pride Month held every June.
On the other hand, Japan also has its positive aspects. In Japan, there is a well-established certification system for sign language interpreters, and there is a qualification for sign language interpreters. Surprisingly, some sign language interpreters in other countries do not have qualifications.
Comments from participants
An employee who watched the program said, "I thought it was very nice that you accepted the fact that you are a minority in society and took action or created something to make it widely known. I would like to be involved in such things." Another employee said "I learned about worlds and perspectives that I was not aware of, and I realized that I may have been hurting others with expressions and phrases that I had been using without thinking about them. From now on, I would like to reflect the perspectives I was made aware of today in my words, actions, and behavior." It was an opportunity to think about what people can do now to help realize an inclusive society where everyone, regardless of disability, can live comfortably.
Imai is deaf from birth and has a first language that is different from Japanese as sign language.
After graduating from university with a focus on film production, Imai studied sign language from a linguistic perspective as a research student at the Centre for Sign Linguistics and Deaf Studies of the Chinese University of Hong Kong with support from the Nippon Foundation.
Currently, Imai is the president of the NPO ShuR, and is involved in activities to promote sign language and deaf culture through entertainment.

Imai not only produces films, but also produces Deaf W, a deaf comedy duo who appear on NHK E-television's NHK Minna No Shuwa, and supervises the sign language production of the Nissan short movie Hands Free Love.
Most of Imai's film work has been about deaf people without sound, but Imai's first feature film with sound in 2018, Until Rainbow Dawn, became a hit and was released to the general public in theaters in November 2019. Imai's latest film, Ginger & Honey Milk, was screened at the Tokyo International Deaf Film Festival in December 2021.