Displaying present location in the site.
In a VUCA era of complexity and uncertainty, we are faced with the question of how we can achieve the NEC 2030VISION. We believe that a key part of the answer lies in the idea of "seizing the future together," multiplied by "technology."

Our belief is that there are four keys important to actually implementing technology in society: market intelligence, technology development, business development, and social acceptance.

Therefore, NEC is working to expand R&D co-creation and open innovation, venturing into new domains to create businesses that can impact society, and acting as thought leaders.
Technology Development Strategy
At NEC Corporation, the CTO is responsible for overall technology development, optimizing development investment Companywide, drawing up an open innovation strategy, and formulating open innovation strategies and process design.

R&D is a source of technological development. NEC's basic approach to R&D is to deliver value to society as quickly as possible by identifying the best solutions it should create for social issues presented in the SDGs and other guidelines, and then efficiently and rapidly aligning the necessary technology assets to realize them. These technology assets include NEC's No. 1/Only 1 core technologies that have been refined to a high level based on technology trends, as well as outstanding technologies actively incorporated from outside the Company through open innovation.

We have set our investment in R&D at approximately 4% of revenue. To ensure that these investments are used effectively and efficiently, we are investing also in collaborations with external research institutions, in addition to concentrated investments in key business areas. In fiscal 2022, R&D expenses were 4.2% of revenue.
*

Forecast as of April 28, 2022
Ecosystem-enabled R&D Centered on NEC's Latest Technologies
Expose NEC's technologies externally at an early phase, taking in complementary technologies from start-ups and funds from customers/venture capital to accelerate R&D. Open innovation of an Inbound/Outbound fusion type:
Concentrated Investment in Strong Technology Areas
We are concentrating investment in two areas of technology: data science and ICT platforms. NEC Corporation has many unique and competitive technology assets in these two areas, and we believe that continuously building strength in these areas will improve our competitive edge in delivering solutions for society.
To increase business opportunities, NEC strategically engages in standardization activities that help make society more receptive to advanced technologies such as AI. In addition, we are reinforcing businesses by strengthening and utilizing standardization-related patents.
Intellectual Property Strategy
NEC is particularly strengthening its intellectual property in technology areas that drive growth businesses and create future growth pillars toward the realization of the NEC 2030VISION.

Moreover, intellectual property is positioned as an important management asset for advancing business competitiveness, business stability, and co-creation with customers and partners.

For this reason, in addition to its patent rights and knowledge, the Company is reinforcing and utilizing its copyrights and trademark rights to support its global brand.
Business Development Strategy
We are promoting a transition into new business models that transcend existing business frameworks and the development of business from NEC's core technologies.

We will realize significant social value and sustained growth through business development that establishes and implements new business models by taking social issues, in-house core technologies, or leading-edge business models as starting points, formulating hypotheses on issues, and then verifying the hypotheses through practical field testing.

Among these activities, NEC not only establishes businesses in-house but also promotes business development activities through various schemes, including joint ventures, spin-outs, and carve-outs.
Social Value Design® from the Perspective of Individuals and Society
To create new social value, we need to illustrate what society should be in the future, for example, by creating a city vision from corporate, government, and community points of view. To address these needs, it is imperative to find ways to increase value of systems and services from a social perspective in addition to individual points of view. NEC has incorporated this way of thinking based on Social Value Design® into the planning and development of new products and services and is thereby creating innovation.
NEC has created a CTO position to establish a Companywide perspective in its effort to optimize development investment across the Company, and link its corporate strategy with the planning of collaboration strategies with others. The CTO has overseen the creation of a technology development promotion framework for examining and promoting technology development strategies in cooperation with business units and the R&D Division.

We have established the Global Innovation Unit, which integrates our R&D, engineering, and business development capabilities to unify efforts at innovative business development and create new value for society with the world as our stage, by combining diverse knowledge that breaks through existing stereotypes.

In addition, NEC is ramping up R&D by deploying technologies outside the Company earlier and involving external partners. For example, NEC has established NEC X, Inc., which uses the Company's personnel and technologies as the basis for advancing commercialization through open innovation in the Silicon Valley ecosystem. Other initiatives include our formation of a consortium of six companies from different industries to establish BIRD INITIATIVE, Inc., which is increasing the pace of new business creation through R&D based on co-creation.

Internally, through collaboration with other units, the Global Innovation Unit is accelerating the establishment of businesses that capitalize on our core technologies to create social value.
R&D Bases Tasked with Creating Social Value Globally
With a view to leveraging the merits of a global network of bases to create No. 1/Only 1 technologies and formulating social solutions both for developed and emerging countries, we have established R&D bases in Japan, North America, Europe, China, India, Israel, and Singapore, as shown in the chart below.
Intellectual Property Management Division: Strengthening NEC's Intellectual Property Capability
Installed IP managers in business units, non-business units, and Group companies in order to build and utilize a patent portfolio of growth businesses and cutting-edge technology
Built a seamless system for collaboration between businesses and the R&D department
Established intellectual property centers in North America, Europe, and China to build and strengthen a global patent portfolio aimed at creating social value worldwide
We are building an IP support system to facilitate the execution of co-creation-based R&D business and the creation of new businesses, with the goal of co-creating social value as part of the NEC 2030VISION.
We are working with corporate divisions and IP managers to promote communication of NEC's brand statement and the promotion of product design and other intellectual property rights.
Human Resource Development and Training
NEC is actively engaged in training and acquiring human resources who can use its core technologies to create value.
Training and acquiring top researchers

Utilized compensation systems with no upper limit for researchers with specialized expertise (Research Specialist Program, Selective Compensation Program for Professional Researchers for non-managerial positions)
Enhanced hiring for applicants with PhDs
Boosted hiring for researchers in data science, biometrics, networks, and security fields (Training and Acquisition of Human Resources Who Can Use Core Technologies to Create Social Value)
Trained project leaders and technological architects via personnel exchanges between business units and research divisions
Expanded business developer training to include researchers
Enhanced mid-career hiring centered on research engineers and domain specialists

Diversity

Cultivated researchers in Japan capable of tackling advanced global issues (70% of researchers have overseas work experience either through North American graduate schools or training programs inside or outside the Company)
Actively recruited top talent from overseas research laboratories
Recruited from leading international universities, such as the Indian Institute of Technology

Cultivation of human resources to generate new business

Appointed personnel with highly specialized knowledge and ability pertaining to business development (Business Development Specialist Program)
Established a human resource development system for business development professionals (organization of skills and competencies for business development professionals, creation of practical training system)
Measures and Main Fiscal 2022 Activities
To expand the scope of value for social value creation, we are actively promoting open innovation with research institutions around the world, as well as commercialization partners, start-ups, and others. By promoting collaboration with external partners and specialist institutions, we envisage the development of the technologies needed for new businesses that are difficult for NEC Corporation to develop alone, as well as our vision for the future, and then backcast from there to study the key business areas in the next generation.
Major Research Achievements for No. 1/Only 1 Core Technologies
Results of Intellectual Property Activities
NEC receives the Top 100 Global Innovator Award for an 11th consecutive year from Clarivate Analytics (Only 21 companies have been awarded for such recognition for 11 consecutive years)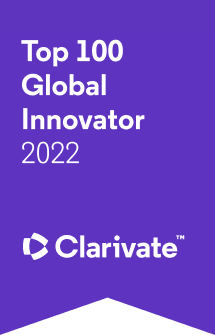 NEC ranks first in total patent power for Japanese patents in 2021 survey report on facial recognition technology, published by Patent Result Co., Ltd.
Circle size: Number of valid patents
horizontal axis: MAXIMUM SCORE
Maximum patent score value by right holder
→ Indicates "strength of individual patents"
Vertical axis: RIGHT HOLDER SCORE
Total value of patent scores by right holder (50 and over)
→ Indicates "overall strength"
No. of targets for score calculation: 1,404
No. of right holder: 713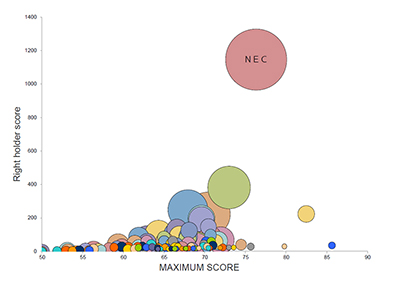 NEC ranks No. 1 in the world in the number of international patent applications in the technology areas of "face recognition" and "biometrics + video analytics + AI"
(Number of international patent applications: According to our research, cumulative number of applications published since 2001, as of May 2022)
The number of patents held by NEC is as follows:
Number of patents held (As of March 31, 2022)
Approx. 45,000
(including approximately 22,000 Japanese patents)