Displaying present location in the site.
DX-based IT Service Management Initiative
IT Infrastructure Supporting DX
The use of cloud services in corporate IT systems is accelerating because of the advancement of digital transformation (DX), workstyle reform, and conditions during and after the pandemic of the novel coronavirus infection (COVID-19). With this shift, IT service management is becoming increasingly important for reviewing and improving conventional IT system operations. This paper describes the DX offerings provided by NEC as a solution to achieving the ideal state of IT system operations. We also explain the multi-cloud operation service and DX-era monitoring that use ServiceNow, an IT service management system with a global track record in designing digital workflows that underlie NEC's suite of DX offerings.
1. Challenges in IT System Operations
In the past, most IT systems ran inside on-premises server rooms or data centers with each business unit and system using solutions from separate IT vendors, resulting in systems being implemented in a siloed manner and using proprietary tools, processes, and on-site operation systems.

The improvements in network and security technologies in recent years, however, have led to the widespread use of remote and on-demand services. This has facilitated the introduction of cloud services in corporate IT systems.

This trend is further accelerated by the advancement of digital transformation (DX), work style reform, and conditions during and after the pandemic of the novel coronavirus infection (COVID-19) as well as multi-cloud services that can speedily use multiple clouds in accordance with the business at hand, ensuring that the use of IT by the right person in the right place is becoming mainstream.

In response to customer needs in this area, NEC has formed alliances with global vendors to jointly develop menus of DX offerings and to strengthen delivery systems. Alliances include the first corporate-level strategic collaboration in Japan with AWS in the U.S.1), expanding collaboration in areas such as global 5G and digital government2) as well as expanding strategic partnerships with Microsoft3) and ServiceNow4). As the shift to multi-cloud computing progresses, the number of IT system environments in use will increase and lead to a rise in the complexity of platforms that are required for operations.

With regard to this trend, we believe that a greater focus will be placed on achieving the ideal state of system operations by improving operational quality and by reducing workloads through the overall optimization of siloed platforms as well as the standardization and automation of increasingly complex operational processes. This will enable customers to shift IT personnel to higher value-added tasks, reduce costs for operations and maintenance, and channel money into new investments.

The following challenges are some of those that need to be addressed to achieve the desired state of system operations.
Challenges at the management level
Reform the IT cost structure and streamline operating expenses (OPEX) to enable investments in new strategies such as DX
Challenges in IT departments
Optimize quality, cost, and delivery (QCD) for the operations of the entire information system
Support for siloed operations that have different operational management processes, tools, or personnel for each platform and system
Secure IT talent
Assign talented personnel who plan and draft IT strategies in DX promotion to handle operation and maintenance management tasks on an around-the-clock basis

Transition to remote operational services because of work style reforms and COVID-19 conditions during and after the pandemic
Support for manual operations that require an on-site workforce
To help customers address the aforementioned challenges and realize the ideal system operation, NEC offers ITIL-compliant best practice tools for multi-cloud system operations management (functions/processes) and a wide range of standard operations for cloud environments as an all-in-one DX offering (Fig. 1).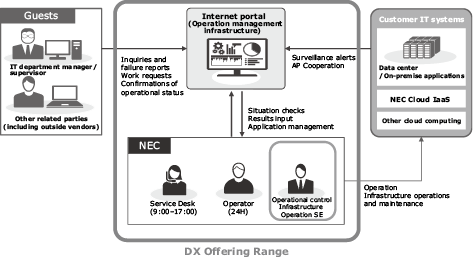 This DX offering is a service that provides the use of a system operation management infrastructure that can support various platforms in on-premises environments and multi-cloud environments such as AWS and Microsoft for a short period of time in a small start and that then expands the scope of application as needed to achieve the desired system operation.

These measures will enable the integrated operation and the management of multiple systems — including existing systems, the automation of operational tasks, and the sharing of information in real time regardless of location. This will thereby help customers improve the efficiency of their entire ICT environment, reduce operational burdens, and quicken the response to emergencies.

The value provided is the overall optimization of system operations by integrating operations management — including existing systems — regardless of platform. The main benefits are as follows.
Reduced operational loads by linking APIs with various tools and by automating cloud-based operational tasks around the clock
Real-time sharing of information among stakeholders via the portal regardless of location
ServiceNow's cloud service and its standard operation menu enable a small start in a short period of time
ServiceNow is available as a managed service, so in accordance with the scope of service, upgrades or maintenance do not have to be performed by the client
This DX offering is a managed service for operations that incorporates NEC's standard operation processes — backed by years of operational experience — into ServiceNow, which sets a new global standard for platforms used in operations management. The DX offering leverages the strengths of both ServiceNow and NEC to enable quick starts on a small scale.
3. IT Service Management to Support DX
Because DX is about transforming businesses, IT service management has the important role of supporting businesses as IT and business become more and more closely tied in the DX era. In conventional systems where systems are installed and used until they can no longer be supported, the main function of IT service management is to ensure the stable operation of the systems as originally intended at the time of initial installation by using forms that have already been created for incident management, capacity management, and other areas of system quality control and to ensure error-free operations by following established procedures. In the DX era, however, the businesses and the services provided by the system are directly linked, so the system needs to change flexibly in accordance with the business situation. IT service management must not only ensure stable operation of the systems but the management of IT services also determines whether or not the services provided by the systems contribute to the achievement of business goals. These services must be constantly improved with business strategies in mind.

Also, for a business to achieve a successful digital transformation, newly emerging technologies and cloud services must be proactively incorporated, and the IT service management system (ITSMS) — the framework that supports IT service management — must be able to respond quickly and flexibly to these new technologies and cloud services. NEC has been working to enable this by creating an ITSMS framework for the DX era based on revamping ITSMS from the perspectives of standardization, cloud utilization, and automation.
3.1 NEC multi-cloud operations
NEC's multi-cloud operations, an offering launched in February 2021, is a digital workflow mechanism. It combines NEC's standard operational business processes — cultivated through outsourcing services provided to more than 6,000 companies for over 30 years — with ServiceNow's ITSM (IT Service Management) and ITOM (IT Operations Management) (Fig. 2).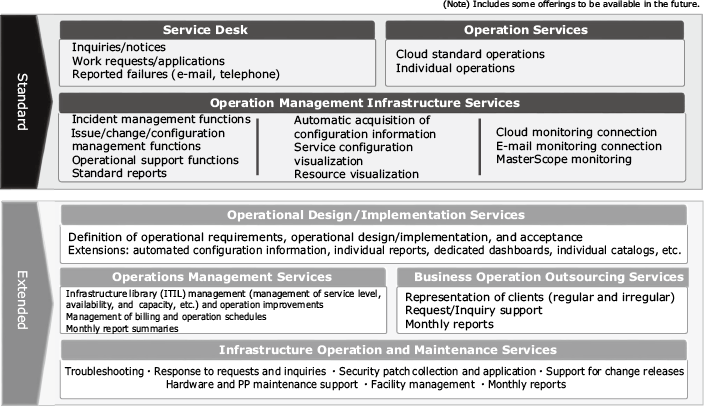 NEC has long been working to standardize IT service management and has used this approach to design service operations, create procedure manuals, and provide operation services. Over the years, however, this has resulted in the creation of a huge amount of documentation for each client, making the work involved in operations extremely complicated. As a solution, NEC launched multi-cloud operations that uses standardized processes, but the process is executed in accordance with a digitalized workflow instead of constantly referring to the documents while running operations. This results in fewer mistakes, expedited work, and improved service operations.

Improvements in the quality of operation services were also achieved from an automation standpoint. In contrast to the past where personnel were required to report operational failures by phone or e-mail and then enter the details into an incident management form, reports received from the monitoring system with NEC's multi-cloud operations are automatically registered into the incident management database and dispatched to operations personnel. Furthermore, since the status of incidents can be checked on the Web, concerned parties can check the incident status without having to contact operators each time to inquire about the status of the incident response.

Another benefit provided by NEC's multi-cloud operations from the perspective of automation is that configuration management, including asset management, is also automated. Asset management is a system that compiles IT service management targets such as server equipment and software into a list, and information about the relationship between the targets is the configuration management information. If this configuration management information is not kept up-to-date, it can lead to errors in judgment and unexpected major failures, and this makes updating the information a very stressful task. The configuration management database (CMDB) of NEC's multi-cloud operations has been revamped to enable centralized management of configuration management information that has been shared with related parties and also enable the automatic collection (discovery) of configuration information from managed systems to ensure that the database is always kept up-to-date.
3.2 Monitoring in the DX era
The aim of IT service management is to continuously provide services that meet user expectations while minimizing loss of value by responding to changes in the environment and needs, and this requires constant observation and checking of the quality of services provided to users. System monitoring is therefore one of the most important functions of IT service management, and the monitoring function needs to be updated to meet the demands of the DX era.

To maintain and improve service levels in modern digital services, it is important to monitor the following four golden signals defined in Google's Site Reliability Engineering (SRE)5).
(1)

Latency

(2)

Traffic

(3)

Errors

(4)

Saturation
Latency refers to the time it takes to service a request; traffic is the measure of how much demand is being placed on your system; errors are the rate of requests that fail; and saturation is a measure of your system fraction, emphasizing the resources that are most constrained. Conventional infrastructure-centric monitoring can monitor some of the saturation levels, but other indicators must be read from application logs and other information sources. Nowadays, however, application performance management (APM) products make it easy to monitor the golden signals. With the ability to monitor not only on-premises systems and IaaS (infrastructure as a service) but also cloud native environments such as containers, serverless functions, and various managed services from major mega-cloud vendors, APM is evolving into a mainstream monitoring tool in the DX era. APM can be used to monitor critical indicators of business such as the golden signals. When a problem occurs with the service, incident reports and dispatching to respond to the problem can be automatically performed by the NEC multi-cloud operations via the application programming interface (API).
In this paper, we described system operations for clients who are implementing DX in their organizations. To ensure that system operations do not impede the progress of digital transformation in the DX era, operation services need to respond flexibly to the speed of change, and the provision of IT service management that focuses not only on the system but also on the customer's business is becoming increasingly important.

We will continue to build an IT service management system that can respond to new technologies and new cloud services and that can lead our customers' DX advancement by leveraging the expertise in system operations that we have cultivated over the years.
*

Microsoft is a registered trademark of Microsoft Corporation in the United States and other countries.

*

ServiceNow is a trademark or registered trademark of ServiceNow, Inc. in the United States and other countries.

*

Google is a trademark of Google LLC.

*

All other company names and product names that apear in this paper are trademarks or registered trademarks of their respective companies.
ISHIZUKA Yasufumi
Senior Manager
Service & Platform SI Division
YOSHIHARA Yasuyuki
Senior Manager
Service & Platform SI Division