Displaying present location in the site.
Advanced Support for Supply Chain Management (SCM)
DX Offerings to Promote Business Innovation
To respond to the rapid changes of recent years, supply chain management (SCM) reform in the manufacturing industry requires a fundamental rethinking. Firstly, from the conventional perspective of individual optimization, we must reconsider the ideal form of SCM as one based on a company-wide perspective of realizing the management strategy of the entire group company. Secondly, these reforms must be actively and highly interwoven with the evolution and deepening of the digital transformation (DX). Lastly, changes in consumer preferences resulting from the new coronavirus infection (COVID-19) pandemic, etc. must be taken into account. Based on these three points, it is essential to examine not only technology but also business processes, organizations, and human capital among other scenarios. This paper introduces SCM Advancement Support, a DX offering for promoting the digital transformation of the supply chain.
To respond to the rapid changes of recent years, supply chain management (SCM) reform in the manufacturing industry must more actively incorporate the evolution and deepening of the digital transformation (DX) and become more advanced to maintain or improve corporate competitiveness. The ability to maintain and improve corporate competitiveness is premised on considering reform scenarios from a company-wide perspective that contributes to the realization of company-wide management strategies, ensuring strategic rationality. At the same time, multiple perspectives must be considered in areas such as business processes, technology, organizations, and human capital based on the evolution and deepening of DX.
1.1 Conventional supply chain management
In the past, most SCM initiatives were confined to business units and consisted of reforms focused on existing business processes, and DX utilization was also dominated by efficiency gains through localized digitalization of business processes (Fig. 1). In recent years with the rapidly changing global situation, however, optimization is necessary for the entire company through digitalization of business and manufacturing processes throughout the company/organization to ensure business continuity, not instead of SCM reforms confined to a single department (Fig. 2).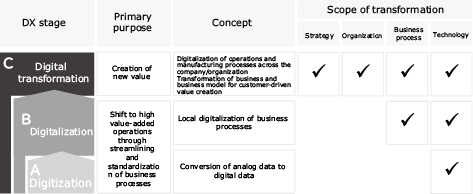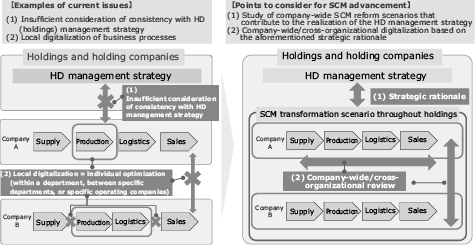 For example, centralized management of factory inventories across the country will enable appropriate inventory allocation in the event of unexpected events; this will further stabilize business activities. Thus, there is an urgent need to reconsider the supply chain for the entire group of operating companies.
1.2 External environment in recent years
It is said that since the 2010s we have been in an era of volatility, uncertainty, complexity, and ambiguity (VUCA). And with the spread of the new coronavirus infection (COVID-19), the world is changing on all fronts. For example, consumer tastes and work styles have changed dramatically around COVID-19. For companies to be able to respond to such unforeseen events, it is important to formulate management strategies and concepts to realize those strategies with greater consideration of agility and resilience.
1.3 Challenges in the manufacturing industry
New factors have impacted those around the manufacturing supply chains in recent years. For example, rapid changes in demand as well as factory closures are resulting in a reevaluation of production and procurement systems. Instead of the digitalization that was done in SCM in the past, manufacturers now find it necessary to consider DX from a company-wide cross-sectional perspective.

However, many companies are struggling with how to formulate DX strategies and concepts, and as a result, there are cases where the business process is limited to local digitalization.

This paper introduces SCM Advancement Support, a DX offering to help advance supply chain DX.
2. NEC's View of the Key Points of SCM Advancement
Based on the issues described in Section 1, NEC believes there are three main points to consider for SCM advancement.
(1)

Perspectives on DX utilization
For example, internal and external data would become centralized through the use of technology, and decision making would be quicker through insight analysis based on raw data.

(2)

Consumer perspective
For example, the customer journey changes through the use of digital technology and must be reconstructed, an understanding of customer needs can be gained through personalization and digital marketing, and customers can be retained and educated about these needs.

(3)

Group-wide perspective
For example, company-wide, cross-functional organizational transformation is possible through the use of digital technology, group strategies must be identified, and organizational transformation centered on digital technology needs to be advanced.
On the other hand, risks such as the COVID-19 pandemic, which caused disruptions in the supply chains, are still possible in the future. So, in addition to the three points mentioned earlier, agility and resilience are also essential in the formulation of a concept for SCM reform.

Agility
For example, by building data infrastructure that connects data held across departments, supply chain managers can quickly implement alternative plans for switching suppliers, production plants, and distribution routes based on the visualized results and thereby avoid a complete disruption of the entire supply chain in the event of an emergency.
Resilience
For example, the scope of impact on the supply chain can be minimized in the event of an emergency through surplus collateral such as having multiple suppliers of raw materials, increasing the number of production plants by having bases in multiple locations, and securing multiple distribution routes by air, sea, land, and so on.
NEC's strengths are the following two points (Fig. 3).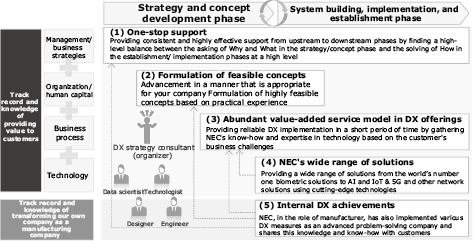 (1)

NEC has the capability to perform the entire process from the asking of Why and What in the phases of strategic planning and conceptualization that help realize management and business strategies all the way to solving the question of How* through the establishment and implementation of the solutions.

Our DX strategy consultants, who also have a wealth of knowledge on reaping the benefits of DX, act as organizers of sorts and conduct strategy planning and formulate concepts while always keeping in mind the ultimate goal of realizing the management strategies. Based on our rich experience and know-how in system construction and business transformation for clients in various industries and business sectors, we will determine the optimal solutions and bring them to realization.

(2)

As a manufacturing company, NEC has been positioned as a target for reform, and our strength lies in highly effective consulting services that are not just idle talk. Rather, our expertise comes from first-hand knowledge gained through the implementation of various corporate DX projects such as those involving the reform of our internal businesses, organizations, and culture (Fig. 4).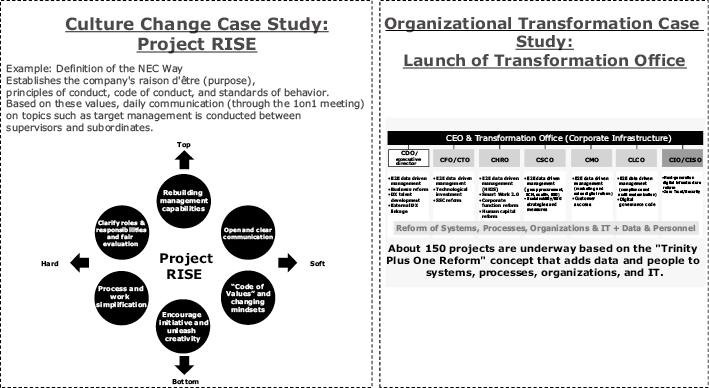 *

Refers to business processes, IT, organization/human capital, rules/systems, etc.
Utilizing the capabilities described in Section 3, NEC has extensive consulting experience with clients in a variety of industries and sectors, including the manufacturing industry.
4.1 Major manufacturer A: Support in concept formulation for SCM advancement
We conducted a quick assessment of the client's situation and proposed focus areas/scenarios and a way to proceed with the project. We adopted a companion approach based on intensive discussions with the client and supported the formulation of a concept for SCM advancement.
4.1.1 Quick assessment to rethink corporate mission
In the course of interviewing individual departments about their individual solutions, we found that while the corporate mission of the entire company had been visualized, the vision of the company as a whole was unclear (Fig. 5). Taking account of this, we reviewed both the mission and the vision.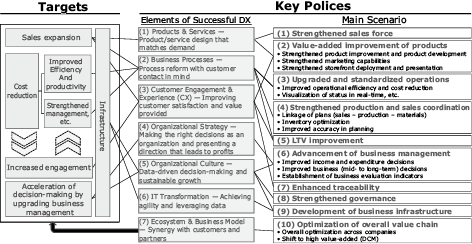 Based on the results of this review, we have instituted a hybrid strategy, adding a new differentiation strategy (enhancement of social value) to our existing cost leadership strategy (maximization of profits), and have organized these goals so that they can be attained.
4.1.2 Planning measures based on "To-Be" model
NEC's DX knowledge and methodologies were used to organize key measures to achieve the client's goals (Fig. 6).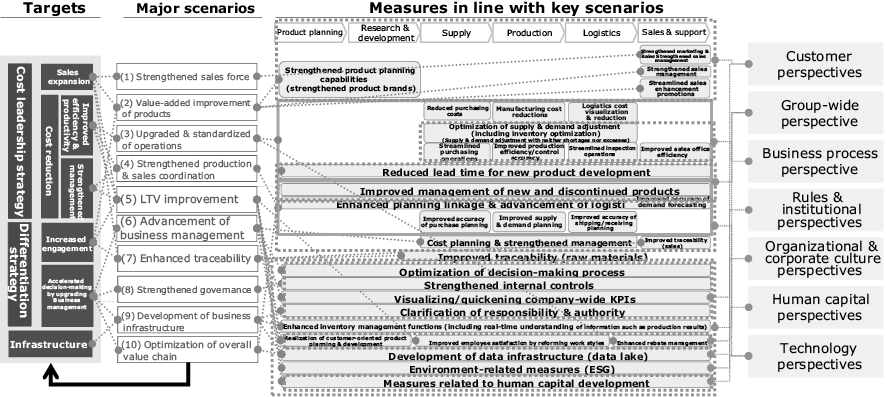 In addition to organizing measures from the perspective of business processes and considering how to facilitate further understanding of the use of technology and consumer needs, NEC also proposed scenarios for the reform of organizations and their rules as well as reform of the organizational culture based on the knowledge gained by our own transformation. In addition, the study of measures and scenarios was conducted not only from the standpoint of the client company itself but also from the standpoint of the rationality of the management strategy of the entire group as well as the agility and resilience of the entire supply chain based on analysis of future changes in the external environment, including the COVID-19 pandemic.
4.1.3 Prioritization and roadmap creation
After organizing the measures, they are then arranged into a pattern according to their relationships with each other; prioritized based on their degree of difficulty, feasibility, and realization effects; and then organized into a roadmap (Fig. 7).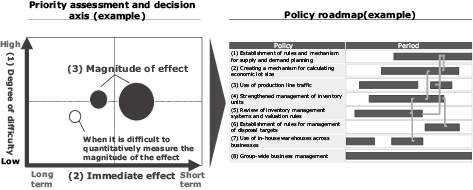 In this paper, in addition to the existing issues in the supply chain of the manufacturing industry, we have introduced some key points and case studies in considering SCM advancement for the New Normal era based on the weaknesses in the supply chain exposed by the COVID-19 pandemic that brought about a global crisis.

NEC strongly supports the construction of supply chains with greater agility and resilience for the success of our customers' businesses by leveraging both the knowledge in consulting and the experience in system construction experience we have cultivated through the transformation of our manufacturing customers and our own knowledge as a manufacturing company.
KAWAKAMI Takayuki
Chief Professional
DX Strategy Consulting Division
FUJISAWA Eiji
Senior Manager
DX Strategy Consulting Division
SUGIMOTO Akira
Manager
DX Strategy Consulting Division
LI Jingfeng
Assistant Manager
DX Strategy Consulting Division
TAKAO Kyoka
DX Strategy Consulting Division