Displaying present location in the site.
The Future of Cloud in Promoting Digital Government
Technologies for Achieving Digital Transformation (DX) of Social Systems: DX of Government and Administrative Services
In recent years, countries around the world, including Japan, have been accelerating progress towards the realization of digital government. NEC believes that the pursuit of an agile government capable of using existing systems without creating new ones and advancing rapidly from development to trial is the key to promoting digital government in Japan. This paper uses the example of initiatives led by Denmark — one of the most digitally advanced countries in the EU — to explain what agile government encompasses, explore current issues, and discuss the components and future prospects of NEC's Government Cloud Solution for turning digital government into reality.
In recent years, many countries around the world have been actively pursuing digital government to promote the convenience and happiness of its citizens. In Japan as well, the adaptation of digital government is also advancing as indicated by the passing of bills related to digital reform in May 2021. This paper uses Denmark, recognized for its digitally advanced economy, as a case study to outline Japan's vision of digital government and discuss the initiatives undertaken by NEC to achieve this vision.
2. Case Study: The Digitally Advanced Economy of Denmark
Denmark is a global leader in digital government and one of the happiest nations in the world as attested by its No. 1 ranking in the UN E-Government Survey and No. 2 ranking in the World Happiness Report1)2). It was almost 50 years ago that the country established the Danish personal ID number (CPR), which is roughly equivalent to the My Number system in Japan. Since establishing the Agency for Digitisation in 2011, Denmark continues to drive forward its digital transformation with innovative solutions, including electronic PO boxes and reciprocal use of public data.

One of the companies that has been leading digitization in Denmark is KMD. An NEC Group company since 2019, this Danish IT giant has played a key role in the development of IT infrastructure in Denmark for more than four decades. Some of the solutions offered by the company include the Common Digital Platform for Local Governments and WorkZone.

The Common Digital Platform for Local Governments provides functions used in administrative services as common modules to create an ecosystem so that various local authorities and enterprises can combine them to provide administrative services. Fig. 1 provides an outline of the platform's configuration.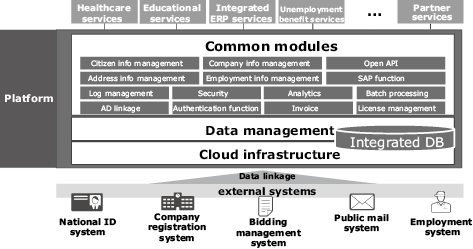 WorkZone is an enterprise information management platform that allows administrative officers to define their own business logic and easily create application workflows and data management systems. Fig. 2 provides an outline of the platform's configuration.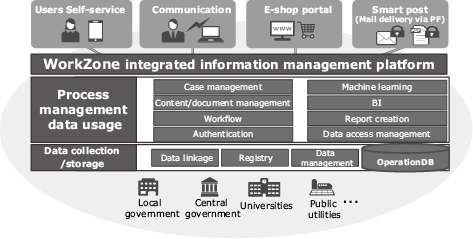 As you can see, creating a social system in which no one is left behind and using a platform that allows rapid advancement from development to trial are the two areas where digitization is progressing in Denmark.
3. Digital Government in Japan
3.1 Agility in the administrative sector
As in Denmark, the government of Japan is also working to promote user-friendly digitization that ensures no one is left behind3). This speaks to the need to embrace the concept of agile government to bring agile thinking to government administration4).

Previously in the administrative sector, it was not uncommon for it to take years to move from the process of policy formulation to the start of system operation, which made it difficult to address the changing social environment and user needs in a timely manner. Meanwhile, in recent years, the government is increasingly being confronted with situations requiring rapid decisions and actions, such as in response to earthquakes, typhoons and other natural disasters, and providing new values through technologies that enable touchless and remote operations to promote safety during the COVID-19 pandemic. To provide the required administrative services quickly, it is necessary to perform the process from system planning to verification in an agile manner under the premise that these services are improved sequentially after they are started. Public administration based on applying a system development method (agile development) that approaches system completion through repeated implementation and improvement is called "agile government," and NEC is supporting digital government based on this concept.

The two most important points for realizing agile government are to use existing systems without making new ones and advancing rapidly from development to trial.
3.2 Issues in using cloud services
Realizing agile government using technologies such as cloud services presents some issues that need to be addressed.

First of all, cloud services evolve quickly, and it is not uncommon for there to be hundreds of updates per year. When using cloud services, it is important to have the right knowledge of the specifications of the services to be used and the experience to properly combine and operate them.

In addition, as shown by the Common Standards for Information Security Measures for Government Agencies and Related Agencies (Japan), the requirements for government systems differ from the requirements for general systems, making it difficult to apply cloud services meant for general use without modification.

In this way, the need for government agencies to modify systems from various perspectives in order to utilize cloud services hinders the ability to quickly and easily test systems.
4. NEC's Approach to Digital Government
In order to solve these issues and realize agile government, NEC is offering the Government Cloud Solution. This solution is composed of four blocks: cloud infrastructure, applications, management, and security.

One unique feature of this solution is that it allows the four blocks that were previously designed individually to be available as components. By combining the blocks, the system can be easily configured to meet the requirements of government agencies. Each of the blocks are described in the following sections.
For the cloud infrastructure block, NEC offers the Government Cloud Service based on Japan's cloud infrastructure service NEC Cloud IaaS.

As shown in Fig. 3, this is a one-stop service that does not simply provide a cloud service but also includes a secure network connecting the users to the cloud. It is compatible with the multi-cloud configuration combining several cloud services and capable of connecting multiple cloud services to the data center through closed networks.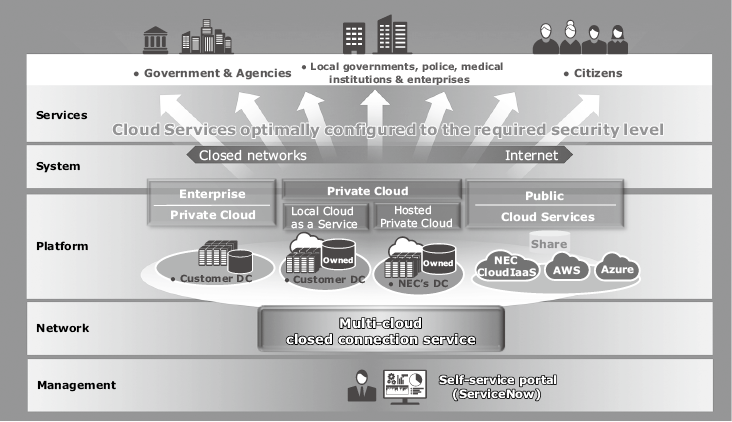 The NEC Cloud IaaS is registered in the cloud service list of the ISMAP (Information system Security Management and Assessment Program) run by the Japanese Government, and meets the security level required of cloud services for government agencies.
Agile government requires rapid improvement of policies and systems based on user feedback. A development method in which improvements can be implemented quickly is more suitable than the traditional development method based on strict planning and performing the project plan step by step. NEC provides the Low-Code Development Platform (Fig. 4) for this purpose.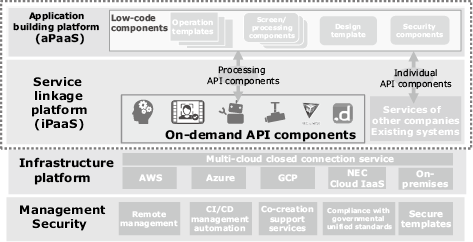 Within the Low-Code Development Platform, screen templates, data models, and API components required by government agencies are prepared in advance, and by combining these components, applications can be developed quickly with minimal coding.

This enables application development that is responsive to changes, allowing administrative officers and system developers to discuss and make screen design changes and function expansions on a day-to-day basis based on feedback received from users.
Cloud services have a wide range of features and rules. For instance, the cost of using a public cloud service is dependent on the amount of services used, but the cost may be higher than expected if the resources are mismanaged. For stable system operation, it is necessary to have cloud personnel with appropriate skills and operational know-how, which requires a lot of time and money.

To address this issue, NEC offers the Multi-Cloud Management Service, which integrates cloud personnel and operational know-how. This service standardizes and automates management by responding to cloud-related inquiries, supporting performance management aimed at cost optimization, and providing ITIL-compliant operational processes and documents.
The security of cloud services can be divided into two parts; the part that is made secure by the service provider and the part that is made secure by the user. It is necessary, therefore, to consider security based on a correct understanding of this boundary of responsibility.

In addition, the systems of government agencies are required to comply with security standards such as the Common Standards for Information Security Measures for Government Agencies and Related Agencies (Japan).

NEC addresses these needs through the provision of a mechanism (template) that prepares security settings that comply with the standards and automatically implements these settings. This enables quick and easy implementation of systems that comply with the required security standards.
As discussed in this paper, NEC provides services in the form of blocks that can be combined to quickly configure an optimal cloud environment and enable government agencies to use existing systems without creating new ones and advance rapidly from development to trial.

The speed and flexibility provided by cloud services are essential for promoting agile government and offers the potential to put new technologies to practical use more swiftly than previously possible.

At the same time, the realization of digital government requires not only the evolution of technologies; the appropriate use of collected data and a change in user awareness are also essential. NEC will work with stakeholders involved in digital government to develop rules and cultivate human resources in parallel with developing technologies.
*

ITL is a registered trademark of AXELOS Limited.

*

All other company names and product names that appear in this paper are trademarks or registered trademarks of their respective companies.
MOROFUJI Hiroaki
Manager
Government Cloud Solutions Promotion Division
TANAKA Yusuke
Assistant Manager
Government and Public Solutions Division
NEC Solution Innovators
HOTTA Yoshihiro
Senior Expert
Government Cloud Solutions Promotion Division
TOKUYAMA Shinichi
Assistant Manager
Government Cloud Solutions Promotion Division
UTSUDA Takaki
Assistant Manager
National Security Solutions Division
AONO Akiko
Assistant Manager
1st Government and Public Solutions Division