Displaying present location in the site.
Elevating Customer Experience with Comfortable, Touchless Services
The novel coronavirus (COVID-19) pandemic has had a devastating impact on people from every walk of life and has dramatically changed how people live and the way businesses are running. Hotels and other venues in the service industry are facing enormous challenges with demand plummeting as a result of the current crisis. Faced with the challenge of establishing a business management system that is not only efficient but also ensures safety and security, many in the industry are turning to technology that enables quick, accurate and contact-free identity verification. These are the very elements that NEC's face recognition technology has the ability to deliver. This paper discusses the introduction of NEC's face recognition solutions at hotels and other venues and outlines future prospects for creating seamless journeys through the use of the face as a common ID.
As COVID-19 spread around the world and governments closed their borders and enforced lockdowns, the tourism and hospitality industries were especially hard hit with the number of foreign visitors to Japan falling from 2.88 million in June 2019 to just 2,600 in June 2020 (Table). The resulting drop in demand for hotels and other businesses in the service industry has forced service providers to explore ways to carry out business management safely, securely and efficiently.
Table Number of foreign visitors to Japan in 2020.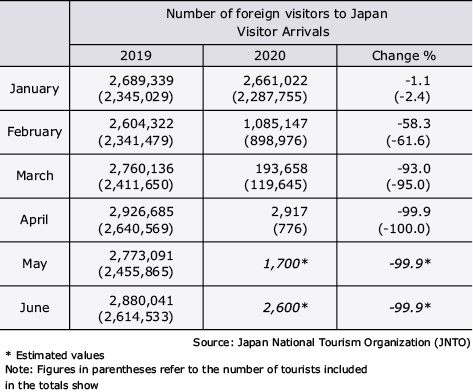 This paper discusses the face recognition solutions implemented in hotels as one of the methods to address this issue.
2. Smart Hospitality Service for Hotels
In view of hotel operations, checking in and checking out guests, entering names and addresses of guests into the hotel register not only places a heavy burden on front desk staff, especially during peak times, but also creates conditions which should be avoided, namely, the "Three Cs" ― closed spaces, crowded places, and close-contact settings. Although self-service kiosks which have begun to replace traditional check-in and check-out operations in some hotels are ameliorating this problem to some extent, a comprehensive solution has yet to be introduced.

NEC's Smart Hospitality Service takes a major step in this direction, streamlining check-in by enabling guests to register by entering the required information via a smartphone app. Check-in is completed smartly just by verifying guest's identity at the front desk of the hotel. Thanks to this system, check-in can be completed quickly and smartly at the front desk without delays or lineups and the room's door can be unlocked digitally (Fig. 1). The key to making all this possible is face recognition.
Specifically, the smartphone app for smart check-in, which can be used at various hotels, reads out the guest's reservation information in advance. Then the guest enters their name, gender, and address, as well as registering their facial image (Fig. 2).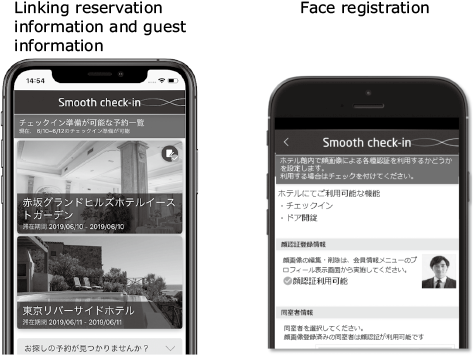 When the guest checks into the hotel, all they have to do is look towards the kiosk or camera-equipped terminal installed at the front desk. The face recognition software automatically verifies the guest's identity and confirms that the guest is the one who made the reservation. This minimizes the workload at the front desk when guests check in and assures a safe and secure environment by eliminating the need for physical contact and face-to-face procedures (Photo 1).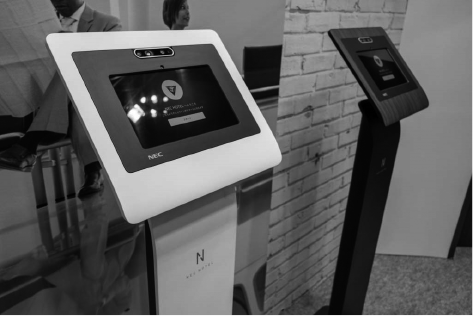 Once checked in, the guest proceeds directly to the room and directs their face towards the camera installed in the room's door to unlock it (Photo 2). This means there is no longer any danger of forgetting or losing the room key, nor is there any need to share a single key between family members or others staying in the same room. From the hotel's point of view, the elimination of face-to-face procedures and the need to hand keys to guests at the front desk offers several benefits, including reduced staff workloads and increased safety.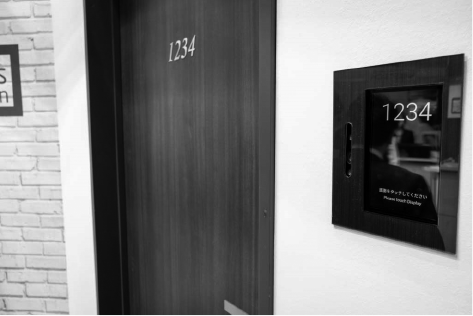 Achieving this system requires linkage with a hotel reservation management system called a property management system (PMS). NEC has already deployed this system in the real world as part of the NEHOPS brand, a hotel enterprise system that boasts more than a 70 percent share of Japan's city hotel market. As a result, many hotels already provide an interface with the NEHOPS system, making introduction of NEC's Smart Hospitality Service relatively simple. All that needs to be done is to link lodging information with NEHOPS after obtaining consent from users.

NEC's Smart Hospitality Service is already in use at Sequence hotels, a chain of luxury boutique hotels created by Mitsui Fudosan Hotel Management Co., Ltd. Through the provision of self-service check-in and keyless entry capabilities, NEC is contributing to the achievement of one of the concepts treasured by the Sequence hotel―"Smart: a time of thoughtfulness and enrichment."
3. The Seamless Journey — Your Face is Your Ticket
So far we have discussed the utilization of face recognition as it relates to the infrastructure and operations of hotels. But the hotel is also a point from which guests can enjoy various activities, such as sightseeing, dining, sports events, hot springs, and so on.

Moving from one activity to another without having to stand in lines or buy tickets; instead, progressing seamlessly through a sequence of identification verification procedures―from airport arrival and transit on a train or bus to checking in at the hotel, unlocking the hotel's room door, paying for dinner at a restaurant, entering leisure facilities, and so on― allows the traveler to experience a carefree journey where they can go from one activity to another without ever having to interrupt their enjoyment to engage in tedious payment or identification procedures. By using face recognition technology to seamlessly connect various solutions based on the face as a common ID, NEC is striving to provide the most pleasant customer experience possible (Fig. 3).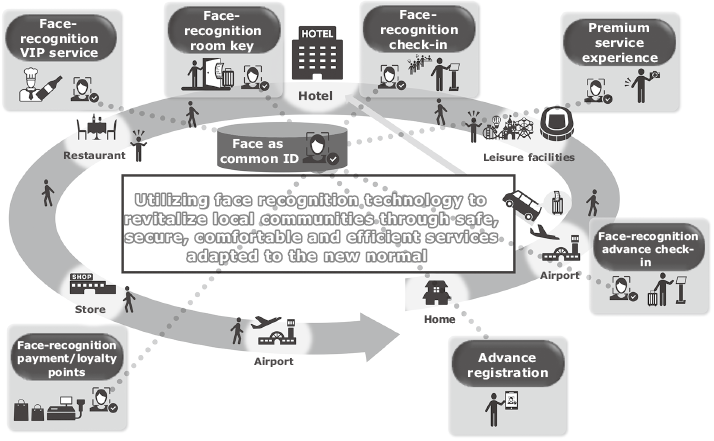 In addition to connecting services through a common ID, we also plan to help revitalize the local community through a recommendation service (provided based on user consent) that provides personalized suggestions, for instance, on local activities and hotel plans for subsequent stays.

As for our plans to expand our line of services, we are initially focusing on applying our technology to an airport luggage delivery service. This service would enable hotel guests who arrive at the airport to confirm their reservation with face recognition using dedicated tablets placed at the luggage delivery counter at the airport. For example, hotel guests can have their luggage delivered to the hotel where they will be staying, so they can do some sightseeing before checking in without having to carry their luggage around (Fig. 4). This service will be especially convenient for foreigners visiting Japan who cannot fill out the delivery order form in Japanese. It will also be convenient for hotels as they will know when to expect their guests to arrive and prepare the room accordingly.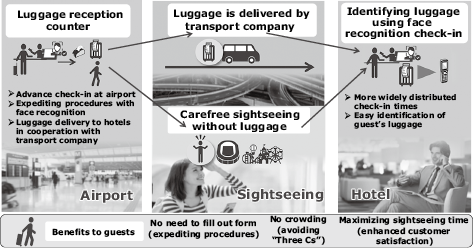 Unlike keys, fobs, or cards, the "face" cannot be lost, forgotten or stolen, making it an ideal access device, so to speak, one that facilitates safe, contact-free verification of identity. By using face-recognition to seamlessly connect solutions based on the face as a common ID, NEC aims to establish linkages that allow people to move without interruption from place to place, thereby enhancing customer satisfaction and ultimately creating a framework that supports the entire community.
FUJITA Satoru
Manager
Trading and Service Industries Solutions Division