Displaying present location in the site.
A Relaxed and Enjoyable Customer Experience, More Efficient Store Management — The Cashierless Future is Here
The post-digital era poses far more challenges to retail businesses. As consumers demand more flexibility, more choice, and more convenience, retail businesses are scrambling to create a more relaxed and enjoyable customer experience (CX), while striving for greater efficiency by adopting labor-saving systems. NEC has committed tremendous resources to creating the labor-saving and store management systems required to power next-generation stores. To this end, we built our own cashierless store in 2019 at the NEC headquarters building. Still in operation today, this store is a showcase for NEC's advanced retail technologies. NEC has succeeded in this project by combining the world's number one face recognition technology and sensing technology based on sales management and customer management technologies we had already developed for various customers. This paper describes NEC's conception of what such a store should look like, how it should function, and how it should feel to the customer. We also look at new ways to utilize the data collected from the systems used in these stores.
Over the past several years, Japan has been plagued by a declining labor force, making it difficult for labor-intensive industries such as retail to ensure that they have enough workers to operate, leading to increased efforts to improve the efficiency of store operations. At the same time, consumer needs and lifestyles have fragmented and the so-called "new normal" has spurred on-line shopping, prompting significant changes in consumers' expectations for brick-and-mortar stores. As a consequence, the retail industry is having to re-evaluate its approach to brick-and-mortar stores, with a view to creating more values and an enhanced shopping experience.

This paper discusses the innovation of customer experience (CX) and the implementation of labor saving and efficiency improvements (operational excellence or OPEX) at totally new stores based on the concept of NEC's Smart Retail CX (SRCX).
2. Overview of Labor-Saving Stores
The nature of the CX and the degree of improvement in operational efficiency required varies according to the store environment and the expectations of shoppers. Solutions need to be tailored to the specific needs of a particular store in order to optimize the shopping experience and effectively improve store management efficiency.

In a society where consumer needs are diversifying, NEC offers retailers new solutions to support their businesses. But we don't stop there. In order to offer the most effective solutions, we believe that we must experience the same challenges faced by retailers so that we can better understand their viewpoint. With this in mind, we built a store of our own where we could test out our systems―focusing on unmanned/labor-saving systems―and calibrate them as necessary to achieve the best results (Fig. 1).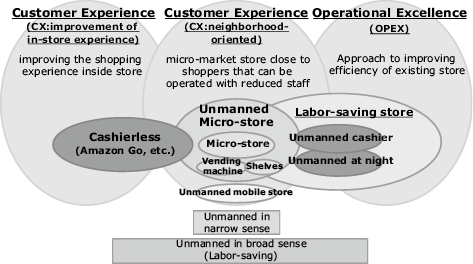 In 2016, we built in an in-house laboratory environment equivalent to an actual store to study various CX solutions.

In collaboration with Seven-Eleven Japan, we opened a 7-Eleven for a micro-market area on the 20th floor of the Mita International Building in Tokyo in 2018 as a labor-saving micro-shop1). Solutions introduced to and operated at this store include labor-saving solutions that enable remote checking of the temperature and operating condition of store equipment such as linkage of refrigerators and self-service coffee machines with IoT sensors, as well as CX solutions that make shopping more pleasant such as making purchases with a self-service cashier using face recognition.

To maintain customer services even in situations where there are no night-shift workers, we introduced and tested nighttime labor-saving store operations2) at an experimental Lawson smart store in 2019. In the store, we set up and tested an entry management system that recognizes people using QR codes and video analytics technology. Furthermore, we launched an in-house cashierless store at the NEC headquarters building (Fig. 2).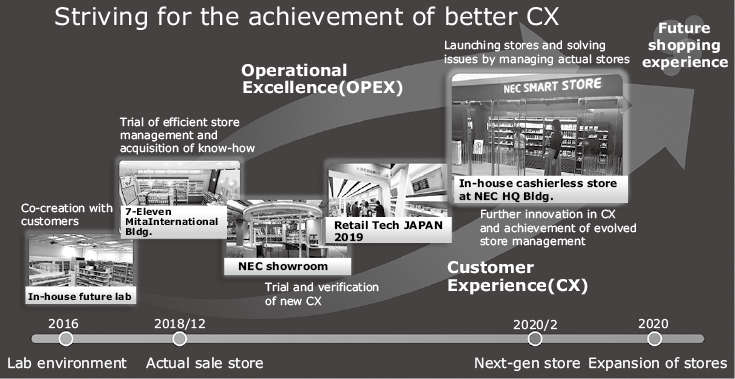 3. NEC's Vision for Cashierless Stores
Some advanced retail companies including those in the United States and China have started making efforts to utilize digital technology such as AI and IoT.

The areas NEC has been focusing on since we began testing at our in-house laboratory are cashierless store solutions that achieve advanced CX. Against the backdrop of increasing labor shortages, cashierless stores offer an array of benefits including elimination of cashier staff, speedy shopping that doesn't require shoppers to stand in line to check out, identifying shoppers' preferences based on what they touch and look at, what they finally choose, and so on.

The spread of the novel coronavirus (COVID-19) worldwide has significantly impacted consumer purchase behavior, affecting the types of products they want and how they buy them. Prominent among these is a growing demand for cashless and touchless services. The cashierless store precisely addresses this expectation in the market.

By building and managing our own in-house cashierless store, we have proven that our solutions can address the retail challenges that have arisen in recent years and operate effectively in the real world.
4. Features of NEC's Cashierless Store
We opened NEC Smart Store, Japan's first cashierless brick-and-mortar store, in the NEC headquarters building in December 2019 and have been successfully operating it ever since (Fig. 3)3). NEC Group employees have been using this store as an ordinary in-house kiosk, experiencing the convenience of quick shopping which takes an average of just five seconds from entering the store to finishing shopping.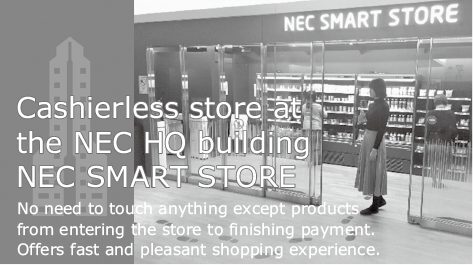 The shopping flow is very simple. There are four steps: (1) contactless entry in the store with face recognition, (2) selection of products, (3) automatic payment as the shopper exits, and (4) the shopper's confirmation of what they have purchased (using face recognition). Shoppers don't have to stand in line to check out or carry a wallet or bag. Instead thanks to biometrics, they can enjoy a seamless, safe shopping experience in which they simply enter the store, pick up what they want, and leave (Fig. 4).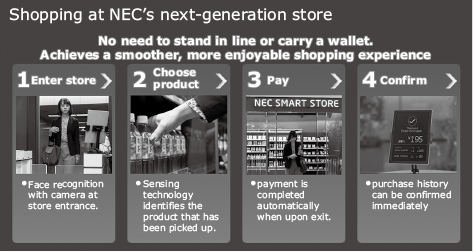 There's no need to touch anything except the desired products, making this the ideal shopping experience in the age of the new normal.
4.1 System configuration of the cashierless store
Our cashierless store was built by combining our world's number-one face recognition technology4) and various sensing technologies with sales management and customer management systems we have already developed for our customers. Roughly speaking, this store is comprised of six basic systems (Fig. 5).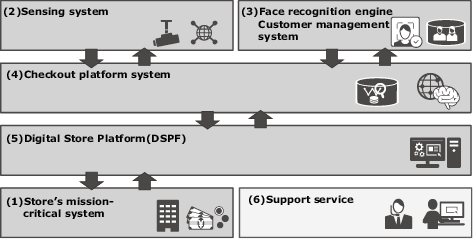 (1)

Store's mission-critical system (product master, payment linkage, sales management, etc.)

(2)

Sensing system that detects shoppers' in-store actions such as picking up products and returning them to shelves, as well as the products they buy

(3)

Face recognition engine and customer management system

(4)

Checkout platform system that connects (2) and (3) to achieve cashierless store services

(5)

Digital store platform (DSPF) that leverages microservice architecture to easily achieve various services and that accomplishes effective utilization of data by linking (1) and (4)

(6)

Support service that uses IoT and AI to maintain stable, uninterrupted store operations
NEC's cashierless store identifies people coming into the store using the face recognition engine (3). Upon entering the store, shoppers are tracked with sensors and cameras installed in the ceiling of the store. Connection to a weight sensor installed in the shelves makes it possible to detect when the shopper picks up a product, what that product is, and whether that product is kept or returned (2). As soon as the sensors detect that the shopper has exited the store, the list of the products the shopper has purchased is finalized (4). Payment is settled through linkage with the salary deduction system (1). Various data―such as personal data about the customer who has entered the store and the movement of the products the customer has picked up and returned to the shelves―is accumulated in the DSPF (5) for later utilization.
5. Utilization of Data to Create New Value
Not only can the shopping efficiency of shoppers be improved at cashierless stores thanks to the elimination of checkout lineups, these stores also make it possible to collect data that would not be possible to obtain from POS purchase results. For example, it is now possible obtain data on what products are picked up and returned to shelves, how long the customer stands in front of what shelves and what products they choose as a result, and the in-store behaviors of visitors who exit without buying anything. This is exactly the same type of information you can obtain on e-commerce web sites, like which sites the user visits to choose a product, what products they put in the cart and cancel, and how they pay.

At NEC, we believe that we are now transitioning from a time when analysis is based solely on the POS sales result data to one where hypothetical verification is executed using purchase behavior data including pre-purchase behaviors drawn from security cameras and analyzed by AI. We are convinced that the answer to becoming the retailer of choice is to embrace online merges with offline (OMO), which facilitates the co-existence of online stores and offline brick-and-mortar stores.

Collecting and analyzing the behavior of customers in stores can be used not only to improve shopping convenience, but also to determine the most effective floor plans and product placement as well as more efficient products order to manufacturers. For instance, by tracking the display locations of products and their inventory numbers in real time, you can replace products on the shelves at the appropriate time while using an automated inventory system to save labor. Furthermore, the collection of pre-purchase behavioral data which cannot be obtained from POS sales results alone can contribute to the creation of more attractive stores through retailer-manufacturer collaboration. Finally, by linking all this data with the business systems and know-how NEC has built up over the years, we can help create better stores and provide the services consumers expect.

In other words, the benefits of cashierless stores are clear as evidenced in the fact that we have been able to very precisely understand the behavior of shoppers at the NEC Smart Store in the NEC headquarters building. For example, we have found that 97 percent of shoppers have a specific goal in mind when they arrive at the building right before work in the morning, while shoppers in the afternoon are less focused and more likely to browse, picking up and returning products more often. We are planning to enhance our cashierless store solutions by conducting hypothetical verification of store creation based on behavioral data.
At NEC we are committed to developing new solutions to the challenges faced by retailers and consumers today and help position retailers as the retailer of choice. Going beyond the achievement of cashierless stores discussed in this paper, we will continue to endeavor to create more innovative services in the upcoming post-digital era.
*

Amazon is a trademark or registered trademark of Amazon.com, Inc. and/or its affiliates.

*

QR code is a registered trademark of DENSO WAVE INCORPORATED.

*

All other company and product names that appear in this paper are trademarks or registered trademarks of their respective companies.
YAMASAKI Shinya
Manager
1st Retail Solutions Division
OZEKI Ai
1st Retail Solutions Division
SHIGA Mayumi
Assistant Manager
1st Retail Solutions Division
NAKAMURA Motoyuki
Department Manager
NEC Solution Innovators
ISHII Kenichi
Department Manager
1st Retail Solutions Division
NOTOMI Narumitsu
Deputy General Manager
1st Retail Solutions Division