Displaying present location in the site.
Optimized for the "New Normal," NEC's Intelligent Logistics Supports a Continuous Flow of Goods
Ongoing labor shortages in Japan and increasingly complex supply chains have made it imperative to build optimal logistics systems and more efficiently utilize distribution resources. These efforts are complicated by the impact of COVID-19 which has disrupted supply chains, generated rapid changes in supply and demand, and forced employers to assure a safe working environment at distribution sites. To ensure effectiveness in the "new normal," logistics operators must be able to maintain business continuity while also making substantial improvements in efficiency.

In this paper, we will look at these issues more closely and highlight some of the measures that could prove most helpful in dealing with them.
The coronavirus (COVID-19) pandemic has had a devastating impact on the world economy, and restrictions on the movement of humans remain in place in many countries. Nonetheless, the movement of goods remains critical if the infrastructure that supports society and everyday life is to remain intact. Logistics—the systems that manage the flow of goods—has never been more important, and the need for its continued, uninterrupted operation more essential.

This paper discusses issues related to logistics in the age of the "new normal," what an optimal system would be like, and what we should do to get there1).
2. Issues in Conventional Logistics and Changes Imposed by COVID-19
2.1 Issues in conventional logistics
Manpower shortages are just as much of an issue in logistics as they are in other fields due to the steady decline in Japan's working-age population. The overall population continues to shrink, leading to growing demand for automation and labor-saving technologies. In addition, the increasing trend towards high-mix/low-volume production and overseas production has compounded the need to reduce excess inventory and transportation costs by means of optimizing global supply chains. Given this situation, improving efficiency in logistics operations is imperative, and also a key challenge facing many companies.
2.2 New risks under COVID-19
The spread of COVID-19 has had a significant impact on logistics, bringing about major changes.

COVID-19 has, first of all, made the assurance of a safe working environment at distribution sites a priority. Distribution operations require a large number of workers to work on-site to fulfill their roles. Under COVID-19, the need has arisen to maintain business continuity by adapting to working remotely in view of pandemic restrictions and creating a safe workplace for workers on-site by eliminating crowded conditions. The conventional distribution operation model in which workers work in close proximity to each other poses a health risk and is no longer suitable for the modern, post-COVID-19 world.

Secondly, the pandemic has disrupted supply chains and brought about rapid changes to supply and demand. Today's supply chains are structured on a wide-area, multistep basis with procurement sources crossing national borders. COVID-19 has created a situation in which entire supply chains are at risk of being disrupted due to difficulties in procuring certain components or materials. This is particularly apparent in the electric appliance and electronic component industries, as well as in the auto industry. While concentration of production and distribution centers, as well as transportation routes, can be an effective means of improving efficiency during normal times, it is now clear that this can lead to vulnerability in an emergency. It is expected that future reforms will focus on business continuity.
2.3 Logistics in the age of the "new normal"
In logistics, even after we emerge from COVID-19, we can expect greater emphasis to be placed on business continuity in addition to improving efficiency.

ICT, which is typically implemented as a means of improving efficiency, will also be directed towards implementing business continuity. This will be done as part of an effort to strengthen supply chains by building nonstop distribution infrastructure that can promptly detect and respond to incidents (Fig. 1).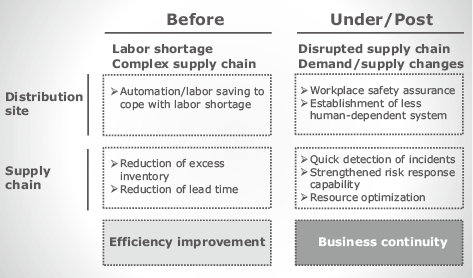 In the following sections, we look at some use cases that illuminate the two issues facing logistics: assuring a safe working environment at distribution sites and responding to disruption of supply chains and rapid changes in supply and demand.
3. Assuring a Safe Working Environment at Distribution Sites
3.1 Promotion of digitization and teleworking in customs operations
In the wake of COVID-19, requirements for teleworking have relaxed for customs brokers of whom about 30 percent have applied to work from home2). With the rapid rise in the number of custom brokers working remotely, the next step is to digitize paper-based documents and build an environment to ensure that operations can be executed securely.

NEC's customs clearance streamlining solution standardizes and improves the efficiency of customs operations. Digitization of relevant paper documents is accomplished using optical character recognition technology equipped with automatic learning function (AI-OCR) and operation optimization software using robotic process automation (RPA). While conventional OCR technology is hamstrung by the requirement to define formats in advance, AI-OCR can read filled-out forms automatically, which it achieves by accumulating and learning a variety of form formats. The result is significant improvement in the efficiency of the data entry process. It also makes it possible to build an environment where workers can perform their tasks remotely and securely no matter where they are, helping to promote a paradigm shift towards teleworking.

Thanks to the introduction of this system, Sumitomo Warehouse has significantly reduced the time required to input and process data by using AI-OCR to convert paper and PDF print-out invoices into data. In the operation of one consigner, for example, they achieved a 40-percent reduction from about 260 hours per month to about 160 hours per month.
3.2 Smart authentication using face recognition
At a distribution site, contact with a large number of unspecified people such as drivers and distribution center operators cannot be avoided. As this has the potential to increase infection risks, a reliable way to minimize contact is necessary.

Digital identity verification is one measure to ensure safety in this respect. A good example is roll call that conventionally requires face-to-face confirmation by operation managers. Depending on the task, an online roll call could be used under certain conditions. However, to prevent impersonation, secure identity authentication is absolutely essential.

NEC's face recognition cloud service can be applied to authentication. This system compares images of faces registered in advance with those captured by cameras in smartphones and tablets at the time of roll-calling and working. This facilitates contactless user identification and ensures that workers are qualified individuals who are registered in the system without requiring them to touch any device or an ID card for identity authentication. Utilizing proven face recognition technology with a level of accuracy rated number one in the world3), as well as impersonation prevention technology, NEC's face recognition cloud service dramatically reduces the risk of unauthorized use.
3.3 Digitization at distribution centers
In an environment where workers are at a premium and COVID-19 imposes various restrictions on workplaces, it is increasingly important for managers to know who is doing what, when, and how.

One way to deal with this is through digitization of information on work and workforce management at the logistics site. A manager can supervise the workers by giving them instructions via a smartphone app, based on the information gathered from smart devices and sensors. This makes it possible for distribution managers to accurately gauge the on-site environment, to make real-time changes in operations that better suit the situation, and to assign work according to workers' schedules and results.

Digitization of on-site operations in this manner is also expected to bring further advancements to enhance the workplace such as through the use of AI to create optimal work plans and assign work appropriately based on collected data on work conditions and work results.
4. Coping with Disruption of Supply Chains and Changes in Supply and Demand
4.1 Visualization of supply chains
One of the risks highlighted by COVID-19 is the possibility that a stoppage in the supply of some components and materials can lead to the disruption of entire supply chains. A good example of this is how the shutdown of wire harness factories in Wuhan spread to the entire automotive supply chain. This shows the importance of building a mechanism in future supply chains that can quickly detect incidents and cope with them appropriately.

NEC's supply chain visualization solution visualizes cargo transportation data in real time by linking order information with transportation status to implement centralized management. In other words, it makes it possible to quickly get a handle on incidents such as transportation delays by sharing information securely between multiple companies and by linking management codes that differ between companies.

When implemented, this solution should help reduce the confirmation processes for inquiries from in-house individuals and customers at delivery destinations. Conventionally, these required confirmation by phone or e-mail. Excess inventory is also likely to be reduced in conjunction with production plans. This solution is now being introduced at manufacturers such as Daikin Industries.
4.2 Optimized demand-supply coordination of inventory and distribution resources
Excess inventory can aggravate the shortage of transportation resources. For example, total waste and loss in the food industry amounts to about 6.12 million tons per year. When converted into truckloads, it can fill 1,680 ten-ton trucks every day4). From the perspective of logistics, this is a very inefficient use of transportation resources. Consequently, a mechanism is badly needed which can predict downstream demands with high precision and lead to coordination of upstream inventory and distribution resources.

To address this issue, NEC offers solutions to execute high-precision demand forecasting and coordination to predict the required amount of inventory and ensure the provision of necessary distribution resources such as the most appropriate vehicles, workers, and storage spaces. The core of these solutions is NEC's proprietary Heterogeneous Mixture Learning technology. A white-box AI system, the Heterogeneous Mixture Learning technology is able to reproduce the formulae it uses as the basis for its forecasts, allowing users to understand how the prediction was derived and ensuring that the results can be more readily accepted in on-site operations.

Real-world applications include analyzing open data, such as statistics, in combination with past performance to derive highly accurate predictions of load volumes and factors that affect predictions that are difficult to determine without expert knowledge. Currently, we are deploying this solution in the supply chains in the food, consumer goods and semiconductor industries.
4.3 Load factor visualization and sharing distribution networks
The load factor of trucks is decreasing every year, down to about 40 percent in recent years. This is aggravated by the shortage of drivers. Insufficient utilization of transportation and delivery resources is creating serious losses. And while transportation and delivery resources are strained by the rapid increase in demand for groceries and other consumer goods due to the effects of COVID-19, gaps between industries are becoming more and more conspicuous, as is evident in the generation of surpluses created by the shutdown of production centers in certain industries.

NEC's load factor visualization solution is one way to address this issue. It calculates the occupancy of space by using the NEC-original 3D space recognition technology to visualize the load factor of trucks as well as how much space they have available. This makes it possible to detect transportation routes that have a low load factor and adjust the number of vehicles accordingly.

By combining load factor data with other data such as contract conditions and order information, this solution has the potential to achieve sharing and optimization of distribution resources between multiple companies.
In this paper, we have discussed logistics issues such as workplace safety and supply chain disruption in the age of the "new normal" and highlighted use cases that deal effectively with these issues through the implementation of various NEC technologies. As the logistics industry adapts to the enormous changes brought by COVID-19 in social spaces and the workplace, besides focusing on improving efficiency as before, the logistics industry is also placing emphasis on business continuity through the optimization of the supply chain.

Looking forward to 2030 (Fig. 2), NEC envisions a world in which distribution will be promoted without any geographical restrictions and disparities between urban and rural areas will be dissolved by integrating the data from all supply chains. NEC's logistics platform (Fig. 3) will play a central role, serving as a hub for all distribution information. This platform facilitates strong, dynamic supply chains able to flexibly adapt to any fluctuations in supply and demand.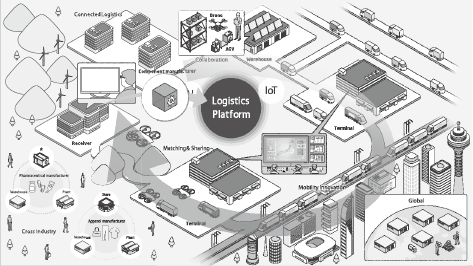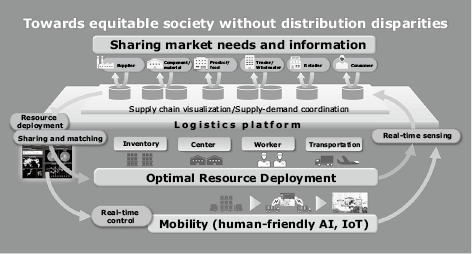 At NEC, we are committed to contributing to the sustainable growth of industries and the achievement of an abundant society where everyone has the opportunity to enjoy a wide range of goods and services. By combining the solutions and technologies introduced in this paper and offering platforms that extend beyond the boundaries of industries and business categories, we are confident that we can realize this vision.
UMEDA Yosuke
Assistant Manager
Transportation and Logistics Solutions Division
MUTO Hiromi
Department Manager
Transportation and Logistics Solutions Division