Displaying present location in the site.
Connected Manufacturing — Innovating Manufacturing by Integrating On-site Know-how and Digital Technology
Challenges facing the contemporary manufacturing environment such as labor shortages, skills transfer, and mass customization are now being aggravated by the novel coronavirus (COVID-19) pandemic―which is generating complex new problems including disruption of supply chains and restriction of movement of employees. NEC's Connected Manufacturing integrates manufacturing sites and supply chains with the power of digital technology and is introducing innovation that transcends the boundaries between industries. This paper introduces the smart factory concept, which is an underlying theme of Connected Manufacturing. The idea of a smart factory is to build a system that leverages a wide range of data inputs to rapidly transform a production system into one that features high productivity and superior ability to respond to fluctuations, and also an environment where people can work comfortably and enthusiastically.
1. Introduction – Operational Challenges
As the problems related to labor shortage and skills transfer become more acute, manufacturers must adapt to mass customization. At the same time, the wave of digitalization has swept across all industries, leading to intercorporate collaboration and generating a continuous stream of competitive new innovations. In this chaotic and rapidly evolving environment, the sudden emergence of the novel coronavirus (COVID-19) pandemic has ratcheted up the uncertainty―disrupting supply chains, restricting the movement of employees, and making future planning more difficult than ever. In the society with the "new normal," new challenges are being thrown up all the time. The manufacturing industry, in particular, is facing serious challenges such as the need to reconfigure factories to adapt to changing workstyle expectations, review supply chains to optimize reliability, and adapt to rapid fluctuations in product demand, not to mention the necessity of continuing to address more conventional issues such as quality, cost, and delivery (QCD) (Fig. 1).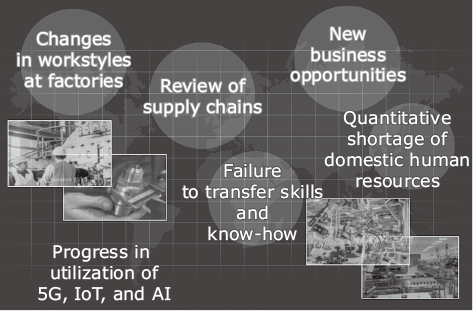 NEC's Connected Manufacturing concept brings innovation to the manufacturing industry by integrating cyberspace and the physical world.

This paper discusses the concept of Connected Manufacturing as proposed by NEC with a particular focus on the smart factory―a key component of Connected Manufacturing. In Section 2, we describe the world we envision in which Connected Manufacturing plays a key role, while in Section 3, we explain what the smart factory is and how it can be achieved. Section 4 gets down to detail with a case study in which the smart factory concept has been applied to innovate the manufacturing process with AI and IoT. Section 5 looks at the various technologies that support smart factory businesses and solutions, and Section 6 discusses the future prospects of the smart factory.
2. Our Vision of Connected Manufacturing
The concept of Connected Manufacturing is centered on the smart factory concept and includes smartization of factory and supply chains and a product innovation concept that promotes a transition from a seller of things to a seller of experiences.

The smart factory concept aims at smartization of factories by speeding up and autonomizing QCD improvement through utilization of digital data, by automating production lines, and by automating and remotizing operations indirectly related to manufacturing. Furthermore, by automating and autonomizing entire supply chains, management can allow human operators to focus their efforts on perceptual judgments and decision-making. Together, these elements can create an operational environment better able to cope with the ebb and flow of demand. And our vision goes even further. We will take advantage of digitalization to help consumer goods manufacturers execute to marketing and predict demand, industrial goods manufacturers to perform quality assurance and new material development, and constructors to improve productivity of workers.

The product innovation concept uses digital data to transform business models in service and sales areas.

Connected Manufacturing cuts across the boundaries of industries to connect various ideas, resources, and know-how and aims at the transformation of our customers' business models, helping to innovate more rapidly and effectively than ever (Fig 2).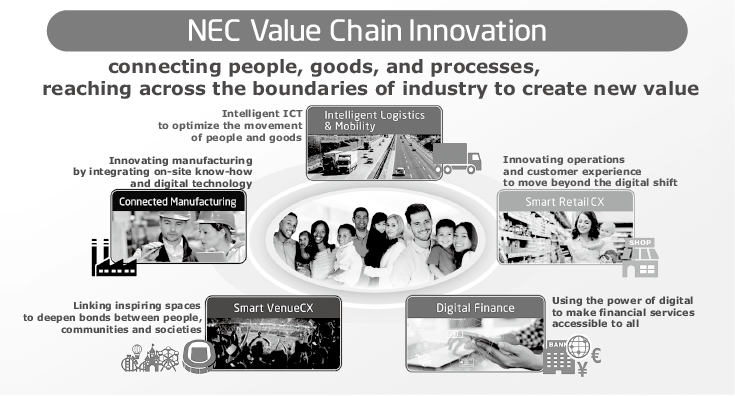 3. Making the Smart Factory a Reality
NEC defines the smart factory concept as a system that uses a wide range of data inputs to achieve manufacturing with high productivity and ability to respond to fluctuations, while also establishing a system that creates an environment where people can work comfortably and with enthusiasm. Smartization of factories alone cannot achieve this concept. Achieving the smart factory requires the smartization of value chains in addition to smartization of factories (Fig. 3).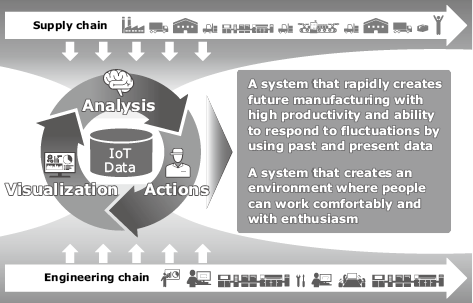 3.1 Smartization of factories
There are roughly three stages in the smartization of factories. The first stage is to use digital data to speed up and autonomize improvements in QCD. This involves using our digital technology to refine improvement cycles in order to enhance the two aspects of production universally regarded as critical by manufacturers―throughput and quality control. The second stage is automation and autonomization of production lines. In other words, smartization means expanding automated operations in the area of physical operation technology (OT). To get there, we need to speed up intra-factory networks and make full use of AI, robotics, and various sensing technologies. The third stage is automation and remotization of operations indirectly related to manufacturing.

The concept of the smart factory is often applied only to operations which are directly related to manufacturing. In the real world, however, many back-office operations such as production management, production technology, and quality control exist within the factory. Typically, many of these systems are not operated in a way that can fairly be called efficient. With the labor shortage growing ever more acute and the effect of the COVID-19 pandemic precipitating the shift to telework, the remotization of back-office operations also needs to be pushed forward to make it possible to maximize efficiency and integration (Fig. 4).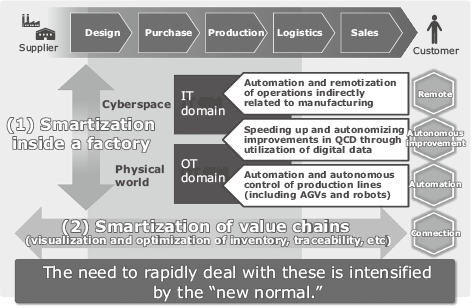 3.2 Smartization of value chains
In addition to factories, value chains that cut across companies also need to be smartized. Again, digital data is the key, making it possible to advance, automate, and autonomize improvement cycles while cutting through the inter-company barriers. Smartized value chains generate a range of benefits, helping to realize an increase in delivery speed, reduction of inventory, and advanced traceability management. In the age of the "new normal" where it is no longer possible to obtain detailed information from suppliers by speaking to them face-to-face, it is important to communicate with suppliers by utilizing these platforms.
3.3 On-site manufacturing issues
Since manufacturing sites are idiosyncratic, each has its own unique on-site issues. NEC offers various solutions based on improvement scenarios according to four manufacturing types―job shop type, process type, flow shop/assembly type, and project type (Fig. 5).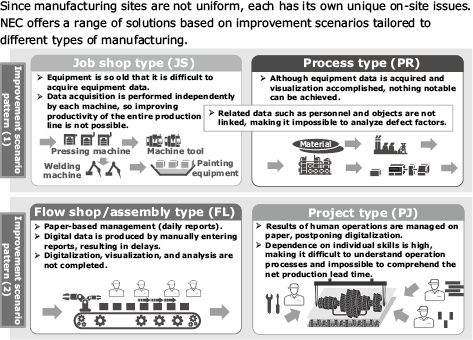 The job shop and process types are mostly targeted at machinery and equipment. AI is increasingly being deployed to handle quality analysis and autonomous control using AI. The collection and analysis of large amounts of data has long been a key feature of management at equipment manufacturers. However, the system as it currently operates is highly dependent on individual expertise―a vulnerability that becomes increasingly apparent as expert engineers retire without new engineers to replace them and the process of digitalization reaches the point where it becomes more difficult for it to substitute for human expertise and provide automatic feedback to engineers about what actions should be taken based on the results of data analysis.

The flow shop/assembly type is distinguished by a great many operations performed by humans. Expected to be effective for this type are instructions on operation procedures using audio and video to achieve labor saving and eradicate operational mistakes and using AI for external inspection.

Project-type products are normally commissioned for manufacture by large entities and may include satellites and large-scale generators, for example. Production of these products is highly dependent on individual expertise and involves very few repetitive procedures, making it difficult to use data to refine or automate production. The first step to finding solutions to issues in project type manufacturing is to visualize human operations and implementing digitalization.

One issue that comes up when pushing forward the smart factory concept is what type of organizational setup is needed to implement a smart factory project and how that project should be implemented. NEC offers two basic models for implementing a smart factory project that have been optimized to suit the differing circumstances of each customer. The first is a grand design in which market and management issues shape the project, while the second model prioritizes effectiveness verification, implementing the project based on the selection of specific issues and solutions (Fig. 6).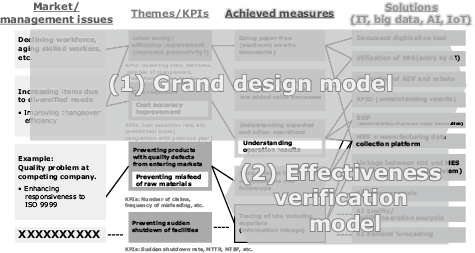 3.4 NEC DX Factory – a future manufacturing concept that realizes the smart factory
NEC has been promoting a future manufacturing concept that brings the smart factory into being with digital technology called NEC DX Factory. Embodying NEC's commitment to IoT and AI, NEC DX Factory digitalizes all processes from design to manufacturing, shipment, and logistics, simulates them in a virtual space, then feeds them back physically to generate manufacturing innovations (Fig. 7).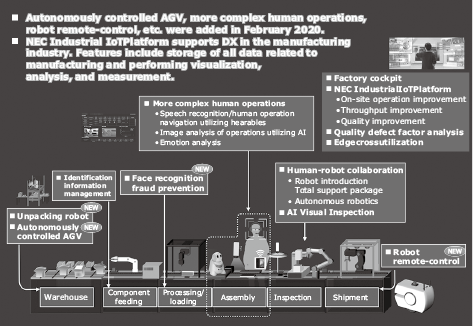 We have launched the NEC DX Factory Co-creation Space at the Tamagawa Plant. At this space, which embodies what we have discussed above, we discuss the future of manufacturing with visitors while letting them experience our next-generation manufacturing lines. Customers from more than one hundred companies have already visited, and we are now looking at more specific manufacturing innovations.
4. Case Study: Application at NEC Platforms.
NEC Platforms Ltd., an NEC subsidiary, has deployed the NEC Industrial IoT Platform at their manufacturing plants. The system performs real-time integrated visualization of data related to personnel, equipment, and other things, including quality and operating conditions at production lines in various NEC Platforms factories. This facilitates timely and appropriate decision making at each level of the company's management, factory managers, and on-site workers. Also by leveraging NEC's original object fingerprint authentication technology and AI technology, NEC Platforms has improved traceability and quality, leading to a 50 percent improvement of productivity at their factories (Fig. 8).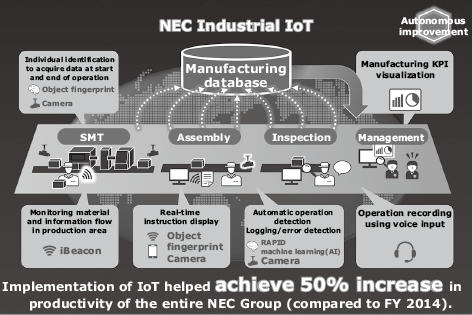 5. Technologies That Support Operations and Solutions
Centering on the NEC IoT Industrial Platform, we are deploying a wide range of solutions and applications to help solve challenges faced by our customers in the manufacturing industry on a case by case basis (Fig. 9).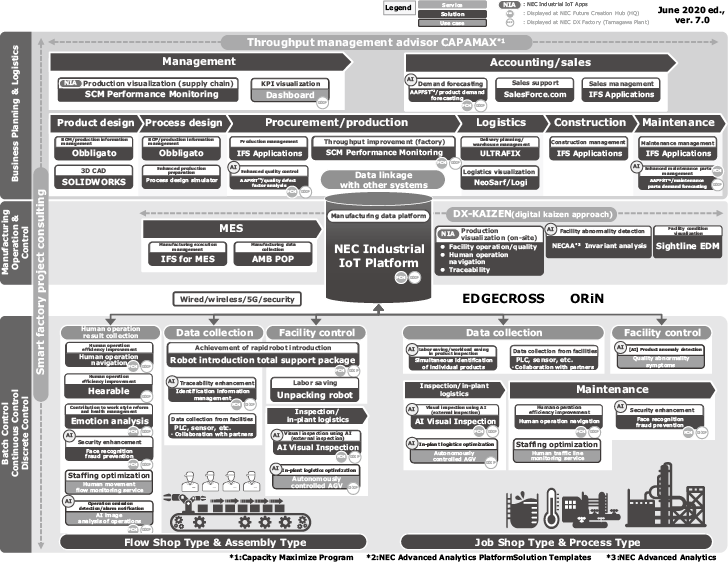 These solutions have been effectively implemented at plants of NEC Platforms that undertakes the manufacturing of NEC products. As this case study demonstrates, NEC can perform integrated implementation of solution development and on-site utilization. This makes it possible for us to offer exceptionally effective solutions that our customers in the manufacturing industry appreciate.
6. Conclusion – Future Prospects of the Smart Factory
Local 5G is a major technological innovation that will drive the further evolution of the smart factory and lead to additional breakthroughs. 5G features such as ultrahigh speed, ultralow delay, and simultaneous multi-connectivity will accelerate the digital transformation (DX) of the manufacturing industry.

At NEC, we believe that the 5G-based factory of the future should be oriented around optimization of production lines and the way people work. Progress will be data driven and supported by automation and wireless technology, minimizing the need to significantly alter layouts and staffing in production lines even when there are major changes in product types and production volume change.

The incredible speed and power of 5G will also support remotization and remote control of various procedures, enabling staff to manage the site from home or remote office; in other words, it will be possible to easily perform tasks that were once stressful and physically demanding from a comfortable environment.

These efficiencies will positively impact the labor shortage in the manufacturing industry by making it possible to work more flexibly in ways that have not existed before. We believe this is the way humans and robots should work together in the future.

While the working-age population continues to dwindle and restrictions imposed by the "new normal" affect the ability to work on-site, NEC aspires to utilize advanced technology and data to transform factories into attractive workplaces where labor shortage is no longer a primary concern and workers can attain a sense of fulfillment. It is our hope that the information digitalized within the factory will extend beyond its four walls to the community and have a positive impact not only on manufacturing, but on people's lives.

At NEC, the future is our focus and we are determined to maintain our commitment to achieving a smart factory where people can work comfortably and to supporting our customers in their efforts to achieve their own goals through the use of our digital technology.
KITANO Yoshinao
Manager
Smart Industry Division
YOSHIMURA Makihiro
Smart Industry Division