No.3 (September, 2008) Special Issue: UNIVERGE, Tap into the Future with Unified Communications/Special Issue: Medical Care Systems
Vol.3 No.3 (September, 2008)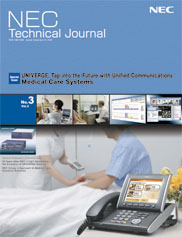 Special Issue: UNIVERGE, Tap into the Future with Unified Communications
---
---
Concept
HIRATA Hideyuki ・TSUTSUI Kensaku ・ARAO Shinya ・IWASE Toshio
NEC has proposed the global concept of "UNIVERGE360" aiming at "people-centric" communications environments in consideration of the enhanced efficiency of people working in enterprises. One of the key elements forming this concept is that of Unified Communications (UC). NEC is promoting the evolution of enterprise communications systems along the two axes of "expansion of communication integration capability" and "expansion of business process integration capability." With regard to the "expansion of business process integration capability", NEC is developing products targeting SOC (Service Oriented Communications), which is the concept of communications platforms with an improved affinity to IT systems.
---
Solutions
TANIKAWA Tadashi
As the use of task management systems penetrates more widely into the domain of medical care it becomes a significant factor in improving operations by effectively incorporating human communications into the system.This paper describes the results of verifications of how the linkages between UC (Unified Communications) systems and task management systems can improve the actual quality of medical care using the multifunctional UNIVERGE IP Phone DT750.
---
KITAKAZE Jiro
The communications environments of enterprises are expanding toward ubiquitous environments in which communications are available "anytime, anywhere." Meanwhile, the issues related to security are being focused on compliance management, internal control and risk management. This paper discusses the concept of the security management that will be necessary following the proposed further development of communications environments and introduces some specific solutions.
---
TSUTSUI Kensaku ・ARAO Shinya ・SERADA Teruharu ・NISHINO Sunao
This paper defines Unified Communications (UC) applications as communications applications with high added values implemented by combining various communication tools or combining communication tools and task management systems. Here, the added values consist of the saving in routine tasks made possible by the above combinations and the resulting improvement in productivity. In this field, NEC is focusing on accelerating individual business programs by linking task management systems and communication tools and decreasing the frequency of inter-process delays caused by human intervention in the task process.This paper discusses actual examples and the UC applications produced by such combinations.
---
YAMADA Kazuhiko ・MATSUMOTO Teruoki ・TAMAKI Masanobu ・
Robert Van Amerongen ・MATSUOKA Shinichi
NEC has been actively deploying new products and solutions worldwide since it announced plans for the deployment of business integrated solutions in UNIVERGE360. In accordance with this policy, its major overseas affiliates are locally developing Unified Communications (UC) solutions with the aim of supporting migration from existing business systems. NEC is promoting this business deployment by treating it as a business opportunity by which it may demonstrate its requisite IT and network technologies.
---
Platforms (Products/Software)
MASUKO Mitsuru ・SANNOMIYA Hiroki ・KAWABATA Atsushi ・ITAGAKI Yoshio ・
YONETSUKA Nobuo ・HANEDA Hiroyasu
The age of Unified Communications (UC) requires high-reliability communications infrastructures that can achieve efficient communications by integrating various tools including e-mailing, teleconferencing and web conferencing with telephony and is capable of linking various kinds of groupware, UC products and business applications.This paper is intended to describe the features and advantages of the UNIVERGE SV8500 and UNIVERGE SV8300 communications servers and the UNIVERGE OW5000 collaboration middleware, all of which have been released newly based on the technological and product development capabilities of NEC, the market leader in telephony servers.
---
SATO Masayoshi ・OGIYAMA Tetsuya ・NOZAKI Noriaki ・TOMOBE Masaharu ・
SHIBATA Yuichiro ・YAMASHITA Tetsuya
The advent of the age of Unified Communications (UC) has lead to a need for various kinds of communication tools that can meet the diversification of communications. This paper is intended to describe the features and advantages of the first generation IP/digital multifunctional telephones that adopt a "Modular Design." This design makes it possible to combine most suitable input button, display panel and handset devices according to the location of the installation and the use scenario.
---
TSUTSUI Kensaku ・ARAO Shinya ・SERADA Teruharu ・HOKARI Makoto
Integration of communications services used by an enterprise on an IP network allows the voice service to be embedded easily in other communication tools such as E-mail and IM. Although this is the generally accepted definition of Unified Communications (UC), the definition of UC adopted by NEC is characteristic in that it also combines telephony and other communications services in the business systems of enterprises for their internal use.This paper describes the technological aspects of the platform that NEC proposes for the implementation of UC.
---
Services
OKANOUE Kazuhiro ・EBATA Koichi
Wireless LAN is suitable for an access network to Unified Communications in the intranet. In enterprise environments, however, their usual events can degrade the communication quality of wireless LAN, such as layout changes, personnel reshufflings and so on. To maintain communication requirements, this paper proposes an operational model that features three control mechanisms based on different units of time; real-time performance improvement, fault detection and countermeasures and the performance maintenance. NEC will incorporate the model in its managed services for Unified Communication environments from the design and SI to the operation and maintenance stages in addition to its competitive wireless LAN products.
---
HIRATA Hideyuki ・IMAI Keiichi ・NOGUCHI Makoto ・ASANO Tomohiko
The Next Generation Network (NGN) features QoS (Quality of Service), security and safety. It is a significant innovative improvement for networks that promote enhanced functions and added value in support of enterprise systems. Besides the NGN, Software as a Service (SaaS) is another innovation for the network society. This is a software deployment service generally provided by carriers and Internet service providers. SaaS is expected to significantly change the system architecture of enterprises as the introductions and developments systems having been conventionally carried out by the enterprises themselves.The diffusion of NGN and SaaS is also backing up the efforts of NEC's Unified Communications (UC) to implement ubiquitous enterprise systems that are able to expand in any type of business field.
---
Case Studies
SHOJI Hiroyuki ・OIKAWA Akihiro ・AZUMA Takeshi ・SASAKI Masukazu
Conveying crucial information quickly and securely has become a major proposition for all enterprises regardless of their fields. At NEC, we have been able to securely share in real time the quality information that is of utmost importance to us as a manufacturer, through the integration of our base system and unified communication system. As a result, we have been able to expedite countermeasures to quality problems more rapidly and have increased quality consciousness. Such results will be introduced through specific examples within our company's manufacturing, as well as cases where this system was adopted for use in other operations, successfully achieving business reorganization.
---
Special Issue: Medical Care Systems
---
---
Efforts, Trends and Future Perspectives of Medical IT
TANJI Natsuki
Standardization of medical information systems by industry associations such as ISO/TC 215 and CEN/TC 251 is currently underway internationally. In Japan, too, participation in and the dissemination of international standardization are being actively promoted. This paper is intended to summarize trends in standardization and to discuss the activities that are being conducted at NEC.
---
KUZUNO Hiroshi ・KANAZAWA Masaki ・IINO Akemi ・
ANDOH Masataka ・TOKUSHIMA Daisuke
In Japan, the increase in the rate of ageing in the population has made the optimization of medical expenditure more necessary than ever. In this situation, NEC has attempted to develop a vision of a society that achieves optimum use of healthcare services. These will include health promotion, disease prevention and medical intervention and life support services. We have also studied healthcare IT solutions that will support this policy. Healthcare IT consists of an information system for providing advanced services that has evolved from the collection, accumulation and utilization of lifelong healthcare information of individuals and from utilizing this information to support scientifically well-founded treatments and prevention methods. This paper introduces the above themes together and discusses issues for their realization.
---
Hospital Information Systems
NAMIKAWA Hirokazu ・MIYAKAWA Riki ・SATO Yusuke ・TAKASHIMA Koji
MegaOakHR is a core electronic medical record system that is used to record and share medical information including order instructions, medical record entries and information references. This paper reviews the development background of MegaOakHR and introduces the innovative functions and modifications now featured in its internal structure.
---
MANO Makoto ・KIKUCHI Hirohito ・YANAGIHARA Keisuke ・KURAMOCHI Atsushi
MegaOakIBARSII is medical coding package software for use in large as well as in small hospitals. It has been developed as the successor to MegaOakIBARS that is currently being run at about 800 medical institutions. It is indispensable that transition from the previous product to the new one is done smoothly and this paper introduces a method for hybridizing the new and previous systems as a solution to this issue.
---
YASUDA Norihiro
MegaOak-M3 is a Hospital logistics system for use in controlling the flow of the pharmaceuticals, medical materials and Medical Equipment (ME) etc. used in hospitals. This paper discusses how it is able to improve medical safety, prevent medical billing omissions and reduce item wastage, when linked to an electronic medical records system (or medical ordering system).
---
HARAYAMA Atsushi
This paper describes the MegaOakDWH system which is under development and construction at NEC. It goes on to explain how the system can serve medical diagnoses, clinical study and management improvement by using: the requested information generated inside a hospital, execution (achievement) information, basic treatment payment information and medical accounting statistics information as well as medical care reports, summaries and nursing information.
---
Healthcare
ABE Tatsuya
"Obligation of Specified Health Checks (also called the metabolism check) and Specified Health Guidance to Medical Insurers" is one of the medical budget reduction projects announced by the Japanese MHLW (Ministry of Health, Labour and Welfare). It has caused a significant impact on the health check industry of Japan.Previously, medical institutions were allowed to decide freely on the contents of health checks and other services (via private practice at the expense of the examined). However, they are now forced to perform a standard health checkup as defined by the "Law Concerning the Securing of Medical Care for the Elderly" and to create a new general health information system to deal with it.This paper is intended to introduce the latest package in the industry for dealing quickly with the current environment, in which health check organizations all over Japan are required to meet the new requirements. However, it is also expected that the contents and application methods of health checks will be revised periodically in the future.
---
R&D
TAKATAMA Hirokazu ・ISHIZUKA Eiichi ・HARA Akio ・ONODA Yuji ・
WATANABE Kiyoshi ・KONDOH Katsuyuki
In the field of medical care, the safety check procedure and the collection of medical incidents are always required, even in cases of emergency. The authors have developed a medical information system utilizing RFID and sensors, and have confirmed via experimentation that the system enables safety checks and incident information collection without any burden on medical staffs.
---
Case Studies
Mr. Yasushi Matsumura
In 1995, Osaka University Hospital, teaming up with NEC, launched a research and development project to work on an electronic medical record system. In 2000, they released "MegaOak-NEMR," the first electronic medical record system. Development continues on an ongoing basis. The introduction of electronic medical record system is making good progress from clinics to large-scale hospitals, but if wider application is to be achieved, it is necessary to develop a method of alleviating the burden of inputting as well as a medical record data utilizing system. We asked Associate Professor Yasushi Matsumura of Osaka University Graduate School of Medicine, Department of Medical Informatics, who engages in electronic medical record system development focusing on secondary utilization of crinical information, about the dynamic template, an electronic medical record inputting tool, and the mechanism for accumulated data utilization.
---
Mr. Taizo Kimura ・Mr. Tatsuzo Hirose
About 80% of the public hospitals operated by municipal entities across the nation today are said to be running deficits and do find themselves in severe situations as they must deal with cutback in medical costs, doctor shortages and other problems. Fujinomiya City General Hospital, recipient of "Minister of Internal Affairs and Communications' Commendation for Excellence in Municipal Hospital Services (2006)" and "Minister of Health, Labor and Welfare's Commendation for Meritorious Services in Emergency Care (2007)," is one the model hospitals which continue in the black while admirably playing their rolls as regional core hospitals. Fujinomiya City General Hospital has introduced NEC Electronic Medical Record System as one way of supporting its management.
---
General Papers
KAWAUCHI Toru ・IEMURA Takaya ・KONDO Yoshiharu
In the long history of the wireless communications business of NEC, the demand for wireless communications has shifted significantly toward the cellular phone services since the latter half of the 90's. The associated infrastructure products have also shifted toward the commodity products and the competition in the market has recently become very severe. Even under these conditions PASOLINK business has made rapid progress by combined operations of development, production and sales, thereby making a major contribution to NEC's business achievements.
---
GOTO Masao ・KIKUCHI Shigehisa ・HOKOTA Hiroya ・MORITA Makoto
Up to the present, the credit settlement system has evolved entirely in the context of IT and it has thus established itself as a key social infrastructure. However, recent technological innovations, social structural changes and the increasing social awareness of information value and personal information security have made it necessary for the credit settlement system to utilize more advanced security technologies.NEC Infrontia has recently developed a personal identification number (PIN) entry keypad, called the "PINpad" and has acquired the approval of the PCI (Payment Card Industry) standard, which is the international standard for PINpad security.
---
NEC Information