Product Lineup, Operation Environment and CAD Interfaces
Product Lineup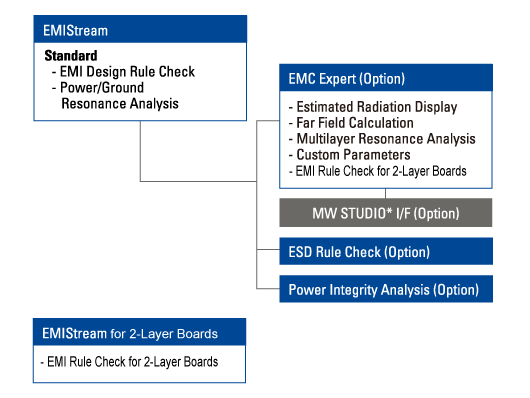 *

Standalone PI Analysis (PIStream) is available.
*

MW STUDIO (Microwave Studio/ CST) is only available for Expert option users.
Operation Environment
Supported Platform
OS
Windows 7
Windows 8.1
Windows 10
CPU
Intel Core i3 or faster
Memory
1GB or more
Disk Space

100MB EMIStream system + data file space

(200MB or more recommended)

Other
Microsoft Excel 2010, 2013, 2016
PCB Layout CAD Interfaces
Supported Layout CAD
Cadence Design Systems
Allegro, OrCAD Layout
Mentor Graphics
Board Station / Xpedition / PADS Layout
Altium
Altium Designer
Zuken
CR-8000 Design Force / CR-5000 Board Designer / CADVANCE

Other

ODB++
For the availability of other CAD interfaces, please make an inquiry using the "Contact NEC" button.