Environment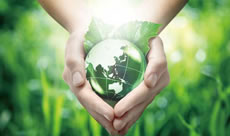 Annual Environmental Report 2017
NEC has long been implementing measures to reduce the environmental impact of our business operations across the entire supply chain, and it is through these measures and the solutions that we provide our customers that we continue to create value for society from an environmental perspective.
For more information about our environmental activities, please read our
Annual Environmental Report 2017
.
Top Message
Since establishing a division dedicated to dealing with environmental problems in 1970, NEC has been actively working on various environmental issues, using the skills and know-how we have gained to create solutions for issues faced by customers and society, and promoting the integration of environmental management into our business activities.
In the previous fiscal year, we strengthened our climate change measures in terms of both mitigation and adaptation as part of our Environmental Management Action Plan 2020/2030, as climate change is an issue of particular importance for NEC's business. As described in this Annual Environmental Report, while we did not reach targets for some indicators in the previous fiscal year, we are largely on track to meet our 2020 targets.
Corporate Profile/Scope of Report
See Corporate Profile and Scope of Report in Annual Environmental Report 2017.
Highlights of NEC's Environmental Activities in FY 2017
FY 2017 Environmental Activity Results