NEC Recognized as a "Major Player" in IDC MarketScape: APeJ Vision AI Software research 2021
NEC Listed as a "Major Player"
in IDC MarketScape: Asia/Pacific (Excluding Japan)
Vision Artificial Intelligence Software Platform 2021 Vendor Assessment
* IDC "MarketScape: Asia/Pacific (Excluding Japan) Vision Artificial Intelligence Software Platform 2021 Vendor Assessment," by Jessie Cai Danqing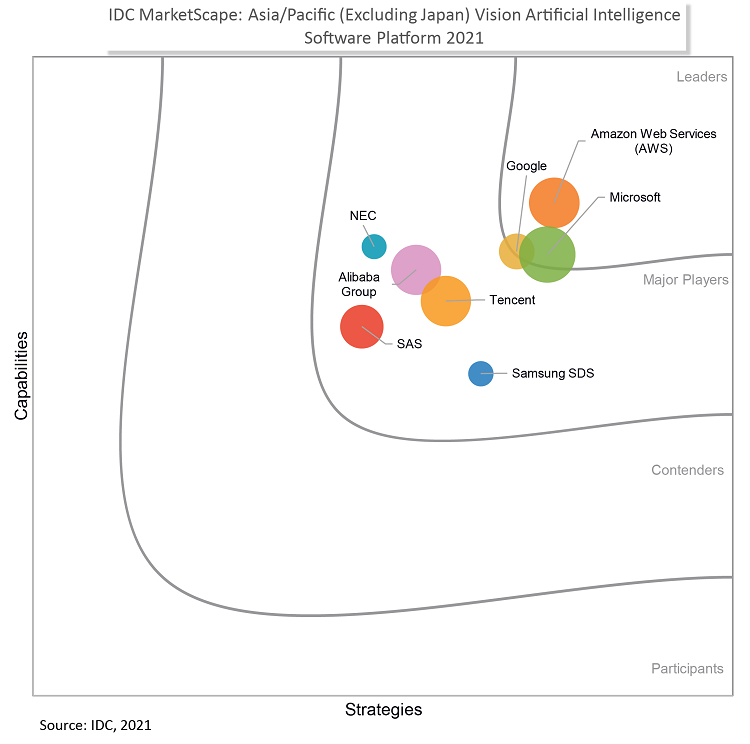 In this report, NEC has been evaluated especially in its high accuracy multimodal biometrics authentication, real-time and robust model performance, privacy preservation of personal data and total solution packaging/pricing. It is our greatest honor to be presented in such prestigious recognition related to AI, which is one of NEC's focusing fields.

NEC has adopted and used AI/Analystics technologies for a large number of companies and organizations in a wide range of fields and businesses such as manufacturing, retailing, logistics, and public services. NEC is committed to making those products and services continue to be leveraged after being implemented through the research, planning, and verification phases. We develop top-class AI technologies and offer high value-added solutions for customers and society. This award is the result of our great efforts for a long term of our history.
"Vision AI is one of the emerging technology markets," says Christopher Lee Marshall, associate VP, AI and analytics strategies, IDC Asia/Pacific. "It is critical to watch major vendors and more mature market solutions because the early movers tend to consolidate their strengths with greater access to training data, more iterations of algorithm variations, deeper understanding of the operation contexts that are inclusive of constraints and noises, and more systematic approaches to work with solution partners in the ecosystem."
*What is IDC MarketScape?
IDC MarketScape is the ICT industry's premier vendor assessment tool, providing in-depth quantitative and qualitative technology market assessments of ICT vendors for a wide range of technology markets. This comprehensive assessment of market competitors, delivered in a full-length research report, and summarized in an easy-to-read graphical depiction, provides you with the critical information necessary to make your most important technology decisions.
(Quoted from IDC web page-

https://www.idc.com/promo/idcmarketscape)