NEC has been named as a 'Major Player' in worldwide AI services
It is our great honor that NEC has been represented as "Major Player" in IDC MarketScape: Worldwide Artificial Intelligence Services 2021 Vendor Assessment *
*

IDC "MarketScape: Worldwide Artificial Intelligence Services 2021 Vendor Assessment," by Jennifer Hamel, May 2021.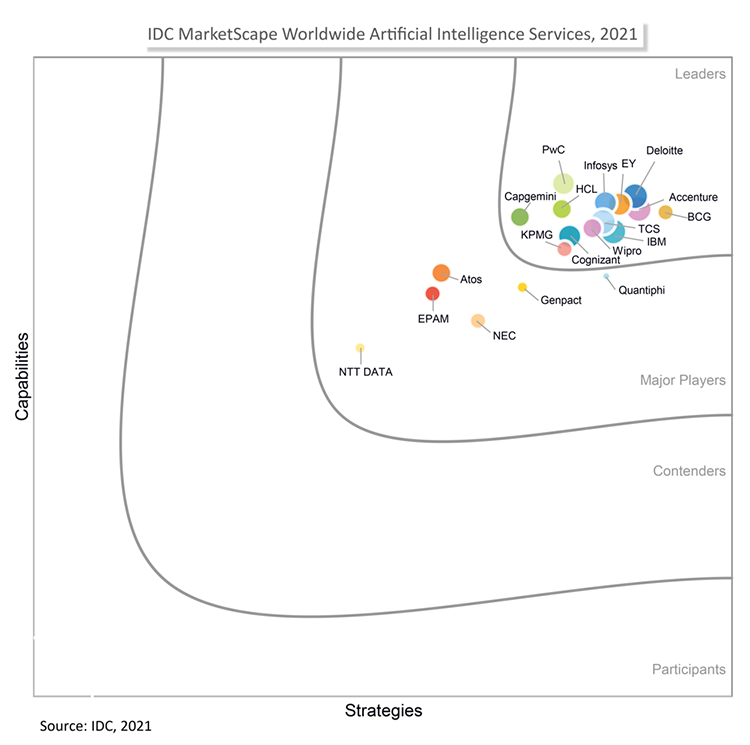 NEC has adopted and used AI/Analystics technologies for a large number of companies and organizations in a wide range of fields and businesses such as manufacturing, retailing, logistics, and public services. NEC is committed to making those products and services continue to be leveraged after being implemented through the research, planning, and verification phases. We develop top-class AI technologies and offer high value-added solutions for customers and society. This award is the result of our great efforts for a long term of our history.
*What is IDC MarketScape?
IDC MarketScape is the ICT industry's premier vendor assessment tool, providing in-depth quantitative and qualitative technology market assessments of ICT vendors for a wide range of technology markets. This comprehensive assessment of market competitors, delivered in a full-length research report, and summarized in an easy-to-read graphical depiction, provides you with the critical information necessary to make your most important technology decisions.
(Quoted from IDC web page-

https://www.idc.com/promo/idcmarketscape)