Displaying present location in the site.
Agricultural ICT solution
Changing over to agriculture that uses IT services increases productivity and maintains stable crop yields and quality.
This solution unifies the management of environmental data obtained by sensors and cultivation records and supports agricultural production activities by providing adequate cultivation information. NEC plans to provide know-how, such as harvesting timing forecasts, by using statistical analyses of accumulated sensing data and production log history and harvesting records from GAP1 management.
This solution will:

Support the provision of safe and secure agricultural crops through the quality control of production sites and logistics
Realize cultivation diagnosis and harvesting forecasts through data collection and storage
Provide support for engagement in agriculture and for successors of farming by using stored production know-how
Note 1)
Good Agricultural Practices (GAP) is an agricultural production process and a collection of methods applied to agricultural activities for growing safe and healthy food and non-food agricultural products that also takes into account economical, social, and environmental sustainability.
The agricultural ICT solution is applicable to every service since basic functionalities such as sensing data collection, data statistics, analyses, and various data provisions are normally included. NEC provides applications, system platform, network environments, and various sensors that collectively enable companies and network operators to launch M2M services as a one-stop service. Leveraging this enables customers to start up services more quickly and economically than they can when building up an individual system.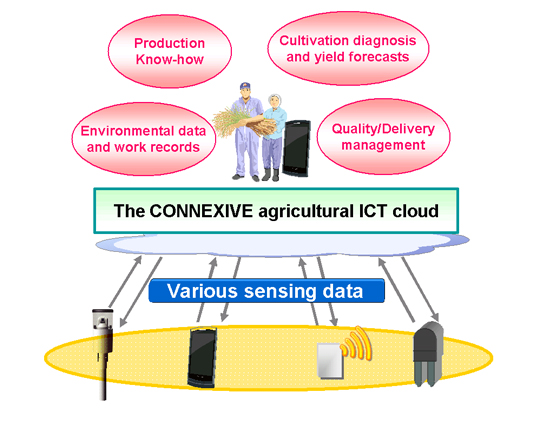 By managing environmental data (e.g., on temperature and illumination intensity) and pesticide spraying data quantitatively, safe and secure crops can be delivered to consumers. The agricultural ICT solution diagnoses crop growth particulars and predicts picking time and crop yields by continuously collecting data.
Agricultural workers have until now passed on technical know-how based on experience, but in the future, they will be able to hand down more explicit know-how based on objective data, which realizes more progressive generational changes and engagement in agriculture to aid the expansion and activation of agriculture business.