CONNEXIVE Products and Services
Consisting of cloud services, individual products and support services
CONNEXIVE consists of the following three categories.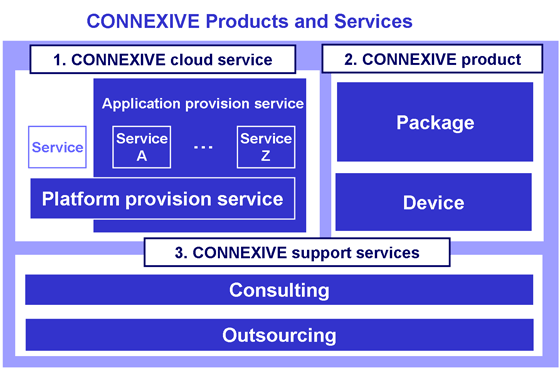 CONNEXIVE cloud service
Platform provision service
NEC provides an ICT platform that enables customers to launch businesses quickly and confidently. The functionalities required for M2M service, such as device authentication and control and device data collection and storage, are provided as cloud services.
Using API provided by the NEC platform, customers can develop M2M applications without worrying about the interface between the platform and the devices.


Application provision service
NEC will provide a one-stop service dealing with everything from devices to network circumstances and applications. This set of solutions enables customers to start M2M easily.
NEC plans to expand the service area to Environment/Energy, Industrial machinery, Transportation/Logistics, Wellness, etc. In addition, NEC is developing built-in modules that are equipped with the common functions required for each device.
Agricultural ICT solution
Agricultural productivity and quality improvement is supported through a network of sensors.
CONNEXIVE product
NEC will provide network environment and sensors required for platform and application provision services upon customer's request.
CONNEXIVE support service
NEC will prepare the total support service to help customers introduce and operate their M2M business.
Consulting service
This service supports the introduction of customers' M2M services.
Outsourcing service
This service outsources operations for customers' M2M services.