Main features of the CONNEXIVE
CONNEXIVE achieves M2M services quickly and economically for businesses of any category and scale
1. M2M service platform solves various problems
M2M service platform provides basic functionality for M2M services
By utilizing the embedded basic functionality (e.g. data collection, control and storage) of the M2M service platform, M2M service can be delivered quickly and at low cost.
Interfaces are prepared for many different kinds of devices to be connected with the platform
Internationally standardized interfaces have been prepared so that the various devices used for M2M service can be easily connected with the platform.
Interfaces are provided for realizing a wealth of M2M services
NEC will provide an open Application Programming Interface (API) that will enable customers to build M2M applications.
2. Utilizing cloud services enables systems to be built more rapidly and economically
NEC offers support for building systems from small-start to large-scale configurations
NEC helps all customers, from those at the entry level and to those seeking large-scale system configurations, make plans that suit their needs. NEC's CONNEXIVE cloud service has flexible scalability and easy expandability in accordance with customer's M2M service scale.
CONNEXIVE reduces system operation cost and man-hours
By using NEC's CONNEXIVE cloud service, customers can reduce workload and cost for system operation and maintenance while using the latest hardware and software available without owning the system.
3. Global support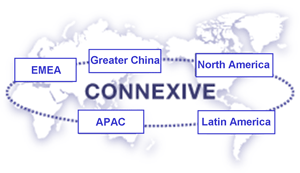 NEC plans to provide the M2M service to regions and countries worldwide, creating the ICT infrastructure (data center, network, devices, etc.). NEC's M2M service will meet the needs of customers' global business strategies.